Pain, it turns out, is not a terribly accurate measure of whether or not something is wrong with our body, says Associate Professor Romy Parker of UCT's Division of Physiotherapy. The pain we feel often has more to do with everything else that is going on in our lives.
Parker debunks the popular notion that pain simply indicates tissue damage. If it hurts, we assume something is badly wrong. But pain is in fact a manifestation of the brain, she explains.
Parker's interest in pain was piqued while working in the United Kingdom as a young graduate.
"I had patients with terrible disease, but they were living their lives and they didn't have much pain," she explained. "Then I had patients whose diseases were really minor and their lives were falling apart − they had terrible pain and weren't coping."
This started Parker on a 15-year-long journey unpacking the many intricacies of pain and pain management. She is now engaged in extensive research to probe the effect of education and exercise interventions for patients who suffer pain from prolonged or incurable illnesses.
Parker and her colleagues were the first to investigate pain management in HIV sufferers. Her latest paper, co-authored by master's students Melissa Saw and Tina Kruger-Jakins, and their co-supervisor Naila Edries, investigates such an intervention for patients with end-stage arthritis.
Abandoned on the waiting list
Surgery is regarded as the only option still available to patients with end-stage arthritis. They are simply placed on the waiting list for joint replacement and are not offered further treatment. The demand for replacements is so high that patients may spend between four and 11 years awaiting surgery, in pain-filled limbo.
Extensive osteoarthritis research exists internationally. Exercise helps. Education and knowledge help. In the United Kingdom patients are taught to engage in and take responsibility for their treatment. These treatment plans work. But they may not be applicable in our context, explains Parker.
A patient's ability to cope with a prolonged illness, whether it is diabetes, HIV, arthritis or any other incurable disease, can empower them over time, resulting in better pain management and a better quality of life. This, explains Parker, depends on many factors: educational level, problem-solving abilities, personality, ability to cope and the patient's support systems.
"I had patients with terrible disease but they didn't have much pain and their quality of life was really good. Because they understood their disease, they had some basic coping skill; they could structure their lives, they used their exercises, they knew what the drugs were there for, what the drugs were not there for," she explains. "They were empowered to participate in their own care."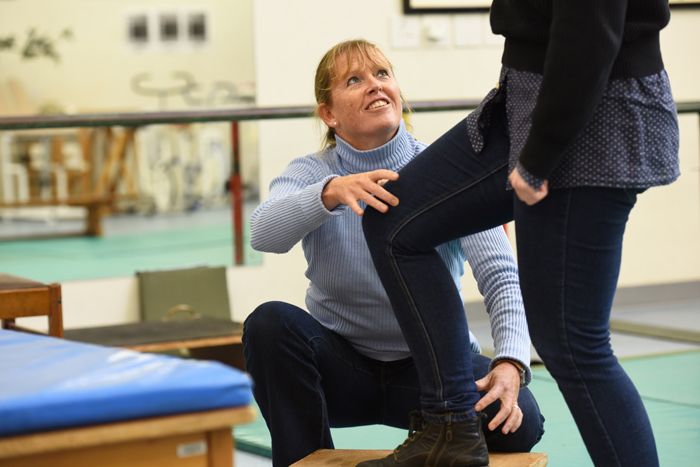 Romy Parker demonstrates the kind of leg strengthening exercises taught to patients within the intervention.
Societal trauma is bad for our health
Pain is not simply a symptom of disease, it's heightened by an individual's context or response to threat, she adds. With that in mind, it's clear why sufferers of arthritis in South Africa, who face daily anxiety linked to their disease in addition to the difficulties of everyday existence, suffer so intensely.
"Our societal level of anxiety and stress is way higher than in other countries. In South Africa we have one of the highest rates of post-traumatic stress disorder in the world."
This undermines our health. Coupled with low levels of health literacy, individuals are far less knowledgeable about what they can do to improve their health.
Patients also face severe socio-economic hurdles. It's difficult to attend clinics once a week. Taxi fares are expensive. They arrive hungry and are unable to participate in the exercise programmes.
"There are those sorts of challenges in these treatment approaches that you've got to explore in our context that are really different."
Changing behaviour
Understanding that knowledge doesn't necessarily change behaviour, Parker's six-week intervention focuses on putting information into practice. Patients (many are over 60 and also have diabetes or hypertension) are taught about their condition, about pain and the factors that increase anxiety, as well as stress management and relaxation. They learn about nutrition and basic health literacy and about the drugs they've been prescribed. They're walked and talked through the daily implementation of their treatment and exercise programme.
They also workshop ways of integrating these programmes into their everyday routines and they talk about how to start over, should they fall out of their treatment regime. They're given workbooks to work through to remind themselves of what they have learnt and to take responsibility for their care.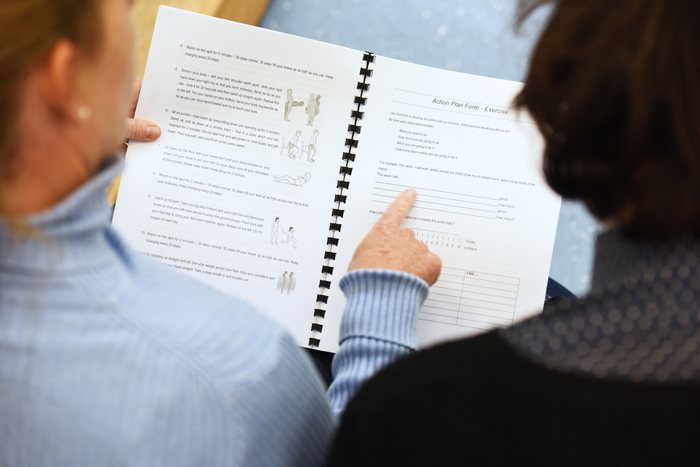 Patients are given workbooks to help them integrate the intervention's information into their daily routine.
"It's not just information, it's also goal setting and problem solving together," adds Parker. "So that is really empowering for patients. Often people with chronic diseases can't picture the future because they're stuck in everyday survival mode and so their planning and vision and their dreams are gone − and that's why their quality of life decreases."
Parker is very clear about the value of exercise. The exercises outlined in the intervention can be done without special equipment.
"When we are working with chronic pain conditions, anything will do."
The intervention is done in groups of no more than 12 with translators to ensure participants can follow the sessions. Patients also share experiences and encourage each other. This is crucial, as the intervention lasts only six weeks and patients need to be able to continue the process themselves.
The data speaks for itself
The intervention presented data so strong that it surprised Parker.
"Our effect sizes were so huge that we think a lot of that was contributed by the fact that people have been on the waiting list [for joint replacement] for so long and are just so grateful that someone is paying attention to them. Therapeutic relationships do have a huge impact on pain."
Relieving an overburdened system
Parker believes that implementing education and exercise initiatives nationally will be hugely beneficial to the quality of life of people with arthritis. She also believes that it may decrease the demand for hip or knee replacements (a number of participants decided they no longer needed replacements after completing the intervention) and may markedly improve the post-operative outcomes for patients that do have replacements (up to 30% of patients that have surgery are in just as much pain two years later as they were before).
She envisages a three-way partnership between physio, medication and surgery. Some patients will do the groups and won't need surgery, some will do the groups and need less medication, while others will do the groups and have surgery − but will do much better afterwards.
From a human resources perspective, the intervention groups have low requirements. They can be run by recently graduated physiotherapists and may enable patients to sustain themselves after the intervention.
Parker's hope is that patients will become experts in their own condition and will be able to share knowledge with others and even facilitate groups of their own (with a health practitioner present).
"Such programmes should go a long way in alleviating some of the pressure placed on the overburdened South African public health care system," Parker explains.
Story Kate-Lyn Moore. Photos Michael Hammond.
---
This work is licensed under a Creative Commons Attribution-NoDerivatives 4.0 International License.
Please view the republishing articles page for more information.
---