It is not uncommon to hear people lament the exodus of African minds to institutions overseas. Access to more funding, advanced technologies and prestige are some of the reasons young scientists and academics leave their home countries. However, many are choosing to return from studies abroad, bringing with them a wealth of skills, ideas and energy to contribute to the generation of African solutions and capacity building within the continent.
Among others at the UCT Faculty of Health Sciences, are rising stars Dr Mohlopheni Jackson Marakalala, Dr Jonathan Peter and Dr Jill Olivier, whose return home is making a positive impact on the faculty and science at large.
Using science to advance the change in Africa
Since his academic career began, Dr Mohlopheni Jackson Marakalala has changed fields four times before settling on his current field of study. He is certain, however, that he is passionate about two things: research and teaching.
"I'm driven by societal impact as a scientist but more importantly also contributing towards teaching, and capacity building. Although my number one passion is research, I feel it's even more exciting to transfer the little humble knowledge you have: for that to be transferred to someone who has a similar desire to address issues of global health problems; for them to find passion in science."
As a senior lecturer in the Department of Pathology, nurturing young minds and pursuing groundbreaking science are the cornerstone of Marakalala's work. He was recently appointed to this role on his return from the Harvard School of Public Health where he completed his postdoctoral studies. During his time there, he coordinated a study examining the stages of lung tissue destruction in TB patients. Recently published in Nature Medicine, his work provided the catalyst for the establishment of his own laboratory to aid the discovery of new therapeutic and diagnostic tools to combat TB.
Not far removed from his early dream of finding a cure for HIV/AIDS, Marakalala still believes his purpose is to tackle scientific problems that are relevant to the continent. His consistency in this regard earned him a place in the inaugural class of the Next Einstein Forum's (NEF) 15 brightest minds from Africa. Known as Game Changers, the NEF Fellows represent Africa's best young scientists and technologists, whose innovative work has the potential to elevate Africa's profile and contribute to transforming the continent.
It is this, the bug of tenacious enquiry, that Marakalala hopes to pass on to his students. He wants to see science become a key component of solving Africa's problems and hopes to contribute towards public dialogues that will help inform better health policies. He also envisions building capacity in Africa by training PhD students from disadvantaged communities.
Sowing the seeds of knowledge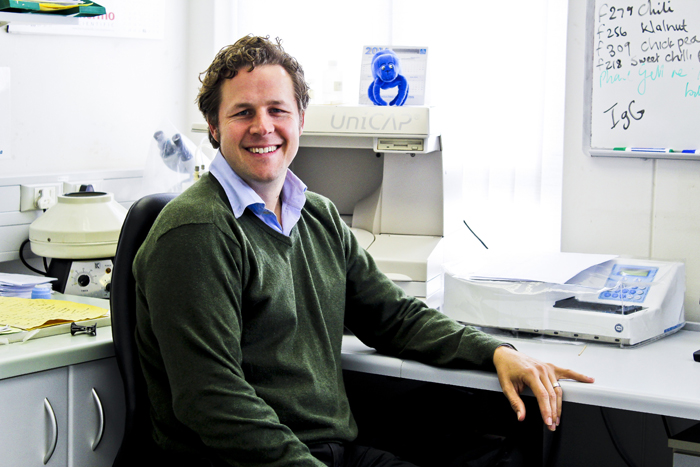 Dr Jonathan Peter.
For Dr Jonathan Peter, leaving UCT to do a postdoc at Oxford University was a no-brainer.
"The main advantage of going to Oxford for me, has been to train me in clinical skills around allergology, immunology and laboratory-based immunoassays. What is particularly valuable is that it's a set of skills that I would not be able to get here. This has shot me into a position where I can come back as an expert in that field and grow a nascent discipline in South Africa."
The opportunity to acquire this scarce training meant that he could pursue a path he was always interested in. Since landing on home soil, Peter has wasted no time sharing his new knowledge. Together with dermatology and infectious diseases colleagues, he has initiated the first multidisciplinary drug hypersensitivity clinic in the country, offering deep clinical expertise and a research platform with collaborators in the UK and US. He also convenes biweekly immunology discussion groups where clinicians from anywhere in the country discuss difficult cases.
As a consultant in the Division of Allergology and Immunology, Peter is responsible for coordinating the divisional undergraduate and postgraduate curriculum, which he hopes will reflect the shifting tide of medicine to immune-focused treatments.
"We are increasingly seeing more immune mechanisms involved in common diseases. For example, inflammatory bowel disease, hypertension and heart disease all have immune problems and contributions to differing degrees. So there is no question that in the next 10–15 years general doctors will need to know how to handle this as more and more people access targeted immune therapies."
Peter has first-hand experience of what kind of curriculum is needed to ensure this. During his time at Oxford, he noticed a strong link between the clinicians and laboratory scientists in immunology. He hopes to set up an integrated clinical and laboratory service, as well as curriculum, to help adequately equip future health practitioners with the knowledge required to provide better health care to their patients and communities.
Collaboration is key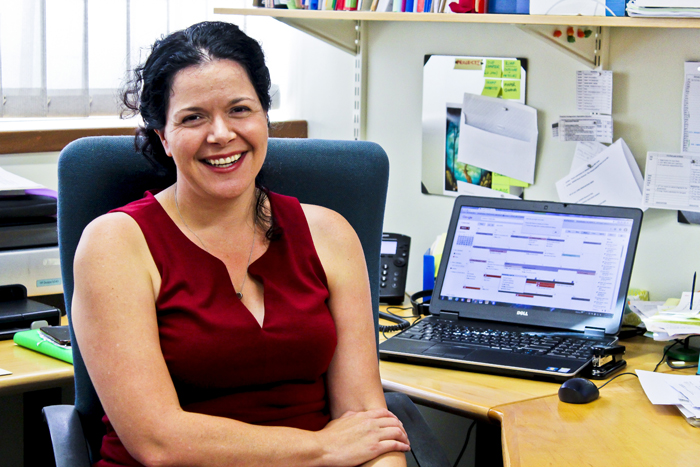 Dr Jill Olivier.
Dr Jill Olivier's work has always placed her in international contexts. In between degrees she worked in London, conducted fieldwork in the Asian Pacific and across Africa and finally ended up at the World Bank.
Uninspired by the prospect of talking about and doing research on Africa from an office in Washington DC, Dr Olivier left the World Bank to pursue a career in academia in the Health Policy and Systems Division at the School of Public Health and Family Medicine.
"I wanted to work in Africa and return to academia. With academic research you are able to get much more in depth into a topic than you can in a UN agency because the research there has a rapid turnaround time and you can only really go on the surface of things. I also wanted to teach and work with young budding African students," she says.
Olivier, whose research focuses on faith-based health delivery, health systems and development, has a doctorate in sociology and is passionate about interdisciplinary and intersectoral engagement. Director of the International Religious Health Assets Programme, she is also the research coordinator of the MPH health systems track, a convenor and principal investigator in several multi-country studies on the continent. As a result, Olivier has built an impressive network of collaborators and has brought her relationships along with an acute understanding of how UN agencies work to her role.
Building relationships is a skill she instinctively impresses on her postgraduate students. For her, networking is relational. The crux of which is patiently nurturing relationships that tend to bear fruit much later than expected.
From all her experiences in and out of the continent, Olivier says she is more interested in south–south collaboration. It's an area which she says, "people talk about but nobody gets right very well, whereas the power-dynamics of north–south collaborations are quite challenging, south–south brings a lot of opportunities to build good relationships with other institutions. They do take a lot of effort but there is real potential for better engagement."
This story originally appeared online on UCT's Faculty of Health Sciences website.
---
This work is licensed under a Creative Commons Attribution-NoDerivatives 4.0 International License.
Please view the republishing articles page for more information.
---