In the last of the 13 graduation ceremonies to be held in June, Vice-Chancellor Dr Max Price appealed to graduates to honour the youth of June 16 by making a difference in the world.
Price, who was the guest speaker, said: "Today is a landmark day for all of us and for all of you – the culmination of years of work and a springboard into the wider world. It's an opportunity to shape a career and make a life outside the university. And of course it's significant in its own right for that reason."
But it was also significant because of the timing of this series of graduations on the eve of the 40th anniversary of the Soweto uprising of 16 June 1976.
In the late 1960s and early 1970s, apartheid was at its zenith and the system seemed unassailable. Price said, "Liberation appeared to be an unattainable dream and after being beaten down and oppressed there was a general sense of hopelessness."
He said that sense of hopelessness in itself had dampened resistance.
Lost generation
What the Soweto uprising did was rekindle the hope that had been lost. It gave people the sense that a popular uprising could create a situation which would ultimately make a difference.
Nevertheless, Price said it was thus both "salutory and disappointing" that the key issue that gave rise to the Soweto uprising, namely the state of education in the country 40 years ago, remained a flash point of conflict today and probably represented the new South Africa's "signal failure" in the last 22 years.
"The thing we have most significantly failed at is to fix the school education system. The issue of education is as important now as it was then and there is as much work to do as there was then. If we cannot get the school education system right, we will still be here 40 years hence."
He said the second lesson of June 16 was "what we should not do". This was a strategy that argued for "liberation first and education later" because this had led to a lost generation, if not two generations, who did not achieve education.
"It should worry us enormously when we see that message in today's protests – the burning of schools, the destruction of educational infrastructure and other infrastructure as if that will be the most effective way of improving our education system. It will not. We have to remind people of that particular lesson of history."
Taking the lead
He said the third lesson from 1976 was about the value of youth taking the lead.
"Activism starts in universities and schools – it almost always has around the world. Young people see the world with fresh eyes. They are idealistic. They believe the world can be different."
He said this was an essential part of change and needed to be valued and encouraged.
Fourth, while the causes may be similar, much had changed, in particular the democratic environment. In 1976, while the vast majority were disenfranchised and had no legal way of expressing themselves or any civil protections, certain forms of protest were justified.
Today, however, South Africans lived in a constitutional democracy "which we can and should protect". That social compact meant that activities should be bound by the rule of law and not transgress into levels of violence and arson.
Active citizens
However, Price said there was a need to find ways of protesting that were "sufficiently disruptive" to give voice to marginalised people.
"We need to tolerate and encourage forms of protest that ensure those voices are heard."
He said most activities at UCT over the last year had been in the realms of appropriate protest.
"We have tried to tolerate and encourage and support that level of protest … because we have felt that form of protest has a place, as uncomfortable and disruptive as it may be."
But, he said while the protests had been important in exposing issues, the sacrifices of June 16 were also a reminder of the other roles we play in society.
Price praised those students at UCT who had ploughed their energy and passion into helping others – from after-hours teaching and offering legal advice to serving thousands of patients a year in clinics; from offering surfing lessons to building a skateboard park; from setting up blogs to reading projects and urban farming.
In conclusion, he said: "Beyond the lectures and tutorials, we hope you will carry forward the important values you have learnt while at UCT: a commitment to social justice, respect for diversity, that you go beyond the personal material goals in thinking about the impact of your enterprise on other people and on the environment, and that, in particular, you recognise the enormity of the privilege you have had in tertiary education.
"Go out; make a difference in some way. Through your attitude and actions, you will be honouring the sacrifices made by hundreds of young people on June 16, 1976, 40 years ago, and in the struggles that followed up until today."
Distinguished Teacher Award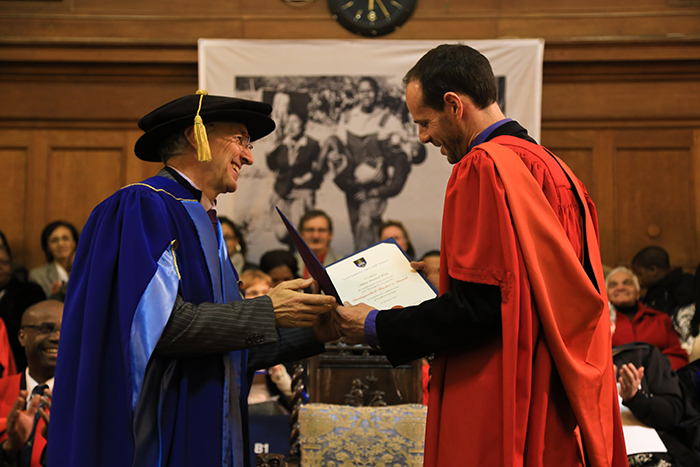 Dr Adam West of the Department of Biological Sciences received a Distinguished Teacher Award at the ceremony.
To loud cheers from his students, Dr Adam West of the Department of Biological Sciences received a Distinguished Teacher Award at the ceremony.
West, who has been in the department since 2010, was described as having made an outstanding contribution to teaching and continued to consistently receive the highest student evaluations.
West teaches undergraduate levels in the science faculty and supervises honours, master's and PhD students, covering topics such as cell biology, plant ecophysiology and global change ecology. He also teaches a postgraduate stable-isotope course in archaeology and has contributed to the Post Graduate Certificate in Education course in the Department of Education.
Special thanks
Also graduating that evening was Alexios Vicatos, the organist for the ceremony. Alexios was getting an honours in chemistry, along with his sister Giselle who earned a master's degree in the same subject. The two siblings were hooded by their parents, biomedical engineer Associate Professor George Vicatos and Evelyn Vicatos, both in the Faculty of Engineering and the Built Environment.
In his welcome, master of ceremonies, Deputy Vice-Chancellor Professor Danie Visser, told the 390 science graduands that by choosing to study at UCT they had made an excellent choice. Not only was UCT engaged in world-class science, but that both pure and applied science were vital to the economic health of the country.
Visser and Price also both thanked the imbongi, who goes by the stage name of Sange. An African music student at UCT, she gave the praise recital ahead of each of the 13 graduation ceremonies in a number of different languages.
Read VC Dr Max Price's graduation address text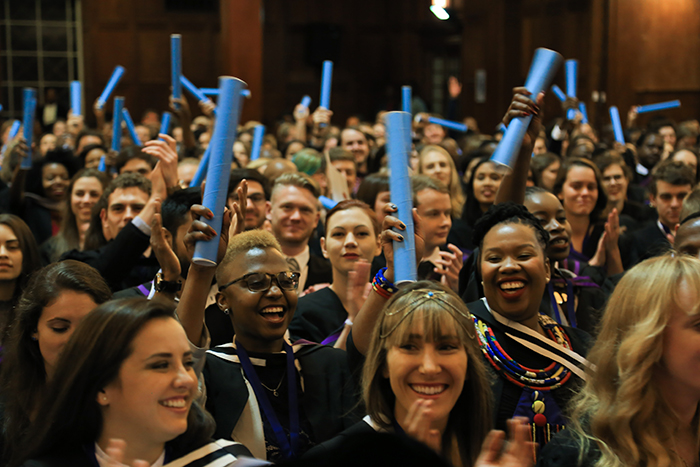 Science students celebrate during the last of the graduation ceremonies.
Story Andrea Weiss. Photos Je'nine May
---
Watch the recorded ceremony:
---
This work is licensed under a Creative Commons Attribution-NoDerivatives 4.0 International License.
Please view the republishing articles page for more information.
---