The fifth and last of the Commerce graduation ceremonies in this extended mid-year season took place on Wednesday afternoon. Renowned advocate Norman Arendse delivered a speech reminding graduands about the 40-year commemoration of June 16, and Associate Professor Jacqueline Kew was conferred a Distinguished Teacher Award.
Arendse, at the age of 16, was a top order batsman, and became the youngest player to represent Western Province. He was the same age when he began to study law at the University of Cape Town.
After completing his studies at UCT he was admitted as an attorney of the High Court of South Africa, and went on to pursue an LLM at University College London. He also spent time as a senior researcher in the UCT Labour Law Unit before being admitted as an advocate of the High Court of South Africa.
Arendse is currently the chair of the General Council of the Bar of South Africa and a director for Cricket South Africa.
Reminiscence of a former activist
"Many of us black students boycotted ceremonies like this. At the time, the chancellor was Harry Oppenheimer," says Arendse.
His parents insisted that he graduate because it was a big day in their lives – they were both illiterate. His father spent 50 years working for the City Council, and his mother was a textile worker. He reluctantly attended his graduation.
"I had to go down to Bremner to borrow a tie to attend the ceremony. My father said, 'I'm going to die, and I must see you graduate,' " says Arendse. "Two years later I graduated with an LLB and he said the same thing."
In his address, he urged the commerce graduates to celebrate their day as it was not just a big day for them, but also for their teachers, mentors and parents.
A history of activism
Arendse is no stranger to student politics, having been involved with various gatherings that took place at Jameson Hall.
"The university in '76 was a hot bed of political activity … Much of what happened on 16 June 1976 flowed over onto the UCT campus," he says.
He recalls how campus was swarming with police, and how many rumours were started about fellow students being government spies. He also recalls the times when some students were unjustly assaulted.
Arendse shared memories of his first political experience. In 1968, when he was just ten-years-old, his father took out a letter they had received and asked him to read it.
"The letter was a notice of eviction from the house we were occupying in Wynberg because we stayed on the white Plumstead side," says Arendse.
He recalls the suburb being a vibrant multi-cultural society with white, black, Muslims, Jews and Christians. But his father was old-fashioned and explained that the government insisted that they move.
"We questioned my parents … Why do we have to move? All our friends are here ..."
Arendse recalls how the South African Students' Movement was influenced by the Black Consciousness Movement.
"Many of you will remember how Steve Biko featured very prominently at the time. At that time we were highly conscious and highly politicised about the oppressive system that we were in," he says.
He recalls how many political organisations were banned at the time.
"It was left to the workers and students to take forward the fight against apartheid," he says.
June 16
Arendse matriculated at the end of 1975, just one year before the Soweto uprisings.
He reminded graduands of that day 40 years ago, when the South African police met school children with brutal force – school children who braved the winter cold to protest the apartheid government's decision that they be educated in a Afrikaans.
"I don't think any of you will forget the iconic picture of Hector Pieterson that represents what happened on that tragic day," says Arendse. "June 16 is a watershed event in the history of our country. … June 16 jolted the nation from its slumber and rejected the inferior education that the apartheid regime had implemented. It changed the course of history and accelerated the downfall of the apartheid system."
Arendse urged the graduands to take part in the upcoming local elections.
"Don't take it for granted – exercise your right to vote … These rights were hard won and they were won on the backs of many youth who were shot and killed, so we should not take it lightly."
Arendse concluded by encouraging the graduands to channel their energy constructively to rebuild the country.
"The youth are the heart beat and the pulse of the nation."
Distinguished Teacher Award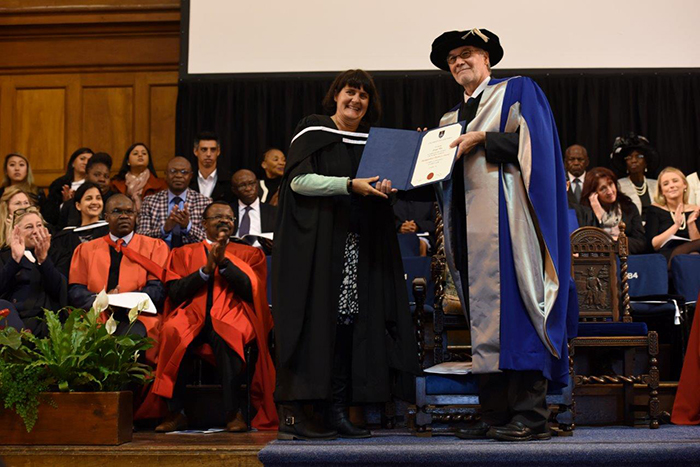 Assoc Prof Jacqui Kew is one of four to be awarded the 2015 Distinguished Teacher Award.
Associate Professor Jacqui Kew from the College of Accounting at UCT teaches on executive courses at the Graduate School of Business. She was one of four recipients of the 2015 Distinguished Teacher Award, which was awarded to her on Wednesday afternoon.
Kew has an outstanding reputation as a lecturer, both within and beyond the UCT community, and has distinguished herself by developing a national and African footprint as a lecturer. Her driving passion in education is the belief that financial literacy is an indispensable life skill. In the lecture theatre, she believes in instilling both a passion for the subject as well as understanding in students.
Kew recognises that language can form an important barrier in the learning process of students, which ultimately affects the progress in their studies. To address this, she spearheaded the Bukela Ufunde project, which introduces short concept videos on key accounting topics translated into isiXhosa, Xitsonga and Sesotho.
Kew is the principal author of Financial Accounting: An Introduction, and is involved in entrepreneurship research and co-authors the South African Global Entrepreneurship Monitor.
These are but a few of the many significant contributions Kew has made to the teaching landscape.
Story Chido Mbambe. Photo Michael Hammond.
---
Watch the recorded ceremony:
See a selection of pictures from social media:
---
This work is licensed under a Creative Commons Attribution-NoDerivatives 4.0 International License.
Please view the republishing articles page for more information.
---