Associate Professor Jay Pather, director of the Gordon Institute for Performing and Creative Art, re-imagines Shakespeare's Julius Caesar by creating a theatrical spectacle that includes directing, choreography and cabaret and bringing it to bear on the current state of the nation.
"I am surprised when anybody really understands my artworks." says Jay Pather with a twinkle in his eye as he recounts his methods of layering and the hybrid processes which he employs.
Pather's work is never simplistic or formulaic and he is not inclined to simplify either the form or the narrative of the work he creates. While his body of work explores serious and often deeply disturbing social issues, he takes himself less seriously and is keenly aware of the humour and irony deployed.
He admits that "from an early age I found it difficult to do art that was light." His extraordinary and multi-layered works are visually spectacular and defy categorisation as they blur elements of dance, film, theatre and performance art.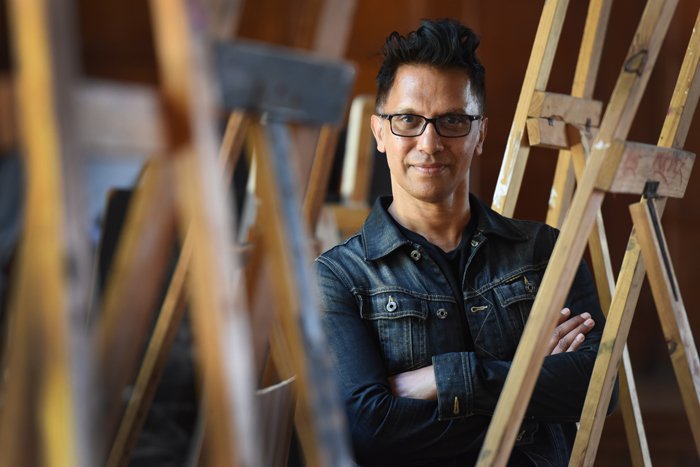 Associate Professor Jay Pather – director of Qaphela Caesar and winner of the 2016 UCT Creative Works Award. Photo Michael Hammond.
Qaphela Caesar
His portfolio is extensive, but it is Qaphela Caesar, a multi-disciplinary re-imagining of Shakespeare's Julius Caesar, which has earned him the UCT Creative Works Award for 2016.
The work was conceptualised in 2010 and first performed in the Cape Town City Hall. The multi-media, cross-disciplinary spectacle – incorporating elements of dance, opera, tango, punk-rock, film and theatre – wove through fourteen different rooms in the City Hall, interrogating notions of power, greed and betrayal.
The production is a distillation of Pather's concerns and ideas and offers a lens through which to view his creative process – primarily a self-reflective and collaborative one that makes extensive use of improvisation.
Speaking after his return from judging the International Award for Public Art, and seemingly undeterred by a 48-hour flight delay, he explains why he chose to work with a Shakespearian text.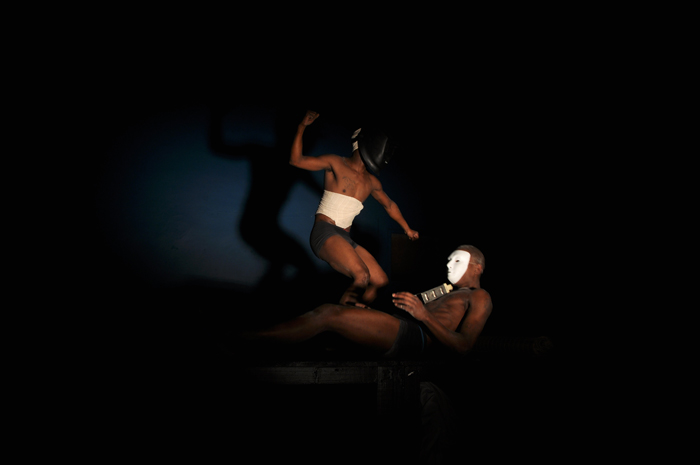 Performance of Qaphela Caesar at the Cape Town City Hall, September 2010, featuring UCT Dance, UCT Opera and UCT Drama Schools with Siwela Sonke Dance Theatre. Photo by Stop Motion Photography.
"When we think about Julius Caesar, we think about a certain political expediency, but because of the depth, quality and contemporary relevance of the writing, we get to understand the betrayal of the human. We face the fragile hold on morals and ethics and the betrayal of friendship and we are never sure when the house of cards stops falling. It puts into question so much and is particularly interesting for South Africa."
He refers to the current state of South Africa as being one of a low-grade depression that is worsened by the very personal nature of the betrayal that people experience and the fear that there is no hope of recovery.
The politics of art
In a further element of layering he explains, "I didn't just want to make a play about political betrayal without talking about, in some instances, how I may myself and self-reflexively be seen to be committing my own betrayal using a European artwork (and a work written at the height of colonisation) to comment."
He believes that the relationship between art and politics is ingrained and that even making art which is not political is taking a political stance.
"Art gives us a way towards finding those metaphors, those symbols, the kind of tangential experience to understand the nuances of the past, a troubled present and suspended futures. It is becoming more and more necessary for art to bear witness to all that is going on as we enter an era of feeling abandoned and lonely, unseen and invisible."
The blame for the current state of the nation is not laid exclusively at the door of politicians. One of the more insidious characters in Qaphela Caesar is the well-heeled and slick human attired in a designer business suit and adorned with a large pig's head. The constant and relentless presence of the neo-liberal economy is not merely big and gross but a sensual, sophisticated and sensuous persona.
"It has the elasticity of having a firm grip and then letting you go before seducing you again," explains Pather about his choice of collaborating with Mark Hoeben (UCT alumnus, ballroom and Latin-American dancer and choreographer) to include elements of tango in the choreography.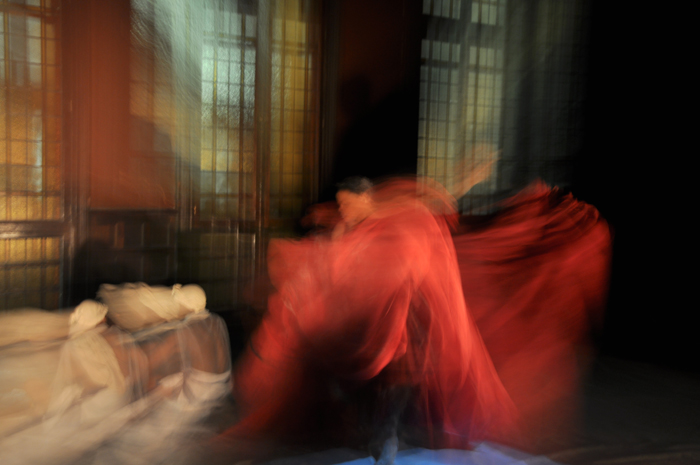 Performance of Qaphela Caesar at the Cape Town City Hall, September 2010, featuring UCT Dance, UCT Opera and UCT Drama Schools with Siwela Sonke Dance Theatre. Photo by Stop Motion Photography.
The production
The production in Johannesburg was performed in the now defunct Johannesburg Stock Exchange building, and the theme of capitalism was brought more to the fore.
In Cape Town the pervasive legacy of colonialism was more keenly felt. The twin strands of corruption and greed echo throughout the piece and in hindsight the opening scene in the City Hall was prescient. The announcement of Caesar's death at a press conference in a room still festooned with paraphernalia from the FIFA 2010 World Cup is an unwitting reminder of further international corruption and intrigue.
Exploring the elements of patriarchy and poverty, Pather included a strip artist who performed as a pole dancer, a casting which evoked intense discussion among the cast about the feasibility of translating that form of entertainment meaningfully into the production.
"I was interested in connecting power and especially patriarchy in this country with the notion of the sexual and not to shy away from that."
The rendition of Barbara Streisand's "Memories" by a drag queen with black-and-white struggle footage offered irony and nostalgia.
Qaphela Caesar is a piece that Pather feels justifiably proud of.
"I like the disparate forms to be able to hold the space. I wasn't interested in making a dry, political statement. I wanted to create a theatrical spectacle and bring together the skills of choreography, directing and cabaret and bring them to bear on a political story."
Given the timeless nature of the themes he explores and the prevailing political milieu, 2016 may be the perfect time to revive this political drama. Perhaps in the not-too-distant future we will be prevailed upon once again to lend our ears.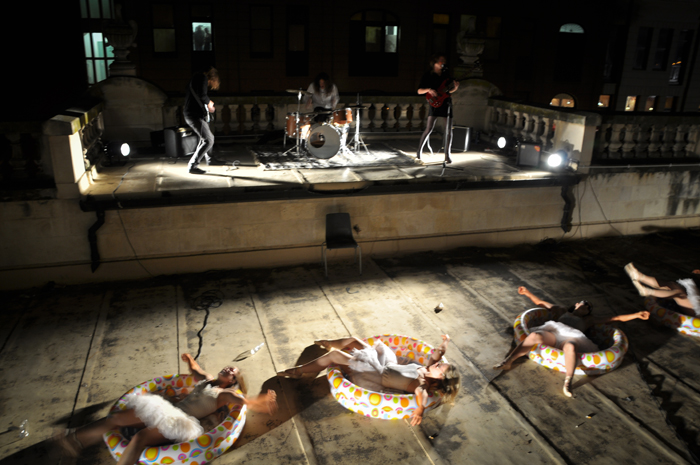 Performance of Qaphela Caesar at the Cape Town City Hall, September 2010, featuring UCT Dance, UCT Opera and UCT Drama Schools with Siwela Sonke Dance Theatre. Photo by Stop Motion Photography.
---
This work is licensed under a Creative Commons Attribution-NoDerivatives 4.0 International License.
Please view the republishing articles page for more information.
---