An estimated 3 911 students from UCT's six academic faculties will be capped over five days between 9 and 15 June 2016. The first of 13 ceremonies saw 357 commerce graduands capped in Jameson Hall this morning. This was the first of five ceremonies that will be hosted by the commerce faculty, which will cap a total of 1 656 students.
June is traditionally the smaller of UCT's two graduations, with four ceremonies usually held over two days. But after disruptions to final exams in the wake of 2015's nationwide student protests, many students chose to defer their exams to January, which meant missing the December graduation season.
Registrar Royston Pillay, whose team worked long hours to prepare for the mega grad, said: "We anticipate the usual excitement of the graduation cycle – a highlight of the annual calendar and a time for celebration of achievement for our students."
This morning's master of ceremonies, acting Deputy Vice-Chancellor Professor Anwar Mall, also paid tribute to the class of 2015, who he said had faced "doubly challenging" times, having written final exams under "very trying circusmtances".
Youth at the vanguard of change
Youth and change was a discernable theme at the ceremony. In his welcome, Mall reminded the congregation of the 40th anniversary of the 1976 Soweto Uprising next week and its significance to the country's youth. A banner behind the podium in Jameson Hall of Sam Nzima's iconic photograph of a dying Hector Pieterson will form the backdrop to the graduations.
The theme was also highlighted by guest speaker Emeritus Deputy Chief Justice Dikgang Moseneke who is chancellor of the University of the Witwatersrand. Moseneke reminded the graduands that he too is an alumnus of UCT, the university having conferred an honorary doctorate of laws on him last year.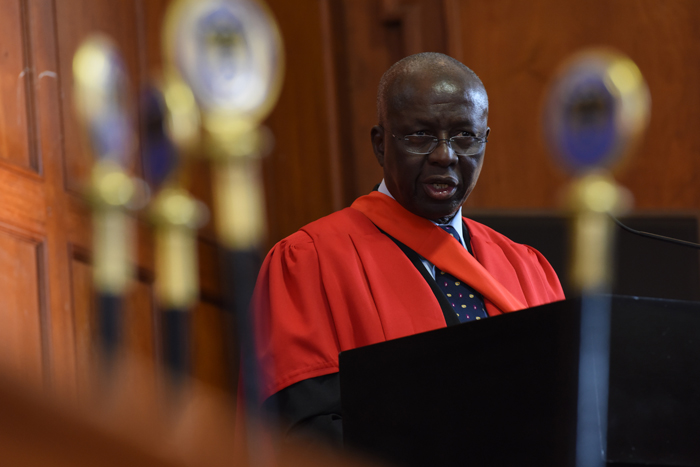 Emeritus Deputy Chief Justice Dikgang Moseneke, the guest speaker at the commerce graduation ceremony this morning.
Moseneke said it was appropriate that the graduands who had toiled should be affirmed and rewarded "openly and generously".
Pointing to the history of uprisings through the decades, Moseneke said that the youth had always been at the vanguard of socio-political protest in this country.
"It seems to me, Vice-Chancellor, that in our history young people have borne the brunt of the push for a better society … That restlessness is again upon us. You, as an institution, know more about that than most places … But it is the young graduates and other youth I want to address on this. Young people should never tolerate injustice. Why should they?"
He added: "Young people have an innocence of fairness of what is just and what is not. They can spot an evil privilege, whether it is historic or present."
However, there were no easy answers to developing a "key sense of fairness" in resolving socio-political issues. Moseneke said that in an open, democratic society based on freedom and equality, as the Constitution promised, protests that evolved alone became toxic.
"This is so because power relations are open to legitimate challenge within ordained channels within democratic structures. Our generation had to resort to insurrection because no other channel was open to it."
In today's society, democratic society, protest and conflict had to go hand-in-hand with peaceful mediation, he added. Revolt alone could not be a means to an end.
"We cannot take refuge in the barbarbarism of destroying public assets. They are few; they are rare; and they are difficult to build and they must be protected – even if we are unhappy about how they might be run."
In the end there were no shortcuts to advancement, he added.
"Of course, you must let go of the things the exclude and demean us," he said to the students, urging them to harness their ideals and goals and build a broader discourse about "what must fall and what must rise".
Other grad highlights
During the five days of graduation, three distinguished academics will receive honorary degrees, four academics will receive the Distinguished Teacher Award and 92 doctoral degrees will be conferred. Two accolades – the UCT Book Award and the UCT Creative Works Award – will also be handed out.
Besides Emeritus Deputy Chief Justice Dikgang Moseneke, legendary lensman Peter Magubane will be among the notable speakers. Magubane will speak at a graduation ceremony on 15 June at 14:00, which is dedicated to the commemoration of Youth Day on the eve of the 40th anniversary of the 1976 Soweto uprising.
Story Helen Swingler. Photos Michael Hammond.
---
Watch the recorded ceremony:
See a selection of pictures from social media:
---
This work is licensed under a Creative Commons Attribution-NoDerivatives 4.0 International License.
Please view the republishing articles page for more information.
---