Tahne Thomas has successfully balanced raising a young child, a part-time job and full-time legal studies at UCT. This year she is employed as a candidate attorney at a commercial law firm. Her positive outlook on life, despite the odds stacked against her, has helped her to achieve her goals.
The 24-year-old was born and bred in Cape Town. She fell pregnant at the age of 16 with her then long-time boyfriend and her mom gave her an ultimatum, "You can have the child but you have to go back to school."
Michelle Poggenpoel, Tahne's mother, says, "As a parent, you know your child's potential. If you're prepared to go that extra mile and let her do whatever she wants to do, support her in whatever she wants to do, you won't be sorry at the end of the day."
Tahne took some time off school to give birth to her son, Nathan, who will be eight in July. This resulted in her having to repeat grade 11, but she endured the challenges and matriculated from Wynberg Girls' High School in 2010.
Tahne's law journey started with job-shadowing for a life orientation project.
"I job-shadowed a criminal advocate and went with him to court. We did everything advocates do, which sparked the passion and I decided that … this is definitely what I want to do," says Tahne.
The advocate had studied at UCT, so the university was the obvious choice for Tahne.
With the right support, you can do anything
In her matric year, when Nathan was just three-months old, her mother was diagnosed with cancer. "There was just a whole bunch of life happening, so things took longer than expected, but I finished eventually," says Tahne.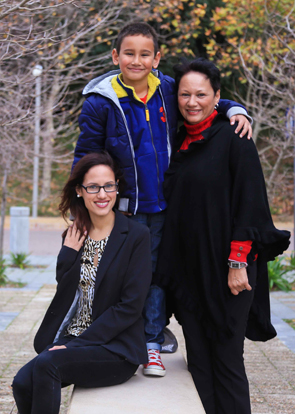 LLB graduate Tahne Thomas with her mother, Michelle Poggenpoel, and her son, Nathan.
Tahne was meant to graduate from UCT in 2014, but studying full-time, juggling a part time job and raising a child proved to be challenging. Her son also battled with asthma when he was younger, so was constantly in and out of hospital.
"During my fourth year, his father was killed. So we had to deal with that, which was strenuous," explains Tahne. "Nathan was only five at the time, so he had to go to therapy. He had breakdowns during my exams and I failed, so there was a whole bunch of things happening."
She believes that her life challenges and giving birth to Nathan have helped shape her career and keep her motivated.
"I'm the only one he's got, so I have to keep on going," says Tahne. "Law in itself is tough – sometimes you feel like quitting and a lot of the time it just sucks your soul, but it makes it easier knowing that you're doing this for a reason."
Tahne also attributes her success to her mother's constant support. She says: "My mom has always been there – she's always wanted what's best for me and I understand that now more than ever now that I'm a mother."
Her lecturers and mentors have also played a pivotal role in her success. "I've gone to [Salona Lutchman's] office a few times … she understands because she's a mom as well, so I chat to her when I need someone," says Tahne.
Tahne recalls having a breakdown in second year and approaching her criminal procedure lecturer, Dee Smythe. "I thought I had to have everything figured out. I was crying because I didn't have my articles signed yet; I had a child; I don't know what I was going to do …. She just told me to relax, 'You don't have to have everything sorted out, and it's going to be okay. Take things one day at a time.' "
Don't fall into the stereotype
"There are so many stereotypes about people who have children out of wedlock and teenage pregnancy. It's like you're destined to become a packer at a shop. Just don't fall into that stereotype; that's not what's meant for you," says Tahne. "People always say to me, 'Oh my word! Even though you had a child, this and that,' and I always tell them it's not despite, it's because I had a child that this is happening," says Tahne. "Everything I have done has been for him."
Although Tahne applied for master's last year and was accepted to study dispute resolution, she opted to complete her articles first. After her articles, her first goal is to become an admitted attorney, and she intends to do her master's at a later stage. Although Tahne is currently working at a corporate law firm, she has a passion for family law and aspires to be a successful advocate and a role model to Nathan.
"My main thing is just to be successful so that my son can see that I'm successful," says Tahne. "As he gets older, I want to be someone he can look up to."
Embrace failure
Tahne is a firm believer in the mantra "everything happens for a reason". She advises students to embrace their failures as they make you stronger.
"Eventually you will be able to laugh about it. It really doesn't seem so when it's happening, but afterwards it makes you who you are. … It's very important for people to fail and learn, because life is not a walk in the park. It's tough and you need to be able to pick yourself up again and carry on."
"At the time when I was failing and did an extra year, I was thinking, 'I should have done this or I should have done that.' But when I look back now, if I was to have graduated in 2014, I wasn't ready. I wasn't ready for what the world has," says Tahne.
Never give up
"I was always looking at people thinking, 'Why am I not there?" she says. "But you're only in competition with yourself. You'll get to where you need to be when you need to be there. No sooner, no later. Everything will work out – you just have to wait it out and not give up."
---
This work is licensed under a Creative Commons Attribution-NoDerivatives 4.0 International License.
Please view the republishing articles page for more information.
---