UCT alumnus Johnny Miller has produced a photo series called Unequal Scenes which aims to encourage debate around the socioeconomic divide in South Africa. His photographs and video footage display the greenbelt between wealthy gated communities and poor informal settlements, such as Masiphumelele.
The American-born photographer and video producer is currently based in Cape Town. He began working in media production in 2009 after hiking the Pacific Crest Trail and reassessing his life and career.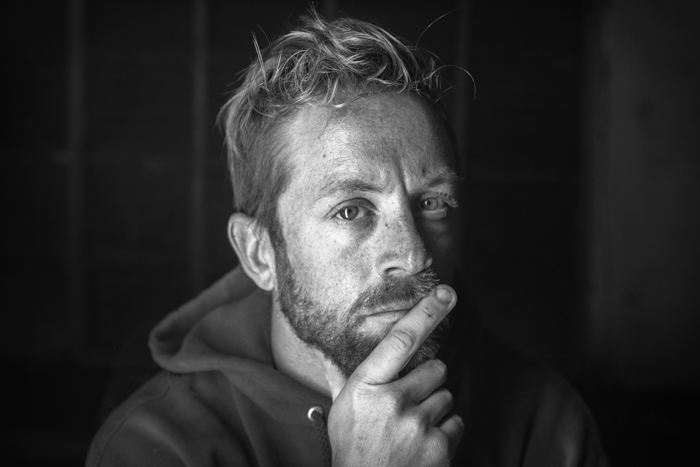 Johnny Miller seeks to give a fresh perspective on the country's inequalities.
"I wanted something that I could be passionate about, good at, and also provide myself an income," explains Miller. "Video work taught me the skills I needed to make a living, and when I discovered photography, it was like I had finally found that passion which I was desiring all along."
He was awarded a Rotary Ambassadorial Scholarship and chose to study at UCT in 2012. The scholarship gives students grant money, which allows them to study anywhere in the world.
"I chose UCT as it's the best university in Africa, and I thought that Cape Town would be best suited for my outdoor pursuits and my documentary photo passion," says Miller.
Miller studied towards a master's in anthropology. Part of his studies focused on the physical architecture before and during apartheid.
"Anthropology seemed like the perfect department in which to study, as it focuses on storytelling, listening and immersion. Anthropologists tend to be good at observing the world around them, and that's a skill I wanted to hone," explains Miller.
Viewing the world from above
Miller has recently made headlines with his photo series Unequal Scenes. He started working on the project a few months ago, hoping to provoke people out of their complacency and encourage dialogue in order to redress inequality in South Africa.
The project was born after the enormous social-media response to the first images of Masiphumelele and Lake Michelle that he posted on Facebook.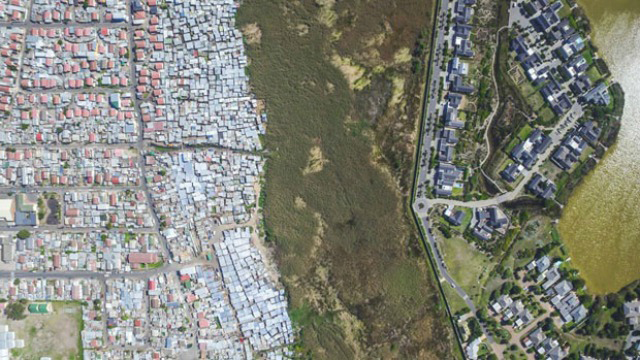 The 'buffer zone' between Masiphumelele and Lake Michelle, Noordhoek.
"Many of these architectural separations – roads, rivers, 'buffer zones' of empty land – still exist today in South Africa. But they can be very difficult to see from the ground. So I had the idea to fly above the most glaring, obvious separations in Cape Town with my drone," says Miller.
"Aerial photography specifically is … very objective. And people, I think, find that objectivity very powerful," explains Miller. "It is very difficult to dismiss an aerial photo as somehow 'slanted' or 'loaded'. It is, simply, what it is."
He used interactive maps to locate where boundary lines lay for race, income levels and language.
"When I found areas I thought were suitable, I looked on Google Earth to see what the satellite view of the area looked like. I planned my flight to take those images, and then went and flew," he says.
The responses
The responses he has received have been very encouraging at times, and at times quite hurtful. Some question his work, saying that such inequalities exist all over the world. A lot of people will ask why he doesn't show somewhere besides Cape Town or South Africa. Miller's response is, "You're absolutely right. Inequality, shocking disparities of wealth, exist all over the world. I have never said anything differently, nor have I purposefully ignored that fact."
He chose to focus on Cape Town for two reasons. One, because it is home and an area he is familiar with. Two, because as much as inequality exists in other parts of the world, the repercussions of apartheid put a different spin on inequality in Cape Town and South Africa as a whole.
"The legacy of apartheid, and specifically the architecture of separation, provides a very unique context in which to view this particular form of inequality," says Milller. "Not only that, but the extreme inequalities are usually not present in other parts of the world. For example, you can see in Imizamo Yethu, how the shacks – literally, tin shacks – exist just meters away from very wealthy houses with swimming pools."
The biggest shock to Miller while working on this project has been those who defend inequality.
"This is what shocks me, actually shocks me. That people can actually defend this behaviour as somehow natural, or that it is a choice on the part of the poorer communities (actual comments, multiple times, on the Facebook posts). Of course it's not a choice. And of course it's not natural. It is shocking and impossible to defend as a status quo," he says. "That is why South Africa consistently rates among the most unequal countries on earth, as measured by the UN, CIA and other methods like the Gini coefficient."
Hopes for the future
Despite the criticism, he has received many messages of encouragement and support.
"I think if people haven't seen these sorts of images before, it does need to get out there. People do need to see them. It should not be covered up. And I don't have any agenda besides providing a new perspective on an existing problem," says Miller.
"You could look at these photos and be quite pessimistic about the future in this country. But I'm actually quite optimistic because of the scale of the response. People care about what this looks like; they care about their country. They don't want people to have to live so unequally next to one another because it's not right. … Most people care about their fellow neighbours, countrymen, and brothers and sisters. And I think that's why this is having such a big response, and that's why I'm hopeful for the future. "
Story Chido Mbambe. Photos Johnny Miller.
---
Watch the videos:
Unequal Scenes – Strand and Nomzamo
Unequal Scenes – Imizamo Yethu and Hout Bay
Unequal Scenes – Masiphumelele and Lake Michelle
---
This work is licensed under a Creative Commons Attribution-NoDerivatives 4.0 International License.
Please view the republishing articles page for more information.
---