On 16 June this year it will have been 40 years since the Soweto uprising, one of the most significant moments in the struggle against apartheid. To commemorate this event, the Centre for African Studies (CAS) is curating an exhibition of iconic imagery.
The exhibition, which has been titled 1976/360, is part of a broad theme for CAS this year which focuses on student activism from a South African and global perspective.
The day of 16 June 1976 is deeply etched in most South African minds. It is a moment when Soweto students defied Bantu education and the apartheid system itself in a protest against the use of Afrikaans as a language of instruction. Sparking protests around the country, official statistics suggest that 595 people died during the uprisings.
To mark the 40th anniversary of the event, curators Nkululeko Mabandla and Paul Weinberg have built the 1976/360 exhibition around the following questions: "How do we reflect on this cataclysmic moment in our history today? What is its importance in the present climate? How do we understand 1976 in relation to our national popular memory?"
The exhibition features the works of photographers like Sam Nzima, whose iconic Hector Pieterson image flashed around the world, and Peter Magubane, whose latest book will be launched at the opening on 15 June.
It also features lesser-known images from the Independent archive in Cape Town and selected artworks from the UCT Works of Art Collection that directly speak to this iconic moment.
A seminar programme is scheduled for the duration of the exhibition.
For more details visit the CAS website or contact Paul Weinberg.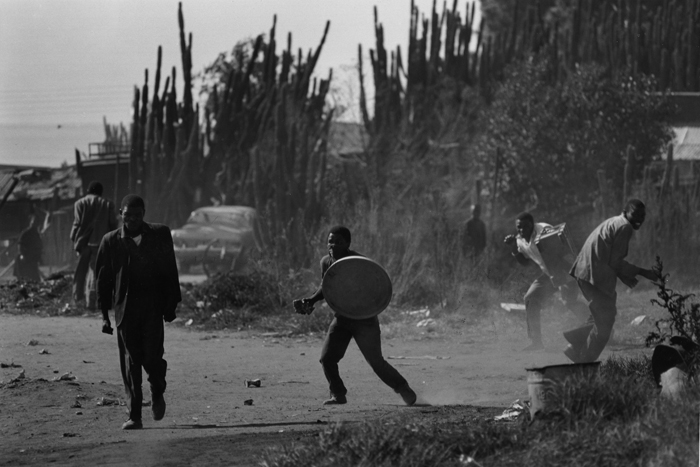 Fighting bullets with stones in Alexandra Township, 17 June 1976. Photo Peter Magubane.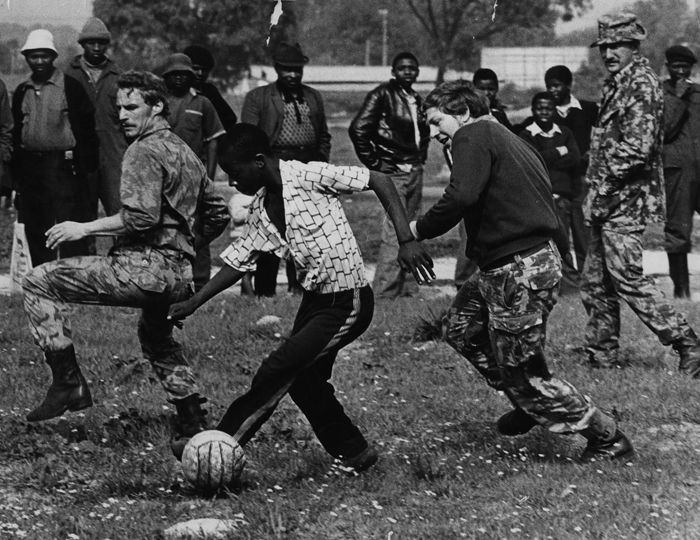 A game of football takes place between police and students in Langa during an interlude in the uprisings. Photo John Paisley.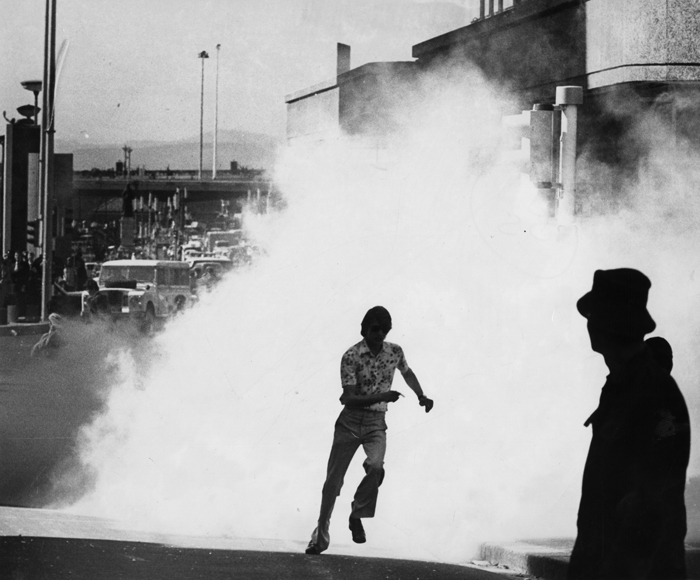 A demonstrator flees teargas in central Cape Town. Photo Independent Newspapers.
---
This work is licensed under a Creative Commons Attribution-NoDerivatives 4.0 International License.
Please view the republishing articles page for more information.
---