South Africa is a step closer to realising the full potential of its enormous platinum reserves with the launch of a spin-off company, HyPlat, which will be based at UCT. The company is able to manufacture high-quality components for the international hydrogen fuel cell industry.
Hydrogen fuel cells are a promising source of clean energy that can be used to provide off-the-grid power to rural schools and hospitals or to provide backup power for telecommunication and data centres.
A key component of these cells is platinum, a mineral resource that South Africa has in abundance, but which the country generally exports only as a raw material. This is set to change with the commercialisation of technology developed at UCT and at Mintek in Randburg under the umbrella of HySA/Catalysis.
HySA/Catalysis was set up as one of three centres of competence by Hydrogen South Africa (HySA), a flagship project of the Department of Science and Technology (DST).
HySA has set itself an ambitious target of becoming a major player in sales of fuel cell materials and components by 2020, while an academic goal is to develop a knowledge pool of highly skilled South African scientists and engineers equipped to work in this sector.
Technology agreement
The new spin-off company, HyPlat, will draw on cutting-edge technologies developed during the first five-year incubation period. It will produce catalysts, membrane electrode assemblies (MEAs) and advanced components needed for fuel cells. The objective now is to bring these to market and to develop a sustainable supply chain.
In terms of an agreement signed in the New Engineering Building on 7 April 2016 with UCT and Mintek, HyPlat now has complete access to the intellectual property and technologies that have been developed by HySA/Catalysis.
Its flagship products are a PGM-based catalyst (in powder form), which is coated onto a membrane with other subcomponents to create MEAs. These in turn are incorporated into the fuel cell stacks that are needed to build fuel cell systems.
HyPlat's business development manager, Rainer Wellmanns, explains: "Using world-class materials we are able to produce a cost-competitive MEA which is manufactured using world-class manufacturing processes and technology. Each order is custom-made, so we can meet the customer's specs in terms of both performance and cost. What we offer our customers is flexibility and a rapid turnaround, which are major advantages for the fuel cell industry at present."
Later this year, HyPlat will have the capacity to produce some 36 000 units of MEAs per annum, depending on orders placed.
One of the first platforms for selling these products will be at the Hydrogen Fuel Cells and Batteries Fair in Hannover, Germany, from 25 to 29 April 2016. HyPlat will be the first and only African exhibitor among 142 companies.
At present, HyPlat is 100% owned by UCT with Mintek representation on the board, but the company expects to open to multiple equity stakeholders within the next two years. It also has external advisors in the form of fuel cell, business and legal experts to assist with its growth.
Achieving national goals
Dr Sharon Blair, the director of HySA/Catalysis at UCT and CEO of HyPlat, said: "Both UCT and Mintek are very excited and supportive of efforts to take this through the required steps to commercialisation.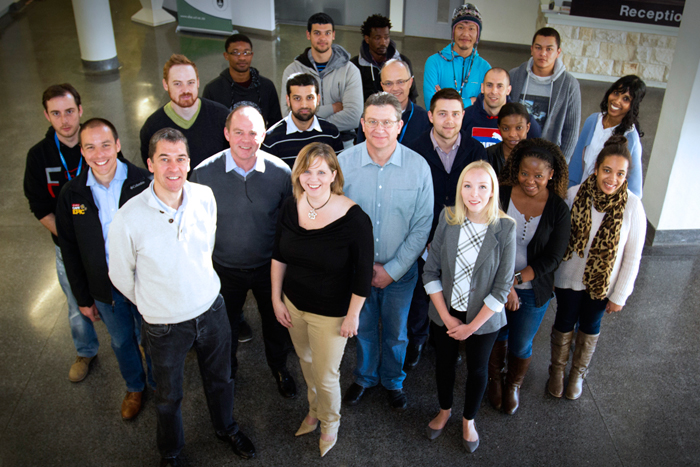 The HySA/Catalysis team at UCT who worked on developing the technology that HyPlat will be using to supply the international hydrogen fuel cell industry. HyPlat CEO, Dr Sharon Blair, is centre front (in the black top).
"The key to this agreement is that Mintek and UCT will provide HyPlat with unencumbered access to all of the technologies that have been developed. HyPlat's sole mandate will be to commercialise the technologies as soon as possible. This is a milestone in that it shows that DST is starting to reap the rewards of investing in research and development so as to position South Africa as a main player in the fuel cell sector. We will also be working with other government organisations and companies across South Africa to demonstrate how the beneficiation of platinum can move the country up the value chain," she said.
Dr Makhapa Makhafola, the general manager of research and development at Mintek, noted: "Mintek is delighted to be part of the HySA programme and is extremely pleased that platinum fuel catalyst technology developed at Mintek is on a firm path to commercialisation. The effort illustrates our commitment to addressing the government's strategy of increasing local minerals beneficiation and building a knowledge-based economy."
Deputy Vice-Chancellor Professor Danie Visser, who is responsible for research at UCT, said: "The HySA/Catalysis team has created an exciting pipeline of intellectual property [IP] related to hydrogen fuel cells. HyPlat's strategy of partnering with global technology leaders and in-licensing their IP to create the platform into which South African IP will be integrated will create the springboard to fast-track international commercialisation and aid the development of this strategic new sector in South Africa."
---
This work is licensed under a Creative Commons Attribution-NoDerivatives 4.0 International License.
Please view the republishing articles page for more information.
---