When Ingrid Woolard threw her hat into the ring for the position as dean of commerce towards the end of 2015, it was with some hesitancy. The selection process had already gone two rounds and there was her research to think about – a body of work that has earned her a formidable reputation in government policy circles, but also has a good measure of personal significance.
As pro vice-chancellor for poverty and inequality, Professor Murray Leibbrandt, says, she is "without a peer as a producer of survey data and a top-cited economic researcher."
Woolard cut her teeth as a data manager on the country's first national living standards measurement survey in 1994, which the Southern Africa Labour and Development Research Unit (SALDRU) produced with the World Bank at the request of the ANC.
"These data have been used by Ingrid and hundreds of other researchers to analyse South African well-being," said Leibbrandt.
The information also underpinned Fighting Poverty, a book she co-wrote with colleagues Leibbrandt, Haroon Bhorat and others that analyses labour markets, poverty and inequality in South Africa. The book won a meritorious award and a Pifer award for Leibbrandt and Bhorat in 2003. Woolard was not working at UCT back then, says Leibbrandt, but had she been she would have shared the award since much of the book rested on her PhD work.
NIDS and KIDS
Woolard was also a key team member in the second and third waves of the KwaZulu-Natal Income Dynamics Study (KIDS). This used the KZN component of the 1993 Project for Statistics on Living Standards and Development and then re-interviewed this sample in 1998 and again in 2003.
KIDS was South Africa's first socio-economic panel survey and it pioneered the analysis of poverty and inequality dynamics in South Africa. Based on this data, Woolard's work showed how destitution has driven many urban-based unemployed people back into rural areas to survive off the pensions of parents and grandparents.
"As these unemployed people are moving away from labour markets, this is clearly a sub- optimal outcome. Only panel data in expert hands could have revealed this unfolding poverty trap. This paper, and others too, have been influential in unpacking how South Africa's unemployed actually survive," says Leibbrandt.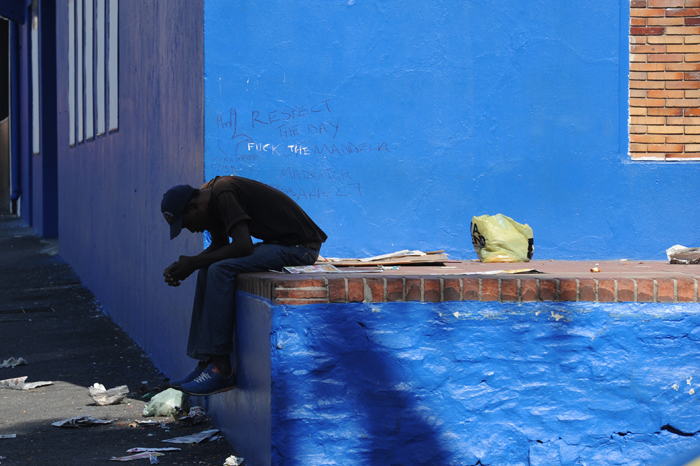 Cape Town: The effects of poverty and unemployment are often all too visible on South African streets.
Given this experience, Woolard was the first choice as a principal investigator for SALDRU's bid for the National Income Dynamics Study (NIDS), the country's flagship national household panel survey, which was launched in 2008. Later, by making the survey data widely available, Woolard positioned it as South Africa's highest-profile national survey with the unique potential to reflect the country's evolving socio-economic dynamics.
Woolard's contributions have been internationally recognised. She was the only South African labour economist invited to membership of the labour market team within the Harvard Group that National Treasury tasked with preparing a South African growth strategy.
In 2011 the minister of labour appointed her to chair the Employment Conditions Commission (she replaced UCT's Professor Evance Kalula). The commission, which makes sectoral wage determinations for vulnerable workers who are not covered by formal wage bargaining procedures, was informed by her own work on labour markets and inequality. She gave up the position in 2014 after being appointed to the Davis Tax Committee.
New career
But after more than a decade in SALDRU and the School of Economics, Woolard was ripe for change.
"There's a lot of really excellent socially driven research going on in the faculty and as dean I'm looking forward to shaping the direction that takes."
She is also acutely aware of curriculum reform and how and what the faculty teaches students.
Her own life was deeply influenced at student level. But for one lecturer, Woolard might have missed her calling (she initially signed up at UCT to become an actuary). That lecturer was Francis Wilson, now emeritus professor of economics.
"Francis was this incredibly inspirational second-year lecturer," she recalls. "He really influenced a lot of lives. One went from Ecos I, with all these boring models that didn't seem particularly useful in explaining the real world and then, suddenly, you were in a class with Francis who was so engaged and immersed in the country's pressing social issues and Ecos became exciting! Francis taught us for about two weeks only but completely changed how I felt about the subject."
Working with Wilson at SALDRU later proved pivotal.
"I had a very different view of where my career was going to go. In 1994 I had just embarked on a career at the National Treasury running macro forecasts and then – more by accident than design – I found myself at SALDRU working on the living standards survey with Francis; collecting and processing incredibly exciting socio-economic data."
This epiphany helped Woolard realise that working with microdata – the dots that could be connected to understand the grand narrative of complex data – lit her fire.
Managing a faculty
Woolard has been well served by the minutiae of managing the multiple arms and legs of big-bucks projects with clout (the last round of NIDS was a R70 million project). Her new role as dean of commerce will have her managing the university's second-largest faculty using many of the same skills.
Fortunately, she's a listener and gatherer. When Woolard was asked to produce a vision for the faculty, she was astounded by the idea that anyone could do so singlehandedly. The vision had to be produced with the input of the faculty community and a process built on listening, gathering, sifting and reflecting.
Though she recognises the significance of being the faculty's first woman dean, Woolard is quick to point out that the idea of a "female leadership style" doesn't resonate with her. The job needs hard and soft skills and everything in between to steer transformation in a faculty that is still too white.
"Transformation is going to be the biggest part of what I want to do in the next five years."
"Transformation is going to be the biggest part of what I want to do in the next five years." She came up against the hard edge of transformation in her first week as dean when UCT's black alumni association issued a statement calling her appointment a "smokescreen for transformation". It was uncomfortable but not unexpected, she says.
"We can't pretend that it isn't a problem that there are so many white deans. The faculty went into this appointment process with a very deliberate strategy of wanting to recruit a black dean. The fact that we didn't succeed is an indictment of the slow pace of meaningful transformation of the higher education sector. We have to try harder. We can't continue to say we can't attract black academics because there are all these outside pressures [that make other options more attractive]. We have to have an aggressive recruitment and retention strategy."
World at work
As dean, Woolard is also acutely aware of the faculty's brand; she understands the need to attract the brightest and best and most diverse student corps − and to prepare them for the world of work.
"The whole way of working is changing; more and more people are working in atypical employment. We need to think of the softer skills like flexibility and resilience and teach our graduates how to be adaptable.
"It isn't enough to say: this is what you're going to study and this is what you're going to do in your job for the next 40 years. I think we're going to see increasing levels of 'uberisation' in the workplace. Businesses will buy services as and when they need them. Our students have to be able to market themselves and have to be able to self-manage."
How do we teach those skills?
"Something we do very well at UCT is that we train up students to be critical and analytical. And if we've taught students how to engage critically, how to think and how to learn, then they're much more adaptable in the workplace."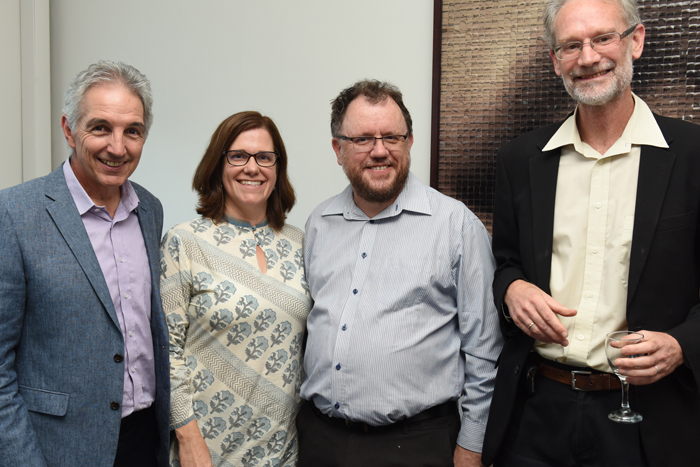 Vice-Chancellor Dr Max Price, Prof Ingrid Woolard, Dr Chris Woolard and Prof Murray Leibbrandt on the evening of the presentation of the Alan Pifer Award.
Press pause
Though the deanship will absorb most of her time, Woolard will maintain a presence in the School of Economics and will continue to supervise PhD students. And she'll keep her hand in research. "SALDRU will always be my research home," she says.
Fortunately, there's support on the home front – UCT is very much in the family. Her husband is Dr Chris Woolard, who teaches in the Centre for Materials Engineering. They met as res students at UCT in 1991. Their children, Andrew and Sarah, are in high school.
What else fills her life?
(Look of alarm) "Work! I don't even cook," she apologises. "And I read terribly low-brow stuff."
Drill down a little and you learn that this "stuff" is mostly old-fashioned whodunits by PD James, Ngaio Marsh and Dorothy Sayers, which are filled with clues, red herrings and good detective work.
Some might say it's simply data analysis in a different guise.

The Alan Pifer Award is the Vice-Chancellor's annual prize for outstanding welfare-related research. The prize honours the late Alan Pifer, philanthropist and former president of long-term UCT benefactors, the Carnegie Corporation. His focus was on social justice and strengthening the rights of historically disadvantaged groups, including women. Pifer also established the UCT Fund, which raises funds in the US to support black students and to promote the advancement and welfare of disadvantaged groups.
---
This work is licensed under a Creative Commons Attribution-NoDerivatives 4.0 International License.
Please view the republishing articles page for more information.
---