UCT has welcomed its second cohort of MasterCard scholars, who are keen to make their contribution on the African continent – and they all have big ambitions to share.
The MasterCard Foundation Scholars Program is funding more than 300* scholars from economically disadvantaged communities across sub-Saharan Africa to be developed as future leaders. Deputy Vice-Chancellor Professor Danie Visser and Professor Evance Kalula, director of the International Academic Programmes Office (IAPO), recently welcomed the second cohort of 20 students (10 undergraduates and 10 postgraduates) onto campus for the 2016 academic year.
In his address, Visser, whose portfolio includes research and internationalisation, encouraged the scholars by comparing the opportunity presented to them to the ancient Greek city of Sparta: "This is your Sparta – adorn it." Life is about opportunities and how we see those opportunities as stepping stones to making dreams a reality. He further pointed out that the loyalty of future leaders (such as these scholars) to their respective communities would be conducive to Africa's development.
Professor Evance Kalula, the director of the International Academic Programmes Office, shared with the scholars the difference between this scholars' programme and other scholarship opportunities, stressing how it focuses more on community engagement and giving back. This, among other traits, will form well-rounded scholars who will no doubt be extending themselves. "You are expected to give back, to make a difference," he said.
Silicon Savannah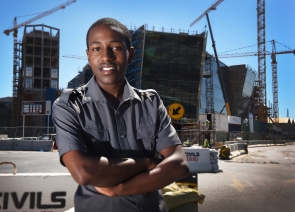 Crispus Macharia has his eye on Silicon Savannah.
Crispus Macharia from Nairobi, Kenya, is studying towards a BSc in property studies at UCT. He is greatly inspired by development strategies in Africa. Among these is a plan to create an African version of Silicon Valley, known as Silicon Savannah. To this end, the Kenyan government is building Konza city – a "smart, techno city" slated for completion by 2030.
Macharia says: "This (idea) gave me the zeal to study the built environment and construction in order to advocate for smart and greener cities to help conserve the environment as well as take part in city management to ensure that Kenyans' resources are utilised to the maximum."
His word of encouragement to MasterCard Foundation scholar applicants is to "be real" and take time to reflect on their past and present life. "Point out all the activities that you have been involved in. Remember, everything counts. It's not how big the project was. It is the impact you made and your passion towards the agenda."
In terms of his ambitions, he says: "I think I am already living my future, since the start of the degree programme is the beginning of a new career".
He wants to return to Kenya to influence policy and advocate for technology that will help eradicate social and economic challenges.
Ending poverty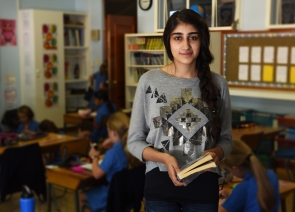 Anniqah Ebrahim has always wanted to bring a sense of justice to the world.
South African Anniqah Ebrahim is studying social science and law. Her ambition is to end poverty – "as dreamy as that may sound".
"I always wanted to bring a sense of justice to the world and by becoming a lawyer it will aid me in doing so. Social science will teach me the study of society, which complements a law degree very well. My degree will help me to understand people as well as give them a sense of hope."
She says prospective MasterCard Foundation scholars should remain motivated to make a change no matter how small.
"A pebble in the sea might be minor but it creates a ripple effect, and that's what the MasterCard Foundation scholarship has aided us in doing. We should continue to do justice to the platform we have been provided with."
"Endangered species"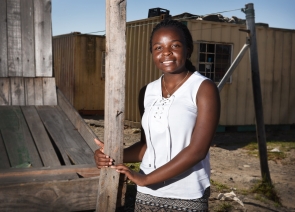 Nicola Jeranyama aims to apply her actuarial skills in Zimbabwe.
Nicola Jeranyama from Zimbabwe is studying actuarial science.
"I am doing this because there are very few actuaries in my country. They are often referred to as an 'endangered species'. As an individual, I am taking steps towards the prevention of the extinction of actuaries in Zimbabwe. Actuaries play an important role in the economic stability of a country."
Jeranyama says that she hopes to go back to Zimbabwe to help companies make big contractual decisions without harming their employees in the long run. She says she dreams of an African continent that is well developed as opposed to 'developing', a term she has heard since childhood.
Also, she would like to build a school that provides free education to children from children's homes.
"Development starts with education. I hope to do the best I can to help my community, country and Africa at large."
*It is estimated that 60 South Africans and 240 students from countries in sub-Saharan Africa will take part in the programme at UCT, with a focus on first-generation university students.
Candidates must sign a declaration that they will return to their home country upon successful completion of their studies.
---
This work is licensed under a Creative Commons Attribution-NoDerivatives 4.0 International License.
Please view the republishing articles page for more information.
---