Employers love business school graduates. That's not just a wild claim: 96% of employers globally polled by the Graduate Management Admission Council in January 2016 said that hiring such graduates creates value for their companies.
But that most-sought-after of business qualifications, the Master of Business Administration (MBA), is not above criticism. It has been accused by some of not meeting the needs of a changing market.
In this tough economic and political climate it's important to question whether business schools should be doing something differently.
After the crisis
During the 1900s, for instance, the MBA program developed by US universities supported rapid industrialisation in that country. The idea behind the degree was to increase efficiency and smooth the production cycle.
But things have changed. In 2001 McGill University professor Henry Mintzberg famously said that MBA programs were labouring under irrelevant curricula.
Nine years later, and following the global financial crisis, Harvard Business School scholars Srikant M. Datar, David A. Garvin and Patrick G. Cullen wrote that executives and deans had identified a number of gaps in MBA teaching, largely in areas like risk management, internal governance, the behaviour of complex systems, relations between business and government and socially responsible leadership.
Importantly, the authors noted a distinct lack of introspection and a heavy concentration of greed. Students, they write, are typically overconfident of their own abilities. If astute financial management is to occur outside the classroom, better self-knowledge is critical.
Know thyself
The issue of self-knowledge is key. One of the chief critiques levelled at MBAs today is that the pendulum has swung too far in the opposite direction: they concentrate too much on leadership and personal development and too little on the nitty-gritty of administration.
But, in the aftermath of the global financial crisis, this is a very necessary addition to the educational menu.
Much of the contemporary thinking following the collapse of Enron and the economic meltdown of 2008 has required a more abstract analysis and – dare one say it? – a philosophical turn of mind to explore its origins. These crises were not merely financial in origin. Many of the initial wrong turns were ethical or could have been averted by more accurate self-assessment.
All of this is particularly relevant in the context of emerging markets. Countries' economic and political challenges cannot be solved by skills alone. These skills will need to be applied empathetically, introspectively and innovatively.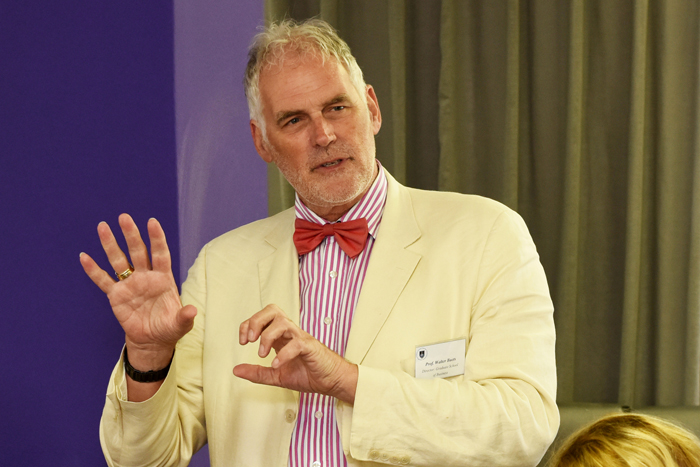 Walter Baets, director of UCT's Graduate School of Business. Photo by Michael Hammond.
The South African example
I am the director of the University of Cape Town's Graduate School of Business in South Africa. There is a sense here that our business schools have not done enough to provide the management and leadership that's needed to make the country work. How can this be addressed?
Warren Bennis and James O'Toole, writing for the Harvard Business Review, have this to say about business schools:
In fact, business is a profession, akin to medicine and the law, and business schools are professional schools – or should be. Like other professions, business calls upon the work of many academic disciplines. For medicine, those disciplines include biology, chemistry, and psychology; for business, they include mathematics, economics, psychology, philosophy, and sociology.
So if business schools are to evolve, they must use what we at the Graduate School of Business call "full-colour thinking": a spectrum of analysis that covers leadership and management responsibility from all angles.
Those of us in the field all agree that a key purpose of an MBA – or any business qualification – is to learn to run companies effectively. But this on its own is no longer sufficient.
Writing for Forbes.com, leadership and management expert Steve Denning argues that:
Business schools should be equipping graduates to be leaders of the 21st-century organisation that operates in a complex environment, where innovation and responsiveness to customers and society are key ... Forward-looking business schools should join together in generating textbooks and courses that reflect an updated view of management ... [and] the ranking of business schools by the Financial Times and others should include a criterion that reflects practical relevance, vitality and impact.
More than just skills
South Africa requires more than just the skills to administer: it needs the knowledge and wisdom to administer with a purpose – being accountable and contributing to a better world for future generations. The country's Finance Minister Pravin Gordhan said in his 2016 budget speech that effective leadership is essential to progress.
Business schools across Africa are really taking the question of impact to heart. The Association of African Business Schools, for example, has initiated an accreditation system for the continent that is designed to sit alongside the sought after European and US accreditation models. Through this process, the association is encouraging schools to focus on what is relevant to the African context by measuring impact and relevance rather than just output.
Many schools are already starting to shift their curricula to be more relevant to their context. The UCT's Graduate School of Business, as an example, has redesigned its MBA curriculum for 2016 with a much greater focus on values and inclusive business.
After all, a business school is much more than just an MBA school. Do we want to leave our world merely well administered, or do we want to leave it in overall good health?
By Walter Baets, Allan Gray Chair in Values Based Leadership and Director of the UCT Graduate School of Business, University of Cape Town.
This article first appeared in The Conversation, a collaboration between editors and academics to provide informed news analysis and commentary. Its content is free to read and republish under Creative Commons; media who would like to republish this article should do so directly from its appearance on The Conversation, using the button in the right-hand column of the webpage. UCT academics who would like to write for The Conversation should register with them; you are also welcome to find out more from carolyn.newton@uct.ac.za.

---
This work is licensed under a Creative Commons Attribution-NoDerivatives 4.0 International License.
Please view the republishing articles page for more information.
---