Your UCT student card gets you into the library and onto the Jammie Shuttle, but it also gives you access to some pretty cool discounts around town.
Spend time in the garden
If you need a dose of nature, visit Kirstenbosch National Botanical Garden, off Rhodes Drive in Newlands.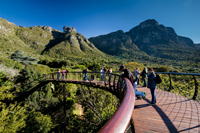 You can picnic, visit the famous Boomslang walkway, or just go for a stroll through the gardens.
Student entry is R30 (as opposed to the usual R55), but the concerts are extra.
---
Visit a museum
Your student card halves the admission price to all Iziko Museums (including the South African Museum, National Gallery and Planetarium in the Company's Garden, as well as the Bo-Kaap Museum, Castle and Slave Lodge).
---
Go arty
Students get free entry to the Irma Stern Museum, off Cecil Road in Rosebank. This house – originally called 'The Firs' – houses an extensive collection by this famous South African artist, and regularly hosts exhibitions of contemporary artists.
---
Treat yourself to a show
The Baxter Theatre Complex on Main Road, Rondebosch, is part of UCT's DNA, offering performances ranging from dance and music to comedy and serious theatre. They often have discounted rates for specific shows (check their website for details). There are also several performance spaces on Hiddingh campus, including the Little Theatre and Arena, which showcase a wide variety of student and professional productions.
---
Watch a movie
The Labia, in Orange Street, Gardens, close to the Hiddingh Campus, is Cape Town's only independent movie theatre. Here, students get R5 off a ticket that usually costs R45. They also have weekly specials where you can get dinner and a show for between R90 and R110 (see website for details).
---
Get fit
The Sport Science Institute of South Africa, in Boundary Road, Newlands, offers discounted membership to students. Also, don't forget the UCT gym on middle campus, where you pay only R500 a year for membership, and R300 for off-peak membership (8.30am to 3pm).
---
---