Familiar faces associated with UCT, past and present, gathered to say goodbye to outgoing registrar Hugh Amoore at Smuts Hall on Saturday 12 December 2015.
Decked in news posters, the walls of the dining hall at Smuts were a tongue-in-cheek acknowledgement of a difficult year past: "Hugh outsourced at last"; "UCT registrar answers all the questions you should have asked"; "Registrar weighs in on Banting diet"; "UCT to shorten student numbers to 78 digits", and "Hugh must go back to work", some read.
A retirement party, but by no means an ordinary retirement party.
Among the guests was Amoore's family, including 102-year-old mother Mary, who had come to honour a remarkable career, along with present and past VCs, colleagues, members of the academic community, and outside guests.
Master of ceremonies, physicist Professor Andy Buffler, said the gathering was not only a tribute to Amoore but also a "fabulous cross-section of those of us who love UCT and care about her future".
First in a line-up of mystery speakers was Vice-Chancellor Dr Max Price, who noted that Amoore's personal commitment spanned 42 years of service under five VCs, 29 of these as registrar.
Under his watch, UCT had grown from 13 000 to 27 000 students and the international student body had increased fourfold. He had attended over 300 council meetings and countless senate meetings and signed around 127 000 graduation certificates.
A wise head
Amoore had provided him with "comfort and reassurance" as a trusted advisor, Price said. He knew he could always knock on his door unannounced and draw on his experience and knowledge, trusting in his discretion and "huge loyalty" to the institution.
Price also paid tribute to Amoore's wife Kate Brown, whom he said must have wondered at times "whether Hugh was married to her or UCT". (The registrar was known for working late and over weekends, and hardly every taking leave, except perhaps to attend a philately conference, he added.)
"His legacy at UCT will continue to impact on all of us – in the finely crafted rules and policies and conventions, in agreements and contracts, in buildings and artworks, in disciplinary codes and a very sound retirement fund which he has shepherded, and in the standard of administrative excellence he has set for others at UCT and across the country to follow," Price said.
"Hugh, we are deeply grateful for what you have given to UCT, in a sense for having given your life to UCT. Thank you so much."
A shepherd and calligrapher
Professor Alison Lewis, dean of the Faculty of Engineering & the Built Environment, proposed a toast in which she likened Amoore to a shepherd who had spent his professional life "metaphorically shepherding the institution to areas of good forage and keeping a watchful eye out for predators and poisonous plants".
Former Vice-Chancellor Stuart Saunders, who described Hugh Amoore as his "secret weapon" during his tenure as VC, said: "I never took a decision of any importance without consulting Hugh. He gave me superb advice based upon a profound knowledge of a subject and its history. He never let me down."
Professor Pippa Skotnes presented Amoore with a special gift made by members of the art department at Michaelis in the form of eight bowties, entitled The Eighth Day Collection, housed in a handcrafted wooden box.
She said this marked the symbolic seven days he had contributed to the creation of UCT, and the eighth day in which he would make his beginning as registrar emeritus.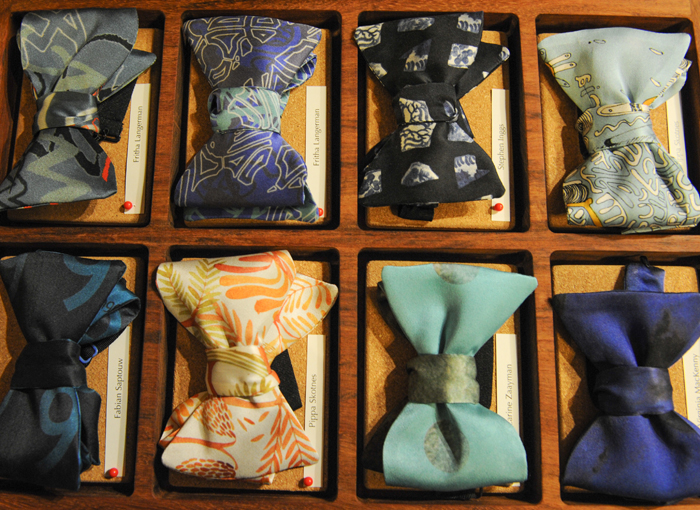 The Eighth Day Collection: Bowties symbolising the seven days Hugh Amoore has contributed to the creation of UCT, and the eighth day in which he will make his beginning as registrar emeritus. These neckties were made by members of the art department at Michaelis.
Senior lecturer Peter Anderson from the English Department was called on to give a humorous critique of Amoore's famous calligraphic handwriting by imaginary third parties – evoking much laughter. He ended with this flourish: "We are convinced that this hand belongs to no-one in the Gadarene sties of today's universities. It is too Platonic, too scholarly, too independent, too clear-headed, too calm, too selfless, too original and too wise."
A colleague, friend and father
Former Smuts warden and UCT employee, Jon File, now executive director of the Centre for Higher Education Policy Studies in the Netherlands, spoke about his experience of working with Amoore in the early days of academic planning.
He concluded: "A retired Hugh Amoore, like military intelligence – and, as some of my friends would say, academic planning – is probably a contradiction in terms … My wish to you is that you will take it a little bit easier and do it on your own terms."
Ingrid Fiske (also known as the poet Ingrid de Kok) talked about her friendship of over 30 years with Amoore, and of his humanity.
She reminded the gathering: "Even in the recent turmoil, after a hostile, physical confrontation with an angry group of students, he took the historical perspective. He spoke movingly of the need to keep the university a sanctuary for student protest … To maintain the long, depersonalised view even in times of stress seems to be quite remarkable."
Final speaker was his daughter Ruth who shared with the audience how the family would lure him home by getting her to stick her head through the window of his downstairs office at Bremner to say: "It's time to come home now, Dad!"
"I'd just like to say good luck to those who are still going to be here and the families who are still going to be here. We are all very glad he will be at home now, and perhaps supper can start earlier," she said.
A marathon well run
In his reply to the speakers, Amoore likened the 42 years of his time at UCT to the 42km of a standard marathon, and outlined the many highlights and challenges since he was first appointed as registrar in 1987.
Of the last stretch, he said: "I really have felt that in the last 14 years, it's like that last third of a marathon when I've been able to find fresh legs."
And, typically, he took the long view.
"Marathons are not relay races, but the baton will pass," he concluded. "As UCT reinvents itself and looks towards the centenary of university status in 2018 and, in only 14 years' time, to the bicentennial, the challenges will reappear and they will appear daunting.
"But perhaps actually not more so than the challenges of 1918 after the Great Flu, the challenges in the early 1930s during the Great Depression, the challenges in the late 1940s when UCT had to assimilate the ex-servicemen who came to UCT, the challenges we faced in 1980/81, the challenges we faced in 1991.
"I have had the pleasure and the privilege of working for and with wonderful people – yes, often difficult people too – only some are here tonight. Thank you for that privilege."
Story by Andrea Weiss. Photos by Roger Sedres.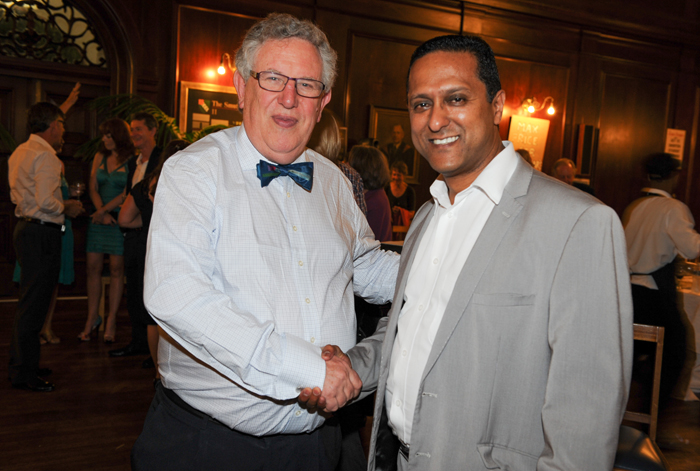 Passing the baton: Outgoing registrar Hugh Amoore with incoming registrar Royston Pillay, who takes office on 1 January 2016.
---
This work is licensed under a Creative Commons Attribution-NoDerivatives 4.0 International License.
Please view the republishing articles page for more information.
---