Recent PhD graduate Dr Matthew Lewis lost five kilograms in the first six weeks of his master's fieldwork, as one does when following a troop of chacma baboons (Papio ursinus) through parts of a mountainous nature reserve where few venture.
In these tracts of the Cape of Good Hope section of the Table Mountain National Park, the dense fynbos offers no paths and vertiginous cliffs drop into the ocean on both sides of Cape Point.
Cited by early navigators for its beauty – and its storms – this part of the Cape Peninsula is home to the 55-strong Kanonkop troop, the region's only group of baboons unadulterated by human contact.
These are the baboons Lewis began studying when he first registered for a master's degree in 2009. Fascinated by these complex animals in their natural setting, Lewis realised that there was scope for expansion of the project and his dissertation was later upgraded to a PhD in 2011.
Throughout his observations, Lewis had noted that the baboons foraged over a large area that spanned the width of the Peninsula. To supplement their diet, they also gathered protein-rich limpets and mussels, and occasionally shark eggs and crabs, along the intertidal zone.
He also observed the baboons handling kelp and other marine algae − but not eating it.
"Rather, it was apparent that they were moving the plants around in the process of searching for other foods."
The marine foraging aspect of the baboons' behaviour feeds into theories of primate dietary ecology, and has implications for their management and conservation, says Lewis.
"If protein is the principal macronutrient that's in short supply in the baboons' diet, then more extensive exploitation of marine foods should alleviate their nutrient stress to some extent."
But how much were they consuming?
To verify this, Lewis did further research, employing different behavioural observation techniques and stable isotope analysis – a biochemical tool that is increasingly being used in ecological research.
Using behavioural observations, spatial data and an isotopic analyses of the troop's hair and faeces samples, Lewis found that while baboons do fancy a little seafood on the side, the reserve's marine largesse is only rarely available to them.
There are many contributing factors involved in this system: season, time of day, tide height, swell size, wind direction and speed. As baboons prefer to forage during calm conditions when the tide is low, conditions affect how frequently they collect seafood and how much they can gather.
Lewis found that the unpredictability of conditions limited their marine foraging to less than 3% of their foraging time, across the seasons.
"I found that as a rule, baboons don't exploit seafood a great deal."
The finding was surprising, given that the troop appears to be nutrient-stressed, occupying a larger home range, travelling longer distances daily, and spending more time searching for and processing foods than other troops studied in Southern Africa.
But after analysing the data that he and his volunteers collected, and having read more on the matter, Lewis says he now has a much better understanding of the plethora of biotic and abiotic factors that limit the baboons' exploitation of seafood.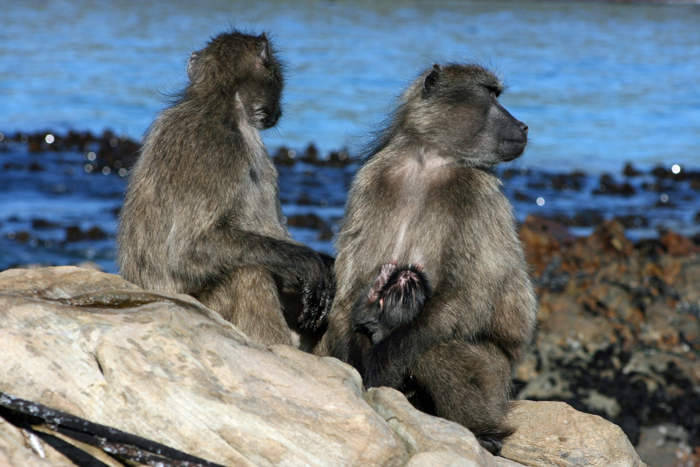 Sea foraging baboons.
More lessons
There were other lessons during his fieldwork.
Observing a troop unused to human contact proved somewhat challenging.
Rain or shine, the fieldwork took him off-trail through dense fynbos and he had to find routes around or up rocky outcrops above the sea, in conditions that once saw him stuck on the plateau north of Cape Point during a fierce hailstorm – without shelter.
He also had to adjust his diet to avoid losing more weight.
The complexity of human-baboon interactions elsewhere on the Cape Peninsula complicated the research process.
"When researchers work on troops in other areas, they may spend up to three months habituating the baboons and memorising the physical features of their study animals."
But Lewis wasn't able to do this because of restrictions on how close he could get to the troop − and how long he spent with them − as stipulated in his permit.
"We had to ensure they didn't lose their fear of humans and start engaging in raiding behaviour."
But by the end of his fieldwork Lewis was able to identify some individuals from the troop, mostly those with "telltale" physical features.
"It was truly special and I sighted animals few have seen out at Cape Point, such as the Cape clawless otter, the Cape fox and antelope species including the klipspringer and grysbok."
Since graduating Lewis has been reworking his thesis chapters for submission to academic journals, and looking to find a niche in academia or in an environmental consultancy.
Like his fieldwork, the process of researching and writing up a PhD thesis is akin to climbing a mountain.
"You'll reach the summit if you take it one step at a time − and just keep going."
Photo of Matthew Lewis by Karin Schermbrucker, courtesy of Wild magazine, who ran a feature on these sea-foraging baboons in their summer 2015/2016 edition. Photo of baboons supplied by Matthew Lewis.
---
This work is licensed under a Creative Commons Attribution-NoDerivatives 4.0 International License.
Please view the republishing articles page for more information.
---