Did you know that kelp soaks up five times as much carbon as land-based plants and that 'green farming' can produce 30 times more biofuel than soybeans? US expert Bren Smith visited UCT's aquaculture group and put the spotlight on combining kelp farming with shellfish.
Bren Smith has become one of the world's best-known proponents of Integrated Multi-Trophic Aquaculture (IMTA), a process by which several species are co-cultured to create a more balanced ecosystem that can help to restore the world's oceans.
He farms a variety of shellfish and kelp in vertical water columns off the Thimble Islands in Long Island Sound, New York, a process he says can help to restore ecosystems, mitigate climate change and stimulate job creation.
Smith, who gave an inspiring talk titled '3-D Ocean Farming: the Least Deadliest Catch' at TEDxBermuda 2013, recently hauled in the prestigious 2015 Fuller Challenge, a US$100 000 prize for sustainability for his founding of GreenWave aimed at training a new 'green' generation of acquafarmers.
No wonder then that there was keen interest from UCT's acquaculture group when he paid a visit to South Africa recently.
Serendipitous
Much of the scientific background for Smith's aquaculture systems comes from research conducted at the University of Connecticut under Professor Charles Yarish.
UCT algal biologist Professor John Bolton (Department of Biological Sciences) has known Yarish for many years, and so, when he learned that Smith was making a private visit to South Africa, he realised there was a special opportunity to share knowledge.
Bolton runs a research group working on integrating seaweeds in abalone and sea urchin aquaculture with Dr Brett Macey of the Department of Agriculture, Forestry and Fisheries. (The group includes a postdoctoral research fellow Dr Mark Cyrus and three PhD students: Michael Joubert, Morgan Brand, Lekraj Etwarysing.)
Both research groups here and in Connecticut view integrated multi-trophic systems as the future of aquaculture, with many potential benefits, not only financial but also for reduced environmental impact and increased sustainability.
Sea lettuce and abalone
During the visit, Bolton's group took Smith to see South Africa's best example of integrated aquaculture at the Buffeljags aquafarm close to Cape Agulhas which they had helped research.
Here abalone farming is combined with the cultivation of Ulva, a genus of seaweed also sometimes called sea lettuce. As a result of this successful link between industry and university research, some 2 000 tons of Ulva is produced every year on South African abalone farms.
The Buffeljags farm is fully integrated, with each farm section including a paddle raceway (or shallow artificial pond) growing Ulva in abalone effluent. The Ulva removes excess ammonia nitrogen from the water which allows substantial water re-circulation. This, in turn, dramatically reduces electricity costs for pumping, a major expense on South African abalone farms.
Smith also shared his experience of the many attempts to create markets for kelp (the 'sugar kelp' Saccharina longissima) produced on the US aquafarms. For example, there is rapidly growing consumption of fresh 'kelp noodles' in upmarket New York restaurants, a result of his marketing skills.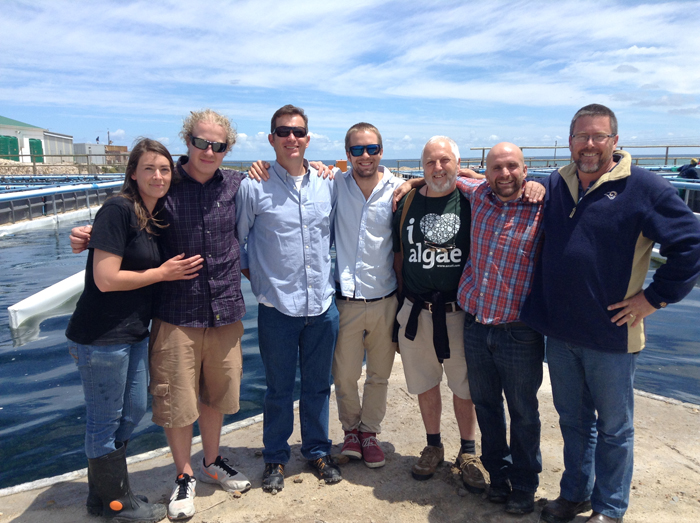 Sea green: At the Buffeljags abalone farm, from right, are Nick Loubser (SEAS), Bren Smith, Prof John Bolton, Morgan Brand, Michael Joubert (co-ordinator: South African Abalone Broodstock Improvement Programme), Dr Mark Cyrus and Retha Van Staden (farm grow-out manager).
Kelp farming in South Africa
As a direct result of this interaction, the UCT group now hopes to start a new collaboration to grow local kelp on shellfish aquaculture rafts in Saldanha Bay.
To quote Smith: "Kelp soaks up five times as much carbon as land-based plants while oysters filter 50 gallons of water a day, pulling out nitrogen. GreenWave is capable of producing 30 times more biofuel than soybeans and five times more biofuel than corn – without polluting the food chain".
Story and image supplied.
Watch the video about 3D ocean farming:


---
This work is licensed under a Creative Commons Attribution-NoDerivatives 4.0 International License.
Please view the republishing articles page for more information.
---