An award-winning aircraft – a large, fixed-wing, unmanned aerial vehicle (UAV) – has been designed to carry out long-range surveys and environmental research. It will be powered using miniaturised hydrogen fuel cells that were designed, prototyped and trialled by HySA/Catalysis. It is an excellent example of the centre's mission to help transform South Africa's economy into one that manufactures from its wealth of raw materials, rather than just supplying them for others to exploit.
HySA/Catalysis – co-hosted by UCT and Mintek – is one of three government-funded Centres of Competence, and is tasked with developing South Africa's contribution to global hydrogen and fuel cell technology. The centre collaborated with Prof Arnaud Malan and his team from UCT's Mechanical Engineering Department and FlyH2 Aerospace, the company that will be producing the UAV, which became a licensee of the patented fuel cell technology developed by HySA/Catalysis.
Speaking after the UAV recently won first prize at the Avi awards held by the Council for Scientific and Industrial Research in Pretoria, co-founder of FlyH2 Aerospace Mark van Wyk described the aircraft as the first of its kind to be designed and built in Africa. Better yet, the use of hydrogen fuel cells means that the aircraft will operate with zero emissions. "The system emissions are completely toxicant-free," Van Wyk explains, "In the future, our company wishes to develop the technology further, to a level where it can also power manned aircraft. Both Boeing and Airbus have done significant research into hydrogen fuel cells. This could be the future of green aviation."
The UAV, however, is just one application of fuel cell technology. When it comes to HySA/Catalysis, the centre's aims are far broader. Dr Sharon Blair, director of HySA/Catalysis, explains that the centre hopes to assist in transforming South Africa's economy from a resource-based economy – as a supplier of raw materials – to a knowledge-based economy, developing, manufacturing and exporting value-added products.
"Right now, South Africa sells platinum as a raw metal, and exports it," explains Blair. "Other countries then upgrade that platinum to create products that we buy back – at a much higher price." Her goal, at HySA/Catalysis, is to make sure South Africa develops the manufacturing capabilities to begin to climb that value chain starting at the platinum refinery.
At this point, she believes, it is critical that South Africa focuses on the early stages of the platinum value chain. "What we are trying to do here is develop the intellectual property in South Africa based on platinum components, so that we have more control over where the materials and components are manufactured, and can build a sustainable industry," she says.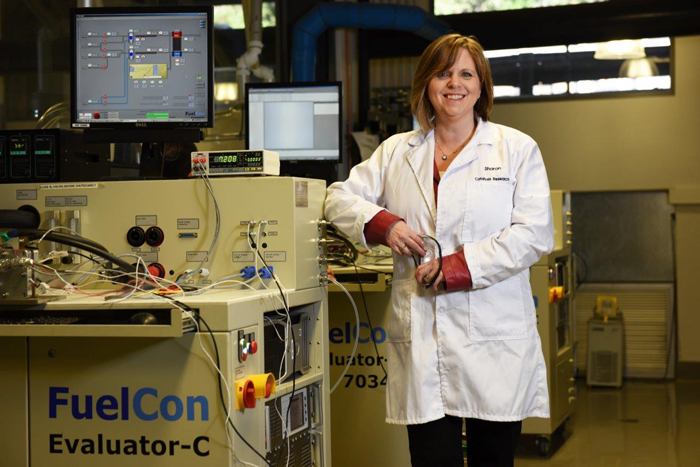 Dr Sharon Blair believes that South Africa needs to develop the capabilities to upgrade raw materials and develop them into products, rather than simply export them for others to benefit from the added value production brings.
As the UAV demonstrates, fuel cells are a very promising clean power source, with the potential to replace our current 'dirty' internal combustion engines. A key component of these cells is platinum, which is converted into a catalyst – the first step on the platinum fuel cell value chain. The catalyst is a powder, which is then painted onto a membrane – the second step up the value chain to the membrane electrode assembly (MEA). The manufacture of these two simple first steps would have significant effects for the country's economy.
According to BCC Research in 2013, at current fuel-cell market growth rates, the catalyst and ink market in 2017 will grow to $265 million, and the MEA market to $1.2 billion. This reflects about 9.5 times the original value of the raw platinum. We have an opportunity to participate in this market, globally thus increasing the value of goods currently exported from South Africa.
As it stands, says Blair, HySA/Catalysis has developed a family of platinum catalysts on a par with international products, and they are just beginning to sell these. The next step will be the membrane electrode assembly, and they are working with their first customers now to meet their needs.
The centre is also developing advanced fuel-cell components based on stainless steel and other materials that can be manufactured in South Africa. The promise of these technologies is starting to attract large global automotive fuel cell companies as partners, but the intellectual property will remain in South Africa.
"So while we know what components we can sell today," she says, "we are also developing components for 10 years down the line."
The focus on the early stages of the value chain is just one avenue of HySA/Catalysis' strategy. The centre partners with foreign fuel-cell companies and introduces them to local companies that can participate in delivering components, all the way up through distribution to the end customer. These foreign partners agree to incorporate local technology into their products once it meets their needs. In 2015, Powercell Sweden installed their low-temperature fuel-cell system on a Vodacom mobile tower, using local company Powertech Systems Integrators. Powercell is also one of HySA/Catalysis' potential MEA customers. HySA/Catalysis wants to see benefits for multiple players along the supply chain, and it is already well on its way to doing so.
Story by Natalie Simon and Ambre Nicolson. Image of Alpha supplied by FlyH2. Portrait of Sharon Blair by Michael Hammond.
This article is featured in the latest Research at UCT newsletter. Be the first to get the latest research news by subscribing.
---
This work is licensed under a Creative Commons Attribution-NoDerivatives 4.0 International License.
Please view the republishing articles page for more information.
---