A 20-week pop-up social innovation curriculum for aspiring social entrepreneurs at UCT culminated recently in an 'idea auction', which had investors putting up money and resources to help ideas get off the ground.
UCT Upstarts was a joint initiative between the Bertha Centre for Social Innovation and Entrepreneurship, a specialised centre at the UCT Graduate School of Business, Super Stage and the Office of the Vice-Chancellor.
At the outset, students from across the university were invited to create multi-disciplinary teams and participate in a programme that would help them become problem-solvers and bring their social entrepreneurial ideas to market. Social entrepreneurship creates innovations that address a problem with a market-based solution – either by creating something to sell, changing a system, or developing a business model that's sustainable, rather than donation-driven.
In February, the call was simple: Imagine a new Africa?
By 30 September, 12 teams had reached a point where they could pitch their innovative proposals at an idea auction at the Labia Theatre, attended by family, friends, and also potential investors and supporters.
During the course of the evening, they raised a combined R110 000 in cash for their ideas along with donations in kind and commissions to the value of over R300 000.
During each of the 20 weeks spread across the academic year, there were three meridian events that took place in custom-built innovation hubs (one of which was made out of yellow crates that sat alongside Jammie Hall during the first term, followed by a yellow curtained 'change room' in the Leslie Social Science Building).
#MindblowingMonday involved inspirational social innovators who shared their journeys and advice, #WorkshopWednesday focused on unconventional business methodologies and trends and #FunFriday was a team coaching session to develop and fine-tune concepts.
The teams spent time with social entrepreneurs, industry leaders, business coaches and innovation activists, participated in speed-pitching sessions (similar to speed dating) and benefited from one-on-one coaching sessions.
The solutions they worked on ranged from rethinking food wastage, low-cost community-based security system for townships, and entrepreneurial courses for schoolkids, money–saving apps, a mobile and outdoor art gallery, educational DIY furniture, better living conditions for shack-dwellers and more.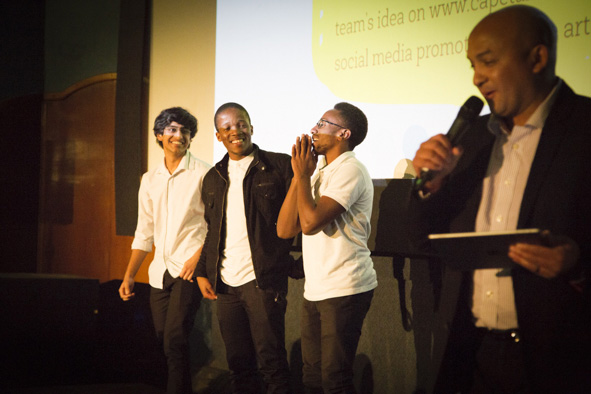 The Jonga team: Kabir Prema left), Ntando Shezi and Ntasko Mgiba, with Cape Talk's Kieno Kammies who was the MC for the night. One of the prizes they walked away with at the idea auction was a media campaign from Cape Talk to the value of R125 000.
'We are watching'
An idea that attracted both interest and investment at the auction was Jonga, which means "we are watching". Jonga is a low-cost alert system "dedicated to getting communities connected and getting them protected". It is made up of a sensor that sends a signal to a transmission unit if a perimeter is breached. This transmission unit in turn alerts the residents and neighbours, who can then take action to secure the property.
Jonga team member Ntandoyenkosi Shezi, (second-year business science) explains: "The sad reality is that modern security systems are very expensive and come with hefty maintenance costs. The average household income in township communities is around R3200, so it is unrealistic to get such expensive systems into the townships.
"The idea came up after one of our team members lost almost R50 000 worth of goods when someone broke into his house during the June holidays."
Says Shezi, one of the problems is that neighbours aren't always aware of what is happening until it's too late. "It is this that allows burglars to rob six houses in the same neighbourhood and get away with it."
Working on Jonga has inspired Shezi. "I would love to go into entrepreneurship when I graduate. I believe in the future of Africa so I would love to be at the forefront of developing ideas and establishing companies that will change our continent.
"I also believe that job creation will only happen in South Africa when there are more entrepreneurs. So I would also love to create a lot of jobs for the many unemployed individuals in this country," he says.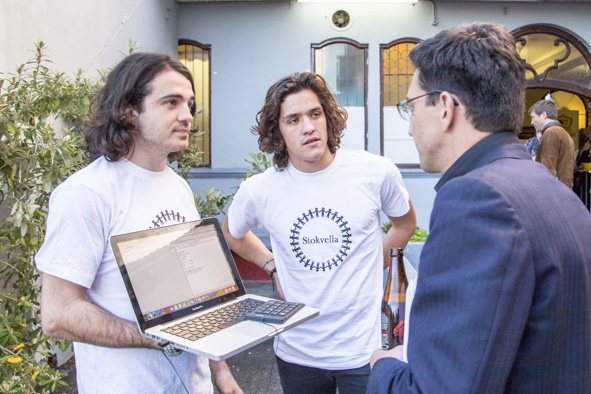 Tuskan Owen-Thomas and Sebastian Daniels demonstrate how Stokvella works at the networking session before the idea auction at the Labia on 30 September 2015.
Saving for the people
Another standout project on the evening was Stokvella, a mobile platform that allows members of a stokvel savings group to track and rate their own stokvel. An estimated 11-million people in South Africa participate in stokvels, estimated to be worth R45-billion.
"By putting trust back into stokvels, one of the few methods of improving financial security within lower-income communities, Stokvella aims to increase financial security, stability and education," said the group in their pitch.
Stokvella member Sebastian Daniels (a second-year business science student) says they are intent on developing their idea further.
"Stokvella will without a doubt continue into the future. We never thought of the process as a competition but rather as a way to build a business that could make the difference in South Africa that we wanted to see," says Daniels
"The biggest challenge, I found, was the constant pivoting of different ideas. Throughout the process we came up with numerous different ideas but eventually agreed on the idea of improving the stokvel market.
"The truly difficult part came in when we tried to solidify our idea. This is because your idea is never concrete, it is constantly changing. This makes it difficult to believe in what you are doing as you don't have anything solid to hold onto."
A new generation
Said Gina Levy, the driving force behind much of the work done with the students: "The idea behind Upstarts is to create a 'student start-up nation' by igniting a social innovation culture on campus, so students can graduate as both professionals and social entrepreneurs who start to solve real-world problems."
"Our currency is opportunity: We insist youth isn't wasted on the young, because we want to create a new generation of upstarts – university students who learn to merge purpose, profit and passion to create a ripple effect of change in Africa and beyond," she said.
One of the main goals of the social innovation challenge was to get student ideas 'market ready', which is why Upstarts partnered with Thundafund, a crowd-funding platform. This meant that teams could test the market's appetite for their solutions in real-time, as well as raise funds and awareness to help turn their ideas into a reality.
Said Vice-Chancellor Dr Max Price. "When this idea was brought to me, I thought this is exactly the right thing for UCT. We are a research university, but research is also about figuring out how to do things differently and better."
Dr François Bonnici, director of the Bertha Centre for Social Innovation & Entrepreneurship, believes that "Upstarts speaks directly to the centre's desire to inspire and challenge individuals, organisations and systems to question what is, reimagine what can be, and to get behind and deliver those solutions that have the potential to transform the world we live in."
Comments from participants captured on video included the following:
Tino Kcoka (Reach): "Some of the best times of Upstarts was the speakers, just gaining so much knowledge from them helping us to relate to our dreams and our plans."
Chad Willenberg (RE-Fresh): "I am starting something and can change the world eventually – and that's through Upstarts. They have changed my mentality when it comes to what I can do as a person."
Matseliso Photolo (CLASSKit): "It's made me a lot more resilient as a person and it's also made me a lot more creative and resourceful."
The year's montage of Upstart videos can be viewed on YouTube.
Story by Andrea Weiss. Photos by Bev Meldrum.
---
This work is licensed under a Creative Commons Attribution-NoDerivatives 4.0 International License.
Please view the republishing articles page for more information.
---