Over 200 researchers from more than 40 countries gathered at UCT for the 5th Conference of the International Society of Child Indicators. And while there was a geeky element to many of the presentations and discussions, which focused on how to measure these things – the underlying message was very serious indeed: The children of the world need our help.
The good news is that the world's children were slightly better off in 2010 than they were in 2000. The bad news is that this was by a margin of only two percentage points.
And the reality is that in sub-Saharan Africa, around 68% of children are considered to be "multi-dimensionally poor" – which means they lack access to basic needs such as clean drinking water, sanitation, nutrition, education and more.
These were among many statistics shared at the recent 5th Conference of the International Society of Child Indicators held at UCT, which looked at global research on the topic of how to measure children's deprivation, development and wellbeing.
The statistics cited above came out of one of several parallel sessions held to accommodate the sheer volume of presentations, some 150 scheduled to take place over three days in parallel sessions focusing on everything from child labour to mental health.
The subject of childhood poverty came up in a session on the "international multi-dimensional child poverty measurement in developing countries", where Ana Vaz, from the Oxford Poverty and Human Development Initiative, Ilze Plavgo from UNICEF in Italy, and David Gordon, from Bristol University's Townsend Centre for International Poverty Research, presented their findings.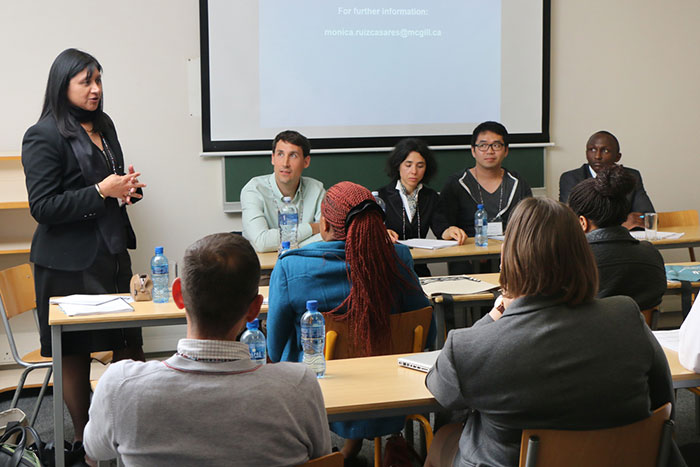 Head of the Children's Institute Shanaaz Mathews in a session on child risk and abuse.
100% of the future
In his presentation, Gordon pointed out that, in light of the fact that the Sustainable Development Goals (SDGs) would include a specific target on child poverty for the first time, the topic was about to become a global issue.
His research, in particular, looked at whether there had been any improvement in the wellbeing of children between 2000 and 2010.
His conclusion was "yes", but only marginally so (a drop from 650 million to 615 million children living in what he termed "absolute poverty").
Among the 2010 statistics he cited were that:
A third of children in the world live in dwellings with more than five people in a room;
Over half a billion have no toilet facilities;
17% under five are so severely malnourished that should they survive childhood they will be severely impaired;
One in 10 has never had any medical services; and
One in 15 has never set foot in a school.
"This is the state of the world's children in 2010. It is in many aspects better than it was but nothing to be complacent about," he said. "Children make up a third of the world's population and 100% of the future."
Cape Town's children at risk
In her presentation for a panel discussion on "measuring child risk and abuse", Shanaaz Mathews, director of the Children's Institute at UCT, reported on a longitudinal study done in Cape Town.
The Cape Area Panel Study was initiated in 2002 to look at the underlying determinants of violence against children and involved a sample of 4 750 respondents between the ages of 14 and 22, with five successive waves of follow-up surveys to create a predictive model for victimisation and perpetration of violence.
Prefacing her talk, Mathews said until a month prior to the conference there had been no national estimates of children affected by violence.
These national figures were shocking. Over a lifetime prevalence, 55% of children had reported physical abuse, while between 35 and 45% had witnessed domestic violence, 53% of girls said they had experienced emotional abuse and 37% some form of sexual violence. Mathews said this translated into a figure of around 500 children a day in South Africa who were experiencing sexual violence.
Among the risk factors for girls were those living with one or no parent, low household income, having someone resident in the household involved in crime and/or exposure to illicit substances. Family conflict (often related to poverty) also directly increased the risks. For young men, the negative influence in a neighbourhood was another factor, along with alcohol abuse.
Mathews said there was an urgent need for interventions in South Africa to strengthen families. These included structural interventions to reduce poverty in families (such as financial support), more work done on early identification of families in distress, and the targeting of substance abuse.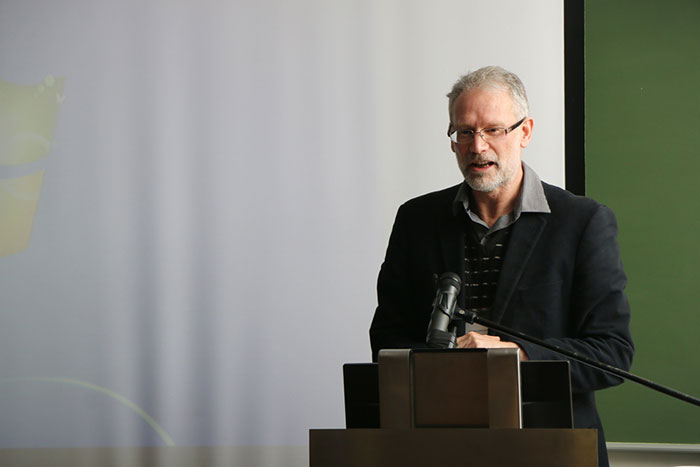 Murray Leibbrandt of SALDRU and Pro-VC for the Poverty and Inequality Initiative.
Subjective vs objective well-being
Two contrasting strands of work that ran through the conference were subjective wellbeing, and objective measures of wellbeing, including multi-dimensional poverty.
Children's subjective wellbeing is a growing area of research, particularly in the global north. Findings from the international Children's Worlds study were presented in a series of panels. This is a collection of studies from 15 countries, including South Africa.
The distinguishing feature of this body of work is that children themselves provide the information about their lives. There is a particular focus on what makes children happy – and the range of factors (such as family life and relationships, school safety, material circumstances, and community context) that impact on children's satisfaction with their lives.
The quest for international comparability naturally leads to challenges in measurement across diverse settings and cultures – an issue that was debated throughout the conference.
Objective measures of child wellbeing, on the other hand, are concerned with child outcomes (for example, health, nutritional and educational) and access to resources (such as money and household services).
Jonathan Bradshaw, professor of social policy at the University of York, has been at the forefront of research into children's subjective wellbeing in the UK. Reflecting on the methods and outcomes of this work, he stunned the audience at the opening plenary by questioning whether the subjective wellbeing of children is worth studying at all – he said that even after extensive work across multiple countries, the models lacked explanatory power.
He concluded: "I may be giving up on subjective wellbeing and refocusing on poverty and deprivation. It's much easier to explain, and it's much easier to know what to do about."
This set the scene for lively debate and exploration of emerging methods throughout the conference.
From MDGs to SDGs
The closing plenary was convened by Alejandro Grinspun, chief of social policy at UNICEF South Africa, and focused on the transition from the Millennium Development Goals (MDGs, which come to an end this month) to the new and more far-reaching global agenda, the Sustainable Development Goals (SDGs) which will be formally launched on Sept 12, and include 17 goals that states have committed to achieve by 2030.
This was another controversial session.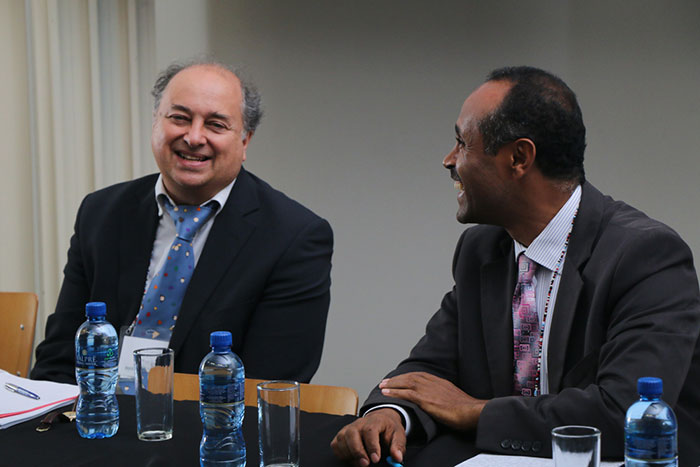 David Gordon from the University of Bristol with Yehualashet Mekonen of the African Child Policy Forum.
Tom Slaymaker, from the Division of Data, Research and Policy at UNICEF, has been part of the technical team developing the targets and indicators, and spoke by video conference from UNICEF headquarters in New York.
Important breakthroughs in the SDGs include specific targets on reducing child poverty and inequality, as well as the fact that the process for defining the goals and targets was far more inclusive and consensual than for the MDGs.
Measuring progress against these targets would require a data revolution – more data collection, new methods of analysis, new types of disaggregation and better integration of different data sources, including administrative data. The question then was: Who will fund all of this?
Sanjay Reddy from the New School for Social Research, a university also based in New York, provided a much more sceptical view on the idea of development being driven by global goals. He said that contrary to claims that the MDGs had catalysed development and progress, there was little evidence of an improvement in the MDG targets after the introduction of the MDGs.
He urged governments and researchers to pay more attention to implementation – to develop a stronger narrative about how goals can be achieved, rather than spending disproportionate effort and resources on measuring the extent to which they are achieved.
He said: "The history of successful development has always been one of learning from experience. This is not to say that the SDGs are not relevant or important – they are very useful for leverage, but "we need to make the SDGs work for us, rather than us working for the SDGs".
Policy and practice
UCT's Children's Institute, in partnership with UNICEF, the African Child Policy Forum and the UCT Poverty & Inequality Initiative hosted the conference at the Kramer Law Building. According to convenor Katharine Hall (a senior researcher at the Children's Institute) the intention was to share research methods from around the world, to deepen the understanding of the dynamics of child poverty, inequality and quality of life, and to find ways to communicate this evidence so that it could inform policy and practice.
Presentations, papers and webcasts from some of the conference sessions will be available on the conference website by the middle of September: www.isci2015.org
Story by Andrea Weiss and Kath Hall. Photos by Liam Cornell.
---
This work is licensed under a Creative Commons Attribution-NoDerivatives 4.0 International License.
Please view the republishing articles page for more information.
---