The Res4Res Festival is a theatre face-off of short plays written and directed by students at UCT's residences, tackling some of the hottest topics of the day, and this year was no exception.
According to artistic director Mandiso Sindo, the festival provides a platform where students are able to express themselves and their identity through the medium of the performing arts.
It also helps to encourage interaction between the residences and showcases some extraordinary student talent in the form of writing, directing and acting.
This year's festival featured two shows of 20-minute plays, which covered topics ranging from financial exclusion to grappling with sexual identity and campus politics, to name but a few.
The final performance of Programme A (which featured works by students from Baxter Hall, University House, Forest Hill, Liesbeeck Gardens, Fuller Hall, Glendower Res, Varietas and Leo Marquard) took place at the Baxter on Friday 14 August.
Programme B (with works from Obz Square, College House, Graça Machel, Clarinus, Smuts, Tugwell Hall and Kopano Hall) had its final show on Saturday 15 August.
PROGRAMME A
Run Jozi by Baxter Hall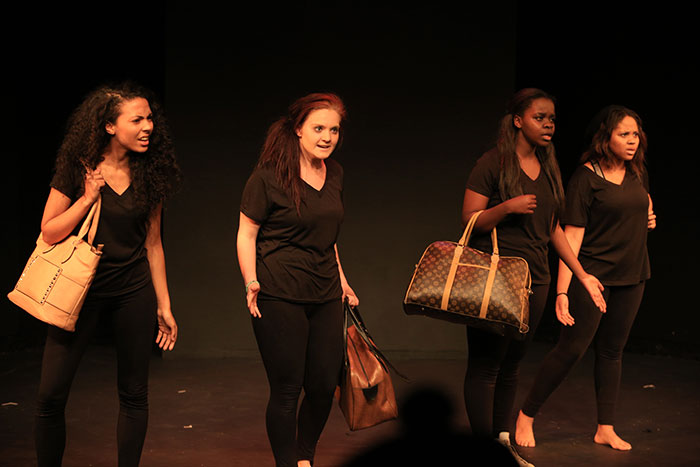 Four young women in Johannesburg find themselves financially excluded a year before they graduate from university. Wanting desperately to graduate, these young ladies find themselves in a web of events that get them in trouble with the law.
Written and directed by: Somila Tondile
Performed by: Somila Tondile, Ashely Seymour, Nicole Arends, Annabele Fenton, Anastasia Karatzas, Sinegugu Ngwenya, Natalie Banda, Onke Mbuli, Ziyanda Kebeni and Lindiwe Mathebula
Now boarding, by University House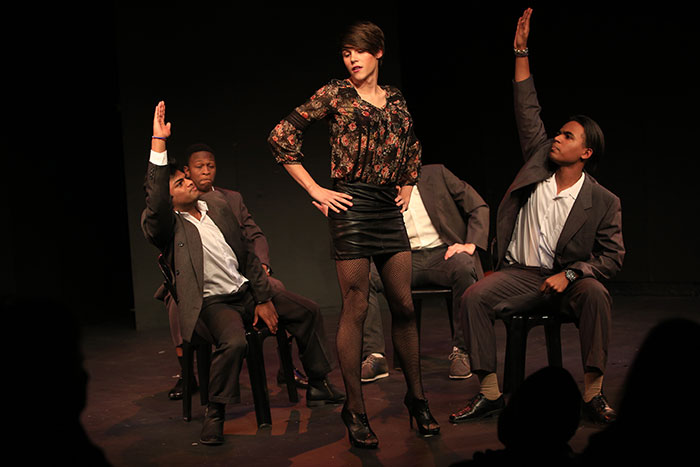 A play tracking two characters – one who is exceptionally talented, the other who works exceptionally hard – from being toddlers together, into their adult lives.
Written by: Ben Sparks
Directed by: Masole Moerane
Performed by: Guy Sicandar, Viashin Govender, Jarrod Kueler, Zach De Beer, Dennis Matogo and Brian Ngilazi
Ashes to ashes, dark to dust, by Forest Hill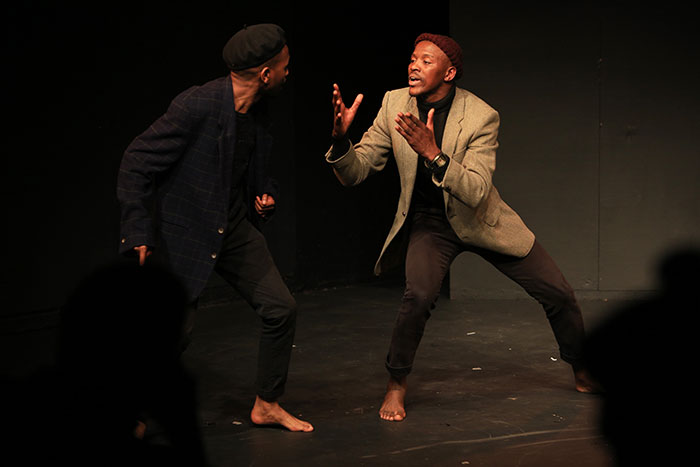 A story about a young black female caught between choosing one of two paths: the freedom fought for by her ancestors, or how other youth have chosen to make use of that freedom.
Written and directed by: Buhle Zulu and Yonela Tsibolane
Performed by: Naledi Ntondini, Zintle Barnes, Kone Netshikulwe, Masibulele Tyobeka , Blessing Rapotu, Noloyiso Mamputa, Nokuthula Kalipa and Philasande Sithole
Pick n Pay, by Liesbeeck Gardens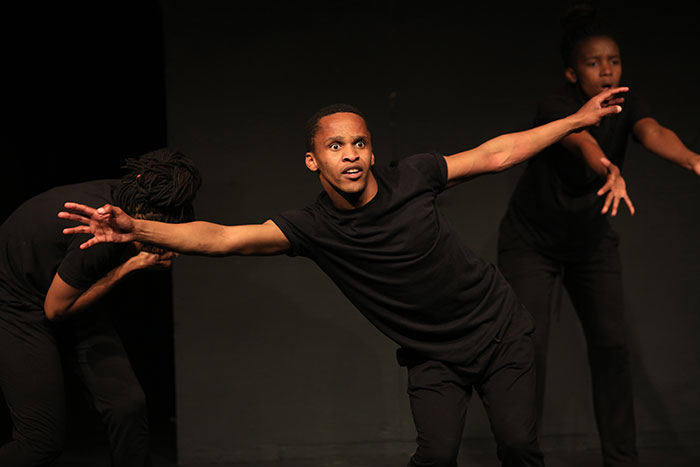 This physical/musical drama interrogates the right to freedom of expression, enshrined in South Africa's Constitution, asking what freedom truly is.
Devised by cast and directed by: Themba Mahlangu
Performed by: Latoya Sishuba, Nomzamo Kula, Ncumisa Garishe, Thukelo Maka, Sipho Qobithole, Thapelo Hlongwane, Thandi Dube, Thandiswa Mpongwana, Thando Mjandana, Elizabeth Akuduku, Kgomotso Nkomo, Themba Mahlangu, Tsitsi Karima kwenda and Zizipho Pae
Girls, by Fuller Hall
The play centres on a young woman from UCT who finds that all her friends have changed into the most mind-numbing stereotypes of women. Confounded by their behaviour, she takes up an investigation that culminates in a confrontation with an evil count and his henchwoman, hell-bent on keeping women in the dark ages.
Written and directed by: Alett Snyman
Performed by: Lisa Van Niekerk, Jemma Potgieter, Georgie Borros, Tanja Andric, Kaylee Simmers, and Jessica Still
Show white and the 7 faculties, by Glendower Res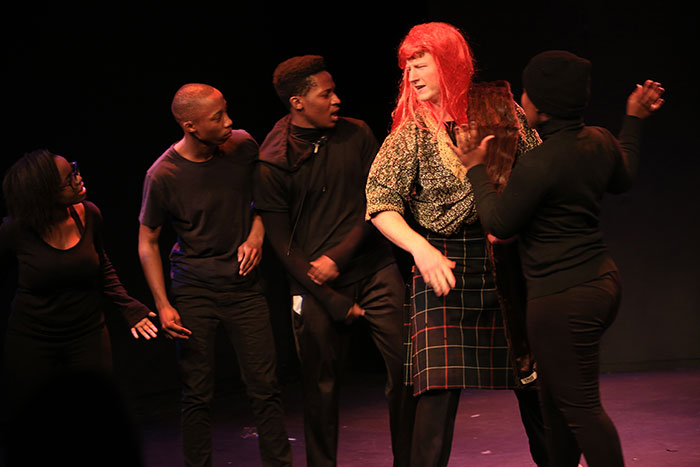 A UCT student returns home and tells her younger siblings about her first semester at UCT. While all are initially charmed by mention of oceans and mountains and Long Street, during her storytelling it becomes clear that the reality is far from idyllic, and 'happily ever after' is harder work than initially anticipated.
Written and directed by: Ronel Koekemoer
Performed by: Neo Tshabalala, Shehani Perera, Ronel Koekemoer, Pieter du Plessis, Johnathan Whitaker, Kim Adonis, Zane Jacobs, Retabile Makoanyane, Lorena Tafur, Nikita Sofute, Sabelo Xulu, Loren Humphreys and Ongama Mholonto
Masquerade, by Varietas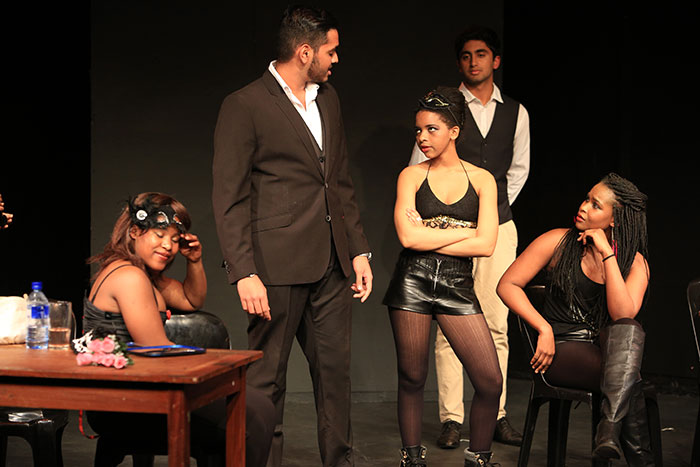 Four women who work at a Burlesque club are offered an opportunity to work in Broadway – but the deal might just be too good to be true.
Written and directed by: Kevin Kumasamba
Performed by: Mbali Shongwe, Llewellyn Iyer, Tadiwe Dube, Cheyenne Ganesan, Simamkele Gosa, Shasteel Bridgmohan, Chawapiwanashe Madoroba, Kai M'njira, Amy Lawrence, Prashant Venkatakrishnan, Ilse Du Plessis and Wandile Vella
Shit has hit the fan, by Leo Marquard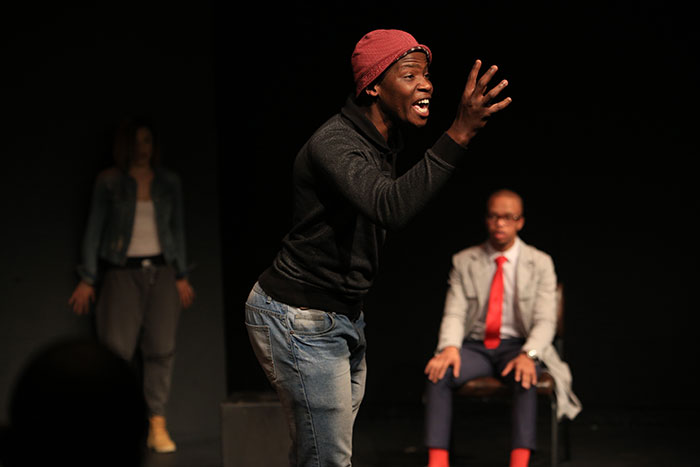 A late-night show brought to you by the Kings of Lower Campus, who interview award-winning author of SHIT (The Book) Luyanda Magaro, with the help of two highly controversial guests.
Written and directed by: Mufudzi Nhamoinesu and J Monate
Performed by: Simamkele Kitso Seti, Khatazile Moroe, Jonathan Jayes, Lwando Mbetha, Craig Eckleton, Rai Prinsloo, Lucky Mgwexa, Akani Mabaso, Ayema Qampi, Ndodzo Mawela and Buni Bogopa
PROGRAMME B
If you could see me now, by Obz Square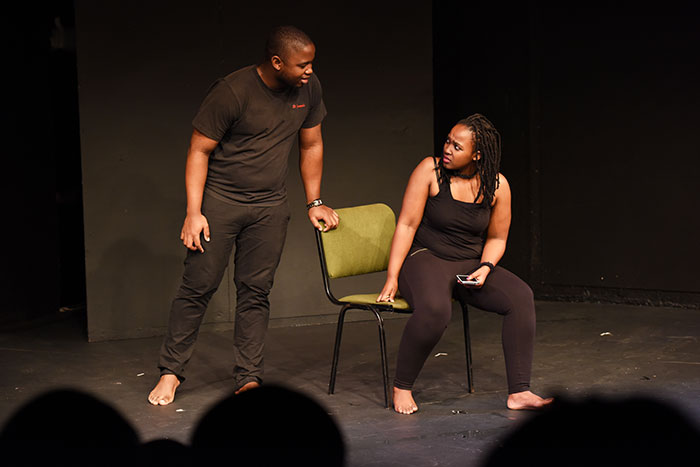 A short play about love gone sour.
Written and directed by: Sinoxolo Mabuto
Performed by: Nkosinathi Mdlalose, Aseza Pupuma, Fefekazi Ntoni, Baleseng Malefahlo, Keneilwe Madikgeng and Oyama Botha
Banana Republic, by College House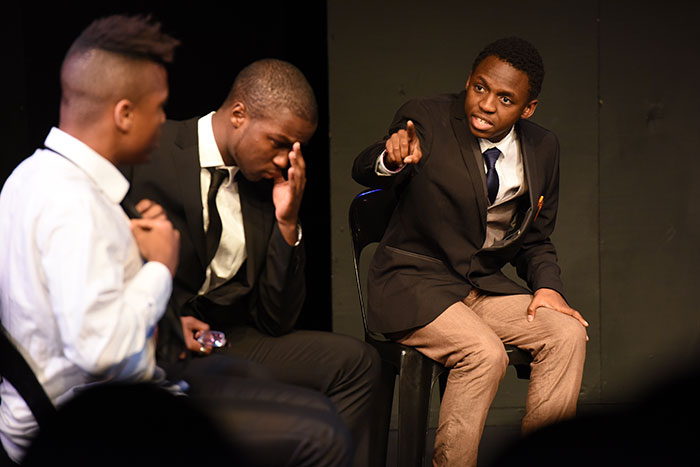 A comment on media at UCT – of what makes it to the news, and the cold, clinical nature of official emails.
Written and directed by: Jeremy Bath and Mcloving
Performed by: Israel Masebe, Mlingani Matiwane and Jeremy Bath
Nothing is ever as it seems, by Graça Machel
A short play about deception – what you see is not really what you get – based in the streets of Khayelitsha and playing on township stereotypes.
Written by: Nomahlubi Hadebe
Directed by: Azola Krweqe
Performed by: Sibulele Galele, Somila Gogob , Pacaine Gumbi, Nomahlubi Hadebe, Tshegofatso Mabutla, Sarah Masiyandima, Amanda Mokoena, Luthando Mpanza, Mathakane Tlali and Azola Krweqe
Big Brother UCT, by Clarinus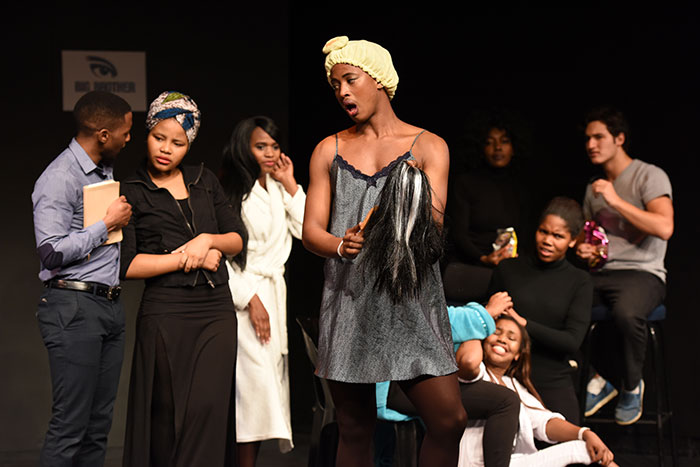 A workshopped satire focusing on recent events within the university and the role of SRC.
Written and directed by: Theodorah Madela
Performed by: Lolita Pukwana, Mbalenhle Mjwara, Sibusiso Mxosana, Siphiw'Okuhle Adams, Blessings Ndlovu, Senamile Simelane, Lebohang Mafubedu, Didintle Mmokwa, Katlego Ramahuta, Sikhulile Khoza, Vuyolwethu Nkosi and Simon Thompson
Horrible period of insanity, by Smuts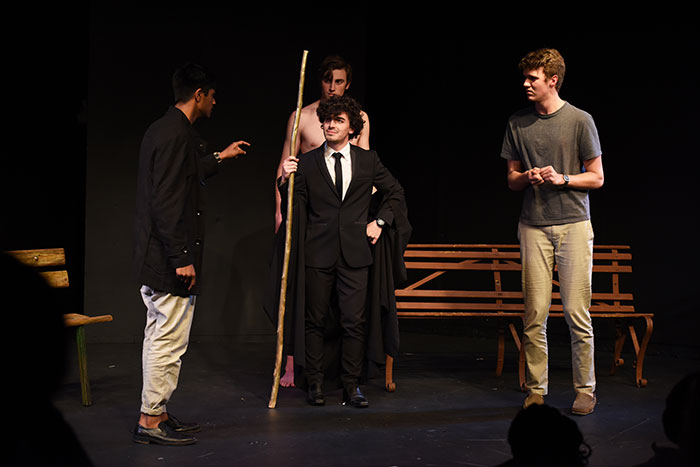 A short play about how easily people are influenced to change who they are because of other peoples' opinions of them.
Written and directed by: Tailyn Ramsamy
Performed by: Tailyn Ramsamy, Geoff Forres, Luke Ducray and Stephen Baxter
Life of crime, by Tugwell Hall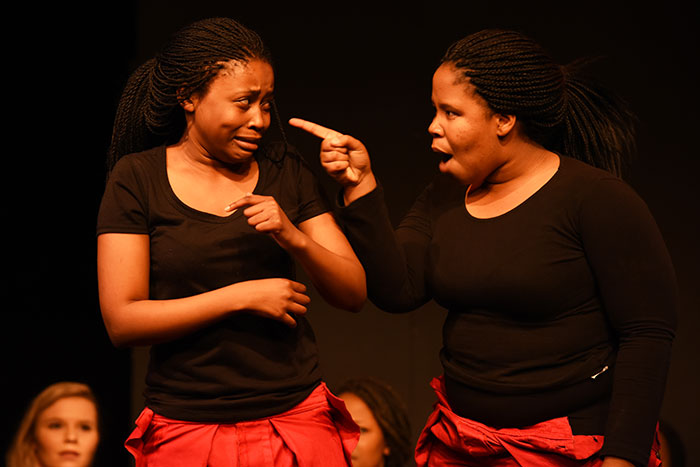 Complete strangers cross paths in a fairly unexpected place – and despite differences in character, personality and walks of life, find they're somehow alike.
Written and directed by: Zoe Postman
Performed by: Amy-Monique Cloete, Lethabo Gumede, Lindsay Lotz, Luyanda Mkhize, Lauren Maloy, Zukiswa Qwabe, Ropafadzo Ndlovu, Mametse Nchabeleng, Naledi Thuto Masilo, Somila Dondashe, Erica Mare, Zipho Majova, Tandie Nkosi, Lufuno Jessica Ramadwa and Mthawelanga Zakade
Too far, too gone, by Kopano Hall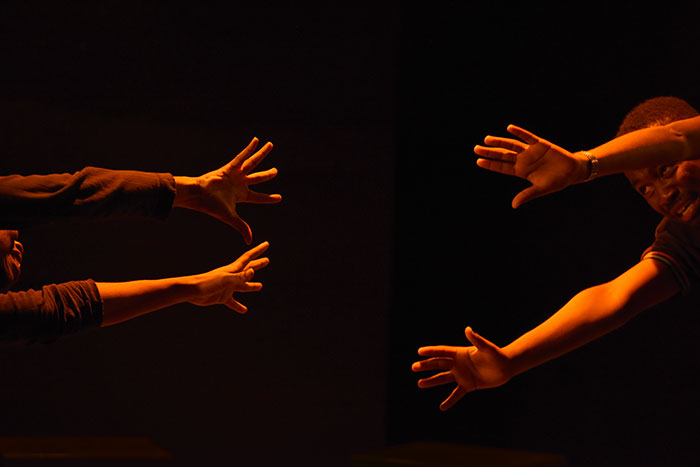 The buzzing city of Cape Town whispers change and progress to a young Sizwe, who has just arrived for his first year as a university student. He has travelled hundreds of kilometres from his home village in Qumbu where he has left his father with high hopes. A story of love, the clash of values, and violence.
Written and directed by: Mandla Mphanjukelwa
Performed by: Liso Gcwabe, Odwa Gqwede, Luke Buys, Sivenkosi Maqhula, Mudiwa Tswabi and Sivenkosi Maqhula
Photos by Michael Hammond.
---
This work is licensed under a Creative Commons Attribution-NoDerivatives 4.0 International License.
Please view the republishing articles page for more information.
---