Proposals, suggestions, grievances and demands flew around Jameson Hall on 6 August as the Faculty of Humanities hosted a transformation-themed assembly for all its students and staff.
Dean of Humanities Professor Sakhela Buhlungu expressed his hope that the assembly would come up with practical and workable suggestions for strategies on how to achieve the faculty's goals around transformation – and indeed thrash out what those goals should be.
Stigma lingers
Early in the discussion, faculty council member Lauren Gildenhuys observed that issues were often viewed from a Western perspective, and African-centred scholarship and literature tended to be "othered".
Gildenhuys and many others participants also pointed to the extended-degree programme as a source of frustration. "Stigma is still a problem," she said.
"People assume you're dumb," added student Tandie Nkosi, who is on the extended-degree programme. "You don't know if this programme is racialised or for people that are poor..."
Another participant remarked that if these programmes were designed for students who weren't ready for university, then perhaps every student would have to sign up to them.
What should we teach?
On the subject of curriculum reform, student Athabile Nonxuba wondered why scholars were talking about "creating something new" in terms of an Afro-centric course.
"Something was created by Mamdani," Nonxuba said to loud applause, referring to Professor Mahmood Mamdani's Problematising Africa syllabus that he proposed to the faculty more than a decade ago. "Just go to that course."
Dr June Bam-Hutchison, in the Department of Social Anthropology, suggested the faculty start a programme of education for academics to teach the teachers what racism is, and to get scholars to "internalise values of anti-racism and anti-sexism".
Barriers to transformation
Earlier in the assembly, a third-year student had lamented the difficulties of simply being a woman on campus.
"Just buying a meal, I get hit on by people in the food court. I can't get a sandwich without being hit on," she said. Even members of the G4S security services had done this.
"I just want to exist in my space as a woman and not have to jump over hurdles of misogyny and sexism on this campus."
She had more examples. A master's student in her tutorial told her that women were material possessions, and that there was no such thing as oppression of women in this day and age. The tutor, she said, did nothing. A complaint to her lecturer was met with laughter.
"Transformation is not just about race," she said.
Another participant noted that humanities staff had identified the main barrier to transformation in the faculty as historical power relations between staff. A three-tier hierarchy held academic staff as the privileged class, PASS staff (Professional, Administrative and Support Staff) as the 'working class', and outsourced workers were completely marginalised. This even manifested in decisions about who was allowed to park their cars in which spaces, for example.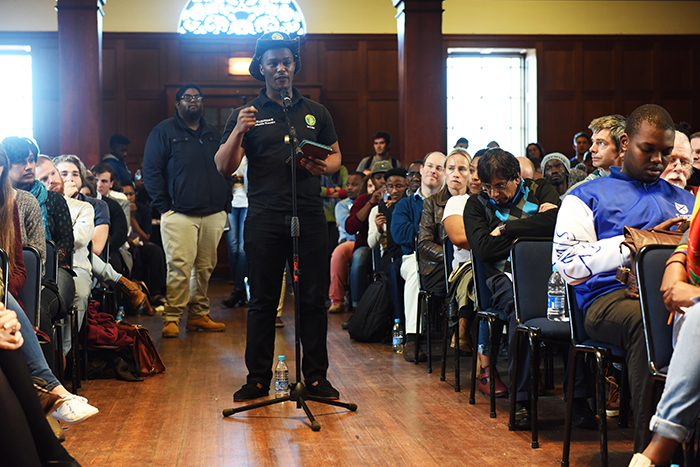 Athabile Nonxuba felt that the word "decolonisation" was more appropriate than "transformation" in the UCT context, and that revising curricula to foreground more African-focused knowledge need not be a matter of reinventing the wheel.
Rethinking symbols
While the issue of building names and artworks was brought up, symbolic reparation went deeper. As one student mentioned that "the fact that I can't speak in my own language is problematic".
The curriculum was cited as a potential area for symbolic exclusion, too.
A third-year student said: "In my three years, I haven't yet been able to find myself in the curriculum [as a black woman]. We talk about all these political theories in class, but there's still a tense atmosphere when white students cringe at the thought of white privilege or the utterance of 'racism' ... where black students shy away from conversations about what it means to be a black student at this university."
A sociology student observed that, being deaf, and thus being unable to hear much of what was being said in Jameson Hall during the assembly, was also an act of violence against him and those in similar circumstances.
He urged the faculty to consider he needs of students with disabilities, particularly when it came to students who were not visibly impaired.
Tangible outcomes
Some tangible proposals were made to reform the faculty's work and climate.
Among these were calls to build a repository of all African and Southern scholarship, and sharing existing course outlines and reading lists between departments and faculties for better cross-pollination.
To promote interdisciplinary approach to curricula, it was proposed that all courses incorporate 10% input from other departments, whether through guest-lecturers, co-teaching or other formats.
Revamping campus tours to include visits to significant symbolic spots was also put on the table, as were musings about a new set of graduation songs to replace Gaudeamus Igitur.
The assembly was co-chaired by Professor Lungisile Ntsebeza, Professor Jane Bennet and Student Assembly speaker Keenan Hendrickse, each of whom directed traffic around the three key themes: transforming teaching and learning; staff and student transformation; and institutional symbols.
Ntsebeza had news about one tangible outcome; in response to a lament that African Studies was only available at the postgraduate level, he announced that an undergraduate major in African Studies would be offered from 2017.
"This is not a fringe event. This is done officially by the faculty. In other words, the proposals, demands – whatever you want to call it – have been tabled formally," said Professor Sakhela Buhlungu, Dean of the Faculty of Humanities.
Five rapporteurs from within the faculty captured all the sentiments, and interested parties can submit suggestions to the faculty via email by 31 August.
Buhlungu said the assembly demonstrated that "something needs to be fixed". He remembered his undergraduate years at UCT in the 1980s, when the "rage" he sensed at the university now was directed instead towards the then-apartheid state.
"What's different [now] ... is that many of the students and staff are making a claim to this place, a claim of belonging. They're not like us, who were passing through. We knew we did not belong here. There were very few of us to make those claims. Now there's a critical mass."
Story by Yusuf Omar. Photos by Michael Hammond.
Listen to an audio clip from the assembly.
---
This work is licensed under a Creative Commons Attribution-NoDerivatives 4.0 International License.
Please view the republishing articles page for more information.
---