Men on the Cape Flats are often perceived as violent, addictive and courting risk. However, there is little research on their own views on what it means to be a man – particularly in a marginalised community where they have limited access to the symbols required of 'ideal' masculinities. Jacqueline Mthembu, who grew up among these men, set out to plug this gap.
Mthembu's interest in masculinity studies grew from her own experiences and thoughts regarding 'coloured'* identity. "I grew up in Athlone in Cape Town, where I had a hard time fitting into the classic 'Cape coloured' mould, with my lighter skin and coarser hair. Clearly I didn't look like 'them', and was often 'othered', with the result that I had conflicting feelings about my own 'colouredness'.
Her focus on coloured men, in particular, has to do with trying to understand the grounds on which the pervasive stereotypes found in both academic literature and social rhetoric have become synonymous with 'being coloured'.
Growing up on the Cape Flats, Mthembu witnessed men's displays of masculinities that were packed with violence and substance abuse, and noticed that these behaviours seemed to be inter-generational. However, there is little scientific literature to support this anecdotal evidence. Mthembu was therefore interested in exploring the negotiation of coloured masculinities and the risk behaviours associated with its performance. It is critical, she argues, to understand masculinity norms among coloured men from their own perspective, rather than as society views them.
With Mthembu, in the communities of Delft and Vlottenburg in the Western Cape, groups of men workshopped issues concerning masculinities in an attempt to help her explore these issues for her doctoral thesis.
"I decided to immerse myself fully in the coloured community in the Cape. I wanted to take it on personally, and learn more about 'colouredness' (whatever that means), but specifically about the 'colouredness' of men in these areas.
"I decided to put a spotlight on the caricatured view people have of us. If this idea about being 'coloured' is true in some aspects, I wanted to know why."
In the communities Mthembu explored, men are faced with – and seek passionately to attain – a form of masculine ideal that they seem unable to match. Not unlike men in many other sections of society, those who participated in her research see a real man as someone who can provide for and protect his family.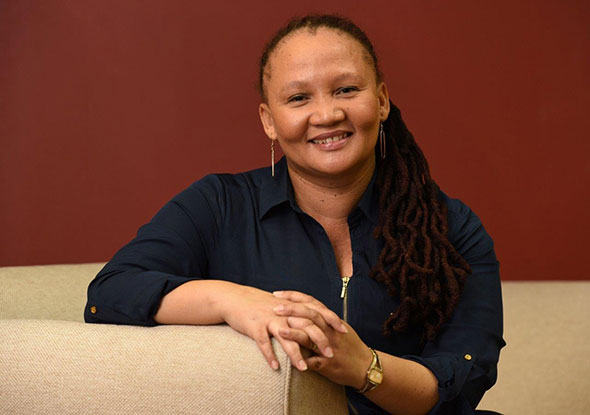 Jacqueline Mthembu.
However, these men are unable to negotiate this role, as they have restricted access to the resources needed to support their families financially. Because of historical labour politics in the Western Cape, says Mthembu, coloured women are favoured in the labour markets and can find employment in the canning, textile and leather industries. Men, on the other hand, have less permanent work – sometimes working as painters and carpenters, for example.
"This gives the women more leverage and 'power' (if you will) in their households," says Mthembu, "which may have prevented coloured men from achieving status as heads of their households." Not only did the apartheid regime influence how coloured men are positioned in their homes now, she says; their environment marginalises them further, and doesn't permit them to perform an 'ideal' form of masculinity.
"Not being able to provide is a big burden for these men. They encounter a lot of disrespect from their families and within the communities, because they cannot provide for their women or their children." Yet most of these men have never been the primary earners in their households – and have never seen another man in this position. In fact, many in this research (65%) were unemployed at the time it was conducted.
Nevertheless, these men continue to perceive traditional masculinity norms as an ideal.
Their inability to conform to ideal masculine norms may have thwarted their sense of manhood. One outcome of thwarted masculine identity, Mthembu found, is the use of violence to recoup some sense of masculinity. Having their marginalised environment as an obstacle to performing this 'idealised' masculinity leads to all sorts of frustrations – and the performance of dysfunctional behaviours, as the men try to negotiate a sense of 'successful' masculinity.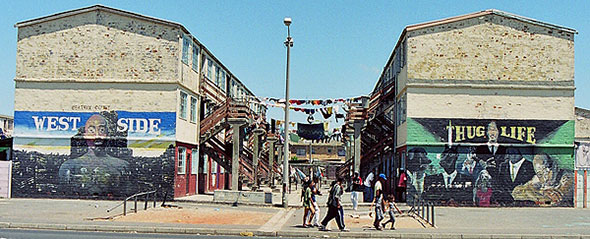 For some men, notorious gangsters become role models of 'successful' masculinities, as they are feared and respected in the community.
"Men are thrown off their pedestals in the homes where wives and mothers reign," says Mthembu. "One way men can protect their families and gain respect is through gang membership. Gangsterism, for some men, may therefore become a way in which to display masculinity. Symbols of what they think it means to be a man – to protect, and to provide – can be actualised through unhealthy behaviours such as alcohol abuse, criminal activity and risky sexual encounters."
This skewed male ideal, she found, encourages dysfunctional behaviour that has dire consequences for everyone: "This inability to match up to what they perceive to be the ideal male leads to performance-failure stressors – that is, they think they are going to fail as men, so they don't even try..." It turns out that these men are confused about what society expects them to be.
The crisis deepens because the men often lack real role models, and do not have fathers to show them how to be men. Women, in fact, are their primary teachers of masculinity: "While their mothers can tell them what it is to be a good man, these women can't show them by example."
For some, notorious gangsters become role models of 'successful' masculinities, as they are feared and respected in the community. "The gangster becomes the ideal," says Mthembu. "Here are men who take care of themselves, their families and their community, and are respected for it."
Mthembu acknowledges that the men themselves participate in the process of 'becoming': "It is not my intention to justify the risk behaviours typical among coloured men by problematising or blaming only 'the system'. The social dilemmas – such as gangsterism, and alcohol abuse – prevalent in coloured communities, I argue, were fuelled by white supremacists who used the laws of the land to oppress people of colour and further maintain the intermediary status of the coloured people. Consequently, this has left residues of shame, complicity, and a sense of 'not-good-enough-ness', even post-apartheid. These feelings may have brought about a form of 'colouredness' fraught with ambiguity. It is therefore not surprising that scholars may associate coloured men (in South Africa) with crime, violence and alcoholism."
*The category of 'coloured' was constructed by the apartheid government and encompasses people from a diverse range of ethnic origins, including those who are mixed race, descendants of the Khoisan, and descendants of slaves brought from Malaysia. For easier readability, we have refrained from using quotation marks around every use of the term in this piece.
Story by Vivian Warby. Photos by Henry Trotter; portrait of Jacqueline Mthembu by Michael Hammond.
---
This work is licensed under a Creative Commons Attribution-NoDerivatives 4.0 International License.
Please view the republishing articles page for more information.
---