News agency GroundUp employs reporters mainly from vulnerable communities, to shed light on critical failures of the social system that are often invisible to mainstream media and middle-class audiences – and thrust them into the public domain.
In June, Cape Town-based news agency GroundUp published a story about talks between residents of the Joe Slovo informal settlement in Cape Town and city officials over the installation of new taps in the area.
The story began by describing how people needed to queue for hours to collect water from communal taps, and noted that the water supply was often turned off, sometimes for days at a time, according to residents. The first person quoted in the story was 19-year-old resident Mpumelelo Genu, who said she had to fill a "big bucket" of water three times a day to cater for the needs of the seven people living at home. This approach to news is typical of GroundUp, a fairly recent addition to the South African media landscape, having launched in 2012.
It employs and trains young reporters, mainly from economically disadvantaged backgrounds, to find and report on stories from within poor communities, whose voices are often drowned out in the mainstream cacophony.
"I'd been involved in the Treatment Action Campaign (TAC) through the 2000s," says Nathan Geffen, a GroundUp founder and editor. "One of the things that concerned me was that although the media was quite partial towards the TAC and supportive of what we were demanding – namely, treatment for people with HIV – the quality and quantity of news reporting on the epidemic was poor."
And the same was generally true for other social-justice struggles as well: Geffen felt the issues raised by NGOs such as Equal Education and the Social Justice Coalition (both founded in 2008) were simply not getting the type of media coverage they deserved.
"The idea was to start a media project basically staffed with predominantly working-class reporters, often from activist backgrounds; to train them, and basically to get their copy to the point to where it was publishable, and get those stories published in the mainstream media," said Geffen. "And that's exactly what GroundUp is."
Public awareness: first step to resolution
This speaks to Geffen's philosophy that making the public aware of critical social issues is the first step to resolving them. With the backing of UCT's Centre for Social Science Research (CSSR), where Geffen was a researcher, and the Community Media Trust (CMT), GroundUp was born.
The slight irony that the news outlet's main medium is a website – in a country where the digital divide is still wide – is not lost on Geffen. While the website is an important channel for their stories, GroundUp wants its stories republished in other media, and by and large succeeds in getting this done. Also, more than half of GroundUp's traffic is from mobile phones, suggesting that it is reaching a wider audience than the few with access to ADSL.
"There isn't a hell of a lot of media being published in working-class areas like Khayelitsha, so that's one of the issues," says Geffen.
Residents of Joe Slovo queue for water at one of the communal taps in the Langa informal settlement.
Success stories?
If one of the aims is to ignite public interest in failures of the social system that are often invisible to the middle class, there have been instances of success.
For instance, journalist Pharie Sefali ran a story based on interviews with gangsters in Nyanga that got a lot of public-interest traction, says Geffen.
Another GroundUp story that drew widespread interest was about a girl who used a sock as a sanitary pad when she went to school. That story resulted in many people asking GroundUp if there was a way to help, and the news agency decided to have concerned readers drop off sanitary pads at the office that would be donated to people in need.
"Before we knew it, we had boxes and boxes of sanitary pads at the office that we didn't know what to do with. We managed to find a way to distribute them, though," reports Geffen.
That kind of story has a lot of traction, he adds. GroundUp published a story in May about two children who had been orphaned. The older brother had dropped out of school to support his younger sibling.
The response from readers was "amazing", with people keen to donate and help the two kids, says Geffen. Without publicity, he adds, issues like these rarely get resolved. GroundUp now has six full-time writers and an in-house photographer.
As much as GroundUp sees their news as being in the public interest, the funding model is a bit different to some mainstream media.
"It's never going to be as sexy and exciting as what the Kardashians are doing. We can't do what BuzzFeed does; we don't have lots of pictures of cute cats and things like that, so we're never going to be able to compete on advertising and traffic," Geffen conceded.
"But I think many would agree that the kinds of news articles we're publishing are of greater public value, nevertheless."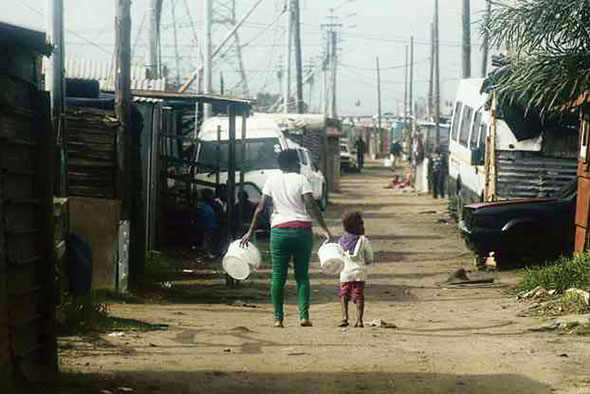 'We need to be fair'
So, back to the residents of Joe Slovo and their quest for reliable running water. While GroundUp's stated raison d'être is to shed light on social-justice issues, Geffen maintains that they do no special favours for anybody.
"We're quite strict about the need to follow the rules of journalism. We get comments from the city, from the province, and we encourage the province and the city to publish opinion pieces if they wish. We need to be fair to both sides and let them do the talking," he said, lamenting what he sees as too much editorialising in mainstream South African media.
Indeed, the Joe Slovo story contained comments from residents, the Housing Development Agency, and the City's Mayoral Committee Member for Utility Services.
Did you know?
GroundUp's editor and associate editor – Nathan Geffen and Alide Dasnois (former Cape Times editor) – are both UCT alumni. Geffen holds a master's degree in computer science, while Dasnois completed her bachelor's degree in economics.
Story by Yusuf Omar. Photos by Masixole Feni for GroundUp.

Read more stories from the July 2015 edition.
---
This work is licensed under a Creative Commons Attribution-NoDerivatives 4.0 International License.
Please view the republishing articles page for more information.
---