When looking at the suburbs of Cape Town from Jammie steps towards the Cape Flats, one sees – in widening, concentric semi-circles – suburbs of high value (in terms of desirability and property prices) giving way to suburbs of lower value, says historian Prof Vivian Bickford-Smith.
The land values of areas closer to the mountain were determined as far back as the 19th century, with these areas considered more desirable because there was less wind, and they were cooler in summer and less prone to flooding in winter. Proximity to the road from Cape Town to Simon's Town (which served as winter anchorage for the Dutch East Indian as well as the British fleets) earmarked this area early on for suburban development.
The Cape Flats, on the other hand, is home to the majority of Cape Town's working class. Development here was driven by social engineering and industry; industrial areas were pushed to what were known formerly as the outer reaches of the city, and through the Group Areas Act, people deemed 'undesirable' followed, thus giving industry access to a readily available workforce. This racial aspect to development is a distinguishing feature of South African cities, and therefore it is no wonder that it is so evident in Cape Town today, considered by many to be one of the most segregated cities in the country.
Monday Monthly explores the history of some of the suburbs visible from Jammie steps, to uncover how the city came to look the way it does now.
1. Ndabeni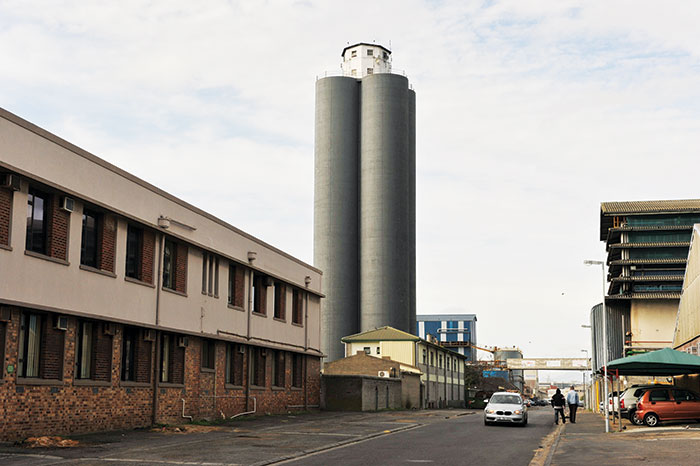 Ndabeni was Cape Town's first planned township; and according to Bickford-Smith, "the first occurrence of the forced removal of Africans from the city", in 1901. The bubonic plague was the reason given for this action, which saw the building of large dormitories to accommodate 500 men, as well as 615 corrugated-iron huts that housed eight people each.
Its name is derived from Xhosa, and means 'place of debate'. By 1920, African inhabitants of Cape Town were no longer restricted to Ndabeni, with many taking up residence in District Six. In 1927 Langa, a new township, was built to replace Ndabeni; its inhabitants were moved to Langa, and Ndabeni became the industrial area it is today.
2 Pinelands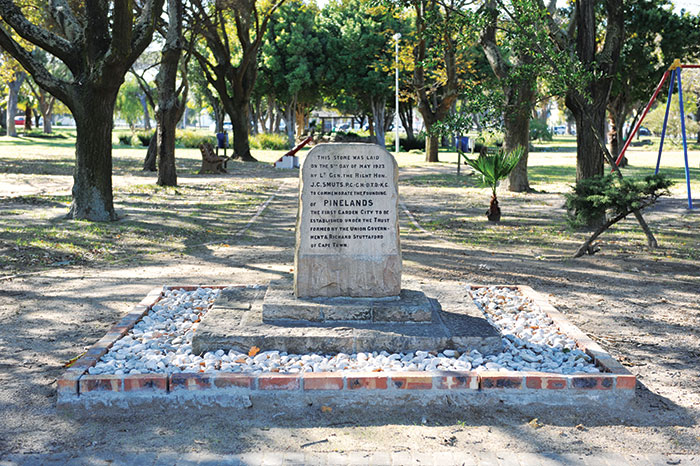 Cape Town's first 'garden city', Pinelands, has the further distinction of being the first attempt at town planning in South Africa. Town planning became important in the aftermath of the 1918 Spanish flu epidemic, in which over 6 000 inhabitants died.
Overcrowding is believed to have contributed significantly to the spread of the disease; and the hope was that with planning, a repeat of this phenomenon could be avoided.
Pinelands began as a forest station named Uitvlugt, which had thousands of pine trees in it – hence the name. The Garden City Trust (established under the instigation of businessman and politician Richard Stuttaford) acquired the land, and the first house – at 3 Mead Way – was occupied in February 1922.
In 1948 Pinelands converted to a municipality, and in 1996 it merged with the City of Cape Town. Like Fish Hoek, Pinelands was one of the few areas in Cape Town where the sale of alcohol was prohibited.
The foundation stone for Pinelands Central Square (above) was laid by Jan Smuts in 1923, a year after the first house in Pinelands was occupied.
3 Langa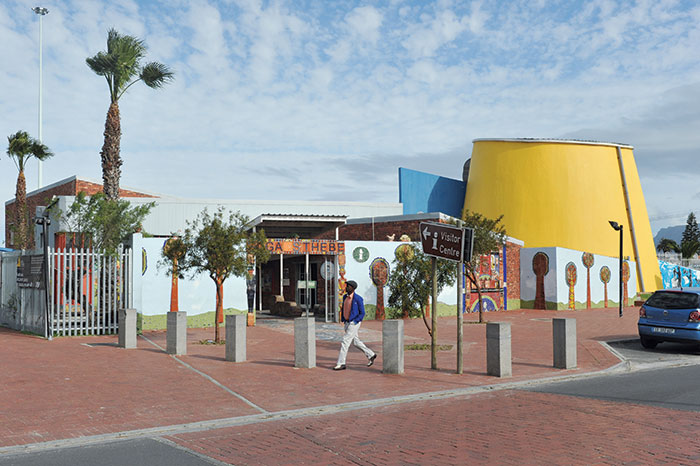 Meaning 'sun' in Xhosa, Langa was constructed next to Cape Town's sewage works. The name is the shortened form of Langalibalele, the name of the Hlubi rebel who was imprisoned on Robben Island in 1875 for leading an uprising against the Natal government.
Like Ndabeni, Langa was a planned township, with authorities attempting to exert as much control as possible over its residents. Trading was prohibited in the location. Visitors had to report to the police superintendent; and gatherings, including dances and tea parties, could only take place with permission from the superintendent.
Langa provided the starting point for a historic march led by Philip Kgosana, then a UCT student affiliated with the Pan Africanist Congress. The march, on 30 March 1960, saw a crowd of between 30 000 and 50 000 protesters from Langa and Nyanga marching to police headquarters in the city centre to hand themselves over for not carrying their passes. This act was considered by many to be a turning point in South Africa's struggle history.
4 Nyanga and Gugulethu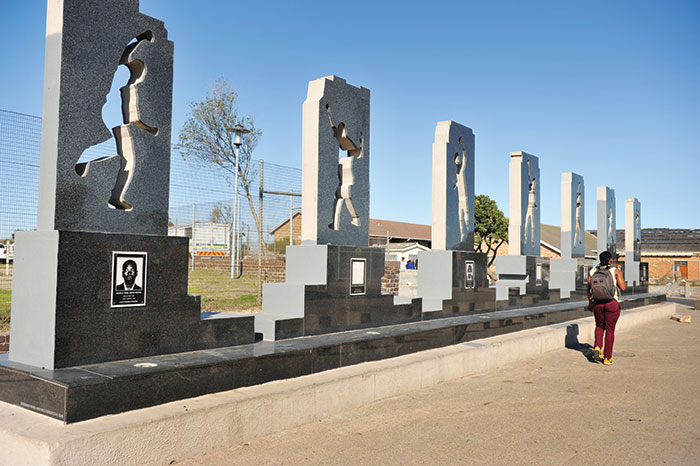 Nyanga and Gugulethu ('moon' and 'our pride' in Xhosa) were established because Langa was becoming overcrowded. The first phase of Nyanga was completed in 1948, while the second phase, consisting of 350 units for 700 families, was ready for occupation in 1953. In 1958, Gugs (as Gugulethu is often called) started out as Nyanga West, with prefabricated galvanised-iron sheds housing four families each. Residents included Africans who had been forcibly removed from Windermere (near Kensington) when it was declared a coloured area according to the Group Areas Act.
A memorial in honour of the Gugulethu Seven (above) was unveiled on Steve Biko Drive in 2005. The Gugulethu Seven were young members of uMkhonto weSizwe, aged between 16 and 23, who on 3 March 1986 were ambushed and killed by security forces, led by the notorious Vlakplaas unit.
5 Athlone and Kewtown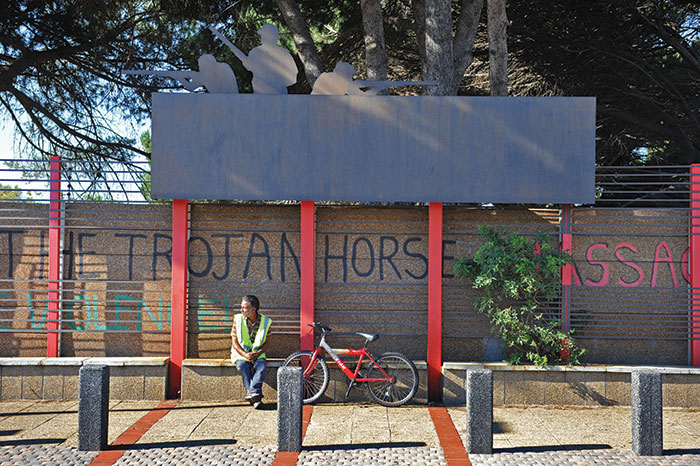 This suburb was named after Alexander Cambridge, the first Earl of Athlone, who was the governor-general of the Union of South Africa from 1924 to 1930. Mainly residential, the suburb includes industrial as well as commercial zones. It is home to the Athlone stadium, and was the site of the Trojan Horse incident on 15 October 1985, when police ambushed anti-apartheid protesters, killing three (aged 11, 16 and 21 years) and wounding 15. A memorial (above) marks the spot in Belgravia Road where the incident took place, and includes the message 'Stop State Violence'.
In contrast to today, at its establishment Q-Town (later Kew Town) was considered one of the best of Cape Town's early housing schemes. "Wide boulevards and open spaces are characteristic of this new city (Q-Town) on the Cape Flats, where slum life will be forgotten", claimed the Cape Times in 1941. Costs and rentals as well as residents would be carefully controlled by women, specially trained in housing management, who had the task of supervising tenants.
6 Heideveld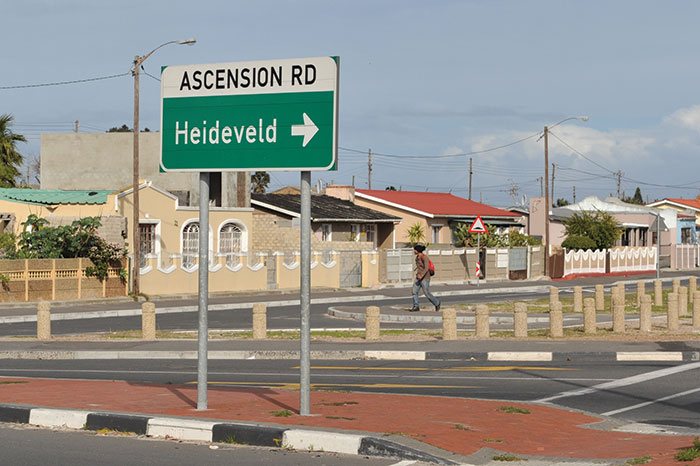 "Heideveld was developed in 1962, on a former dairy farm. Accommodation ranged from five-roomed detached houses on sizeable plots, through three-roomed flats in three-storey buildings, to two-roomed 'sub-economic' dwellings. The Epping, Elsies River and Bellville South industrial areas were conveniently close at hand.
"According to a UCT study conducted in 1968, more than half the residents questioned – including Group Areas victims – thought living conditions were better than those experienced by their parents; only 10% thought the opposite. The main complaints were inadequate public transport, the absence of shops and parks, and distance from work – most respondents were still employed in the city centre." – excerpt from Cape Town in the Twentieth Century.
7 Khayelitsha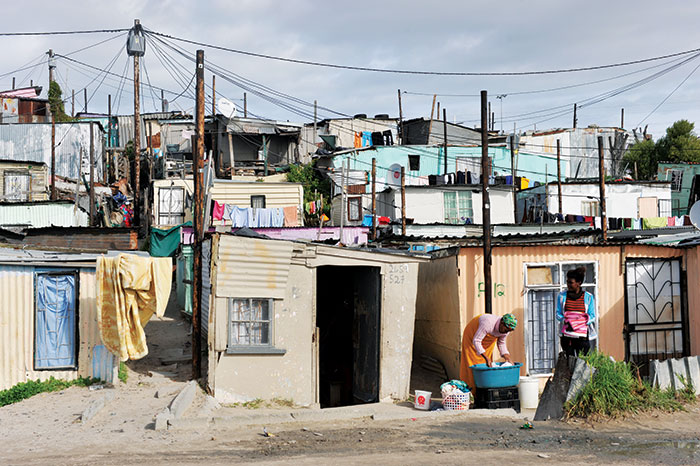 The second-biggest black township after Soweto, Khayelitsha ('new home' in Xhosa) was established in 1983, to accommodate shack dwellers. Black Africans who were considered 'legal; residents in Cape Town (meaning they had lived in the city for 10 or more years) were to be housed in this newly purposed and easily controlled township. The initial plan was to create four towns, each with 30 000 residents in brick houses, a portion of which were to be privately owned.
According to the 2011 census, Khayelitsha now has a population of almost 400 000, of whom 99% are black African. More than a third of residents aged 20 years or older have completed Grade 12 or higher, with 74% of households surviving on an monthly income of R3 200 or less.
Explore UCT
UCT's newsroom and publications department is keen to explore campus and its surrounds from different viewpoints – through the eyes of history, memory, science or art. If you have a story to tell or an interesting perspective that could make for a good walking tour or map, get in touch with us at newsdesk@uct.ac.za
Sources: Cape Town in the Twentieth Century, by Vivian Bickford-Smith, Elizabeth van Heyningen & Nigel Worden, SA History Online.
Curated by Abigail Calata. Photos by Michael Hammond.

Read more stories from the July 2015 edition.
---
This work is licensed under a Creative Commons Attribution-NoDerivatives 4.0 International License.
Please view the republishing articles page for more information.
---