Starting antiretroviral treatment early can have significant health benefits for patients living with HIV, according to a global study to which UCT's Desmond Tutu HIV Foundation (DTHF) contributed.
Dubbed the Strategic Timing of Antiretroviral Treatment (START) study, it tested more than 4 600 men and women living with HIV from 215 sites in 35 countries, to assess whether HIV-positive patients benefited from starting antiretroviral treatment early.
Some 289 patients of the Desmond Tutu HIV Centre enrolled in the study, the largest number at any site. Half of the study participants were randomised to start antiretroviral treatment immediately, when their CD4 counts were over 500 cells/mm3, and the other half were deferred treatment until their CD4+ cell count declined to 350/mm3.
The study took place over three years.
It found that patients taking part in the trial had low levels of serious illness but those that were initiated earlier had a clear further benefit compared to those starting late.
So overwhelming was the evidence in favour of early initiation of antiretroviral therapy that the trial closed earlier than the planned December 2016 date after a review by the study's Independent Data and Safety Monitoring Board.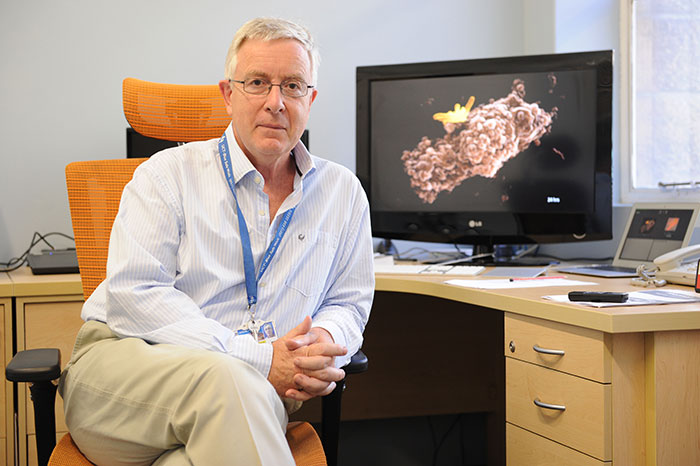 Professor Robin Wood led the investigation for the Cape Town leg of the global study. (Photo by Michael Hammond.)
"Based on good data, this is a very encouraging result that will inform policy," said Professor Robin Wood of the Desmond Tutu HIV Centre and site principal investigator for the study in Cape Town. "We now have strong evidence that early treatment is beneficial to the HIV-positive person."
In the light of these findings, all the participants are being informed of these results. Those who are not already on antiretrovirals will be offered treatment.
For more information, read the NIH press release.
Story by staff reporter.
Read more:
Two researchers' journey from AIDS despair to an age of hope
---
This work is licensed under a Creative Commons Attribution-NoDerivatives 4.0 International License.
Please view the republishing articles page for more information.
---