As engineering and health sciences graduands began their academic journeys on 11 June 2015, UCT bade farewell to one of its stalwart scholars. Professor Crain Soudien, the outgoing deputy vice-chancellor, used his keynote speech at Thursday afternoon's graduation ceremony to urge the young academics to imagine what it means to be a society that has moved past not just race, but all markers of power imbalances and inequality. Here is the full text of his speech.
I would like to thank the university for doing me the honour of asking me to make this graduation address this afternoon. It is an honour to be standing here after having been associated with the university in one or other capacity for the better part of the last forty years.
I spent, in this time, seven years here as an undergraduate and postgraduate student during the 1970s. Those seven years included some of the most tumultuous times this country has seen. The heavy hand of the apartheid government was everywhere – physically in our streets and encroachingly in our heads. It sought, through force and seduction, to make us believe in the correctness of its racial ideology. In the height of this, the completely unexpected happened. On the 16th June, 1976, the students of Soweto took to the streets.
The entire experience, the might of the state, the will to act of the students, left many of us disorientated. We had questions and anxieties. They ranged, on the one side, from deep insecurities about whether we had futures to look forward to in the country, to concerns, on the other, about how we could become involved with the protests that were unfolding. Binding these concerns, concerns which came from very different places, was the inescapable image of young people with stones in hand standing defiantly across the roads of our country from heavily armed police. Pervading the whole environment – on all sides – was a rage and an impatience which none of us had experienced before.
Why do I bring up this episode in our country's history? I do so because as a country, and at a much more local level, right here in the university with the student protests, we are now going through another moment of disorientation.
I raise this question of disorientation to emphasise for myself, and I hope for you too, how important this institution of the university and its project of education is in situations such as these.
I was extremely fortunate to be here at the University of Cape Town in the 1970s and to be a beneficiary of its best thinking. Despite having been admitted into the university on the sufferance of a ministerial permit, and despite the fact that I was not allowed access to university facilities such as residences, I found here in and around the university a group of important interlocutors. Interlocutors are people who help you make sense of difficult questions. My interlocutors put things into perspective for me. It is important that you know who these interlocutors are because you will not find them in standard history texts. They were the cream of Cape Town's intellectual activists, some of them academics in the university, many of them teachers in important schools of Cape Town such as Harold Cressy, Livingstone and South Peninsula. Virtually all of them were graduates of UCT. Some came from organisations such as the Non-European Unity movement such as Ben Kies and Isaac Tabata, and others such as Dullah Omar became associated with the ANC. And yet others, such as Neville Alexander, worked in communities in and around Cape Town. Strikingly these people were involved in extraordinary debates with intellectuals inside of the university, Mary Simons, Mike Legassick and Colin Bundy.
Together, with all their social, cultural and political differences, both within and outside of the university, these people created for young students like me an amazing environment. When a debate involving these people took place on what we called Freedom Square, the space outside the Arts Block, young people like myself came to sit and listen in absolute awe. That was a golden moment in our history. It oriented me. It helped me think much more clearly about myself, about others and about the rage that was circulating around us.
It opened for all of us new ways of thinking, of thinking about ourselves, of our identities and our relationships and responsibilities to one another. One lesson that they taught was that all of us, every single one of us, were people of unconditional dignity and worth. They came to explain, right here in Cape Town, almost for the first time in the entire world, what the colonial and apartheid idea of 'race' was all about. They explained, drawing on the best thinking in biology and science, on one hand, and in sociology on the other, that the idea of 'race' was an invention, an invention to be used to keep people who did not look white in a state of permanent subjection. The colour of your skin said nothing about the content of your character, your intelligence or any of your capacities. Dark – or pale – as your skin was and curly or straight as your hair might be, you were genetically no different, and not inferior or superior to anybody else in the world.
They called this idea non-racialism. The power of this non-racial idea was its usefulness at both a personal and a group level. At the personal level, it helped many of us come to the awareness that our dignity was unconditional. It did not depend on the identities that history sought to impose on us. We were human without qualification. At a group level, and this was a deeply important lesson, it made clear for many of us how problematic and morally objectionable the idea was that we owed greater loyalty to those who looked like us simply because of that – that they looked like us. I cannot emphasise enough to all of you how deeply significant this new way of thinking was. It came to liberate many of us. It freed us from the conceits of superiority and the anxieties of inferiority. No longer did we need to think with our skins.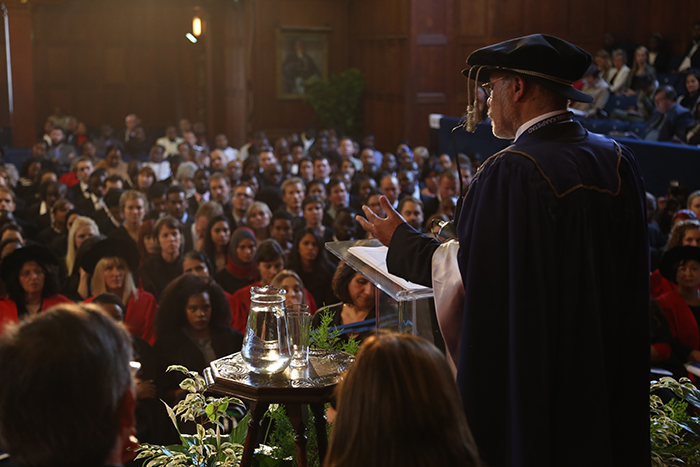 The question for today, for those of you who are graduating and for your parents, and for the whole university community, is this: does UCT continue to provide the interlocutors, the sense-makers, to assist you in this current disorientation which we are experiencing as a country?
It is this question to which I would like to now turn because concern has been expressed that the university, and this university in particular, is insufficiently relevant. It needs to be renovated, remade and reconstituted at every level of its existence.
I would be foolish to trumpet the value of the university without acknowledging that universities in this country, and actually in most places around the world, are going through difficulties. Those difficulties have to do with funding and particularly with the ways in which market realities are forcing universities to be much more conscious of questions of efficiency. But they also have to do, as they always have, with the ways in which the dominant ideas of a society come to find expression inside the university. It is unacceptable, therefore, when the social character of a society, is unproblematically reproduced in the university, when, for example, class, racial, or gender privilege in society is accepted as being normal in a university.
These are issues with which we struggle here at UCT. But, and this is the point that I wish to leave with you, this university, as are, actually, many universities in the country, is in many facets and dimensions of itself deeply conscious of its interlocutory mission in the time and space in which it finds itself.
This university, without having fully articulated this for itself, is working out what it means to be a post-apartheid university, what it means to live in a society which will progress beyond not just 'race' but all the debilitating inequalities which surround us. It is, in many parts of itself, asking the hard question of how it plays the role of facilitating sense-making for itself and especially for its students.
It has many of the features of the South African society in which it finds itself, and so its sense-making capacity finds itself constrained. But, and this is what is critical to understand, it bristles with ideas, with contestation and debate. In the midst of the incredible social, political and cultural confusion which surrounds us, the opportunism, corruption, greed, and disrespect for one another that this confusion generates, at both a global and a local level, it continues to have extraordinary people, and they come in all shapes, sizes and guises: men and women; Muslim, Buddhist, Jew, Christian and other religions; those with histories of privilege and those without; who are committed to putting the very best of their capacities to thinking about how they and the whole country makes itself anew. There is work that is being carried out in every faculty of this university which is seeking to help us understand, as those interlocutors did for me in the 1970s, what it means to be a human being in the year 2015, how to accord recognition to others unconditionally and how to live in a state of respect and regard for one another; how to manage oneself and one's relationships with others. It is about the puzzles of identity, of femininities and masculinities, it is about violence and want, it is about fracking, it is about sustainable energy, it is about spatial inequality, it is about drug discovery and about the rights of ordinary people living under the aegis of traditional law. Some of this work is reflected in the theses and projects of the graduands being honoured here today.
Of course, even the producers of this work need to try harder. They need to come to see where their blind-spots are. And there is always more that could and should be done.
With this, even with its blind-spots and gaps, I would like to suggest that this university is as relevant as it ever was. It provides all of us and particularly our students the privilege of thinking through what it means to be a new South African; and indeed a new African; and a new citizen of this world. In this, it offers itself as a resource to the country. Its legitimacy is in this commitment to relevance. It is this that we all must continue to struggle to uphold.
Thank you.
Professor Crain Soudien will sadly be leaving UCT to take up the directorship of the Human Sciences Research Council in September 2015. Read more.
---
This work is licensed under a Creative Commons Attribution-NoDerivatives 4.0 International License.
Please view the republishing articles page for more information.
---