Professor Mark Fleishman of UCT's Department of Drama has been awarded this year's Creative Works Award. for his long-running production, Every Year, Every Day, I am Walking.
The mostly wordless play traces a fleeing child and her mother's trek from an unnamed and violence-riddled Francophone African country, to Cape Town, where the family struggles to settle. Through the eyes of the young girl, global audiences since 2006 have been shown a slice of the battles that the largely invisible migrant community in Cape Town fight continually. It's a story about being violently displaced, the agony of perpetual movement, and the cruelty of hope.
Yusuf Omar sat down with Fleishman to hear the story behind the story.
YO: What was your inspiration for Every Year, Every Day, I am Walking?
MF: The work was created in response to two impulses.
The first was a commission from the African Festival for Children and Youth Theatre, which was in Cameroon, originally in 2006. They wanted a piece from us. They wanted another piece, a piece that was about forced removals from District Six called Onnest'bo. That piece had a very big cast and a lot of set and they couldn't afford to take everything to Cameroon, so they asked us whether we could create a new piece which had a smaller cast and less set to travel with.
The second impulse was when we were looking around for subject matter and at that particular point there was a series of what seemed to be assassinations of Ethiopian and Somalian business people in Cape Town. This was two years prior to the big xenophobic riots in 2008. It was the beginnings of anti-foreigner kinds of attacks in Cape Town.
We chose that as the subject matter and then asked how we're going to tell this story, this story that leads to this kind of death, this kind of violence, and how we are going to tell that story for an audience at a festival ... for children and young people? We decided to look at the story from the point of view of a child, so telling the story of refugees and migrants in Africa coming to Cape Town, struggling to fit in in South Africa and Cape Town particularly, through the eyes of a child.
We then discovered a book called The Suitcase Story which was written by Glynis Clacherty in Johannesburg. It was a record of an arts therapy project in which people had used the arts to deal with problems for young refugee children in the inner-city areas of Johannesburg, and these were often children who had come here entirely on their own. They were quite young, but they had walked or travelled alone to South Africa without any parents ...
Basically [as part of the project] they gave the young people a suitcase and asked them to decorate the suitcase with their story. To put the things on the outside that they were quite happy with people seeing and knowing about, and putting things that they were less comfortable with people knowing on the inside of the suitcase.
These suitcases were then included in an exhibition and a book was written, and each chapter of the book tells a story from the suitcase of a refugee child. So we were very inspired by that book. We didn't copy the book or anything like that, but we took the ideas that were embedded in many of these children's stories and developed a story of a young girl coming from an unnamed African Francophone country where she has been caught up in some kind of violence, and in this violence, her home is burned down, and her sister, whom she is very close to, is killed – although it is unclear to her that that is what happened. All she knows is that her sister is no longer there.
So that's what the story's trying to tell. It's trying to evoke the experience of people who, through no fault of their own, choose to or are forced to leave the countries where they live – and then the difficulty of trying to integrate in new countries, particularly from an African perspective and particularly focused on Cape Town.
But it also looks at [these issues] from a child's point of view and tries to use play and storytelling as a way of healing and dealing with issues, and a way of remembering the past and putting back a life that's been shattered.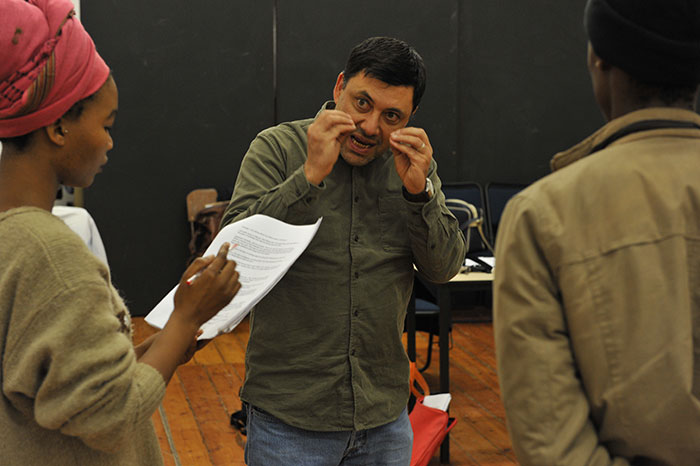 Mark Fleishman during a rehearsal. (Photo by Michael Hammond.)
YO: What's it like having to write such a story, knowing that it's based on someone else's experience?
MF: Obviously any story like this is painful and difficult, but that's what we do. It's not something that one can shy away from or run away from in a way. If you are committed to revealing the difficulties in the world and the things that still need to be done to make the world a better place, then you have to tell these kinds of stories.
The question might arise as to why somebody, why we as a group of people would tell this particular story given that we are not refugees ourselves; we're based in Cape Town.
I suppose the answer to that is two-fold. One is that, as theatre people, and theatre people that are committed to making the world a better place, you often do end stepping into the shoes of other people, empathising with those people and trying to tell their stories in particular ways.
But also because, when I was faced with this question, which was asked by a refugee woman in a performance that we did for the refugee community – she asked me, 'why are you telling my story?' – and I said, well, I am also the child of refugees.
Many years ago, my grandparents were forced to leave Europe to escape Nazism and things that were happening there, and come to South Africa because of poverty and such issues. So they chose to come to a very foreign place and had to build up a new life for themselves from scratch in a strange, different kind of environment.
So in some ways it's my story as well. It's not so foreign to me. Okay, it's not my story in the sense that it was my grandparents' generation and not my generation, but one can imagine other people's experience. If we say that it is impossible to imagine other people's experience and to be able to put oneself in other people's shoes, then we can never imagine what other people are going through and we will never do the things that are required to deal with the things the world is faced with.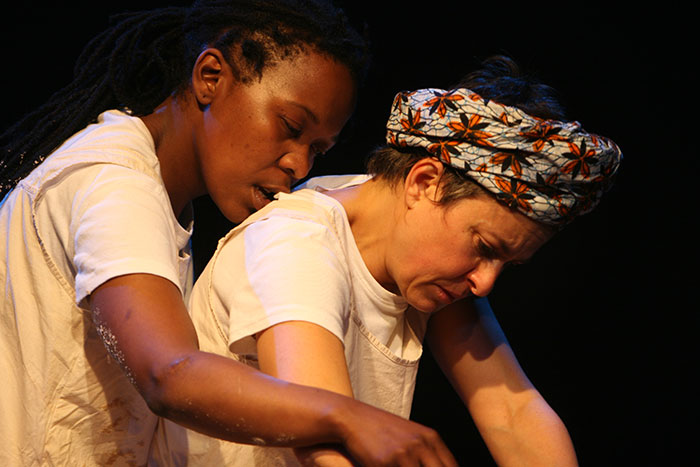 Faniswa Yisa and Jennie Reznek performing in Every Year, Every Day, I am Walking. (Photo by Mark Wessels courtesy of the Magnet Theatre.)
YO: This piece has been performed considerably abroad. What, do you believe, is the appeal?
MF: The very interesting thing about this piece is that, from the time that it was created back then, it has performed continuously since then on almost every continent in the world.
We've performed the play throughout Africa. We've performed the play in America, South America, Europe, India, in Japan, twice. It doesn't matter where you perform. It speaks to people and appeals to something in audiences of vastly different cultures and speaking different languages.
That's one of the things about the piece that I think makes it so adaptable: it uses very little spoken language. It's to a large extent done through physicality, physical image and through visual images of one kind or another ... And there's this very rich musical score that is playing all the time that was composed by Neo Muyanga.
YO: Could you say a little more about the play's use of language – or the lack of it?
MF: Where there are words in the beginning, for about the first half the piece, the words are spoken mostly in French, because they're coming from a French environment.
There were two reasons for doing that. The first was that the first performances of the play were done in Cameroon where the language is French and so there was some attempt to speak to children in their first language.
What happened over time was it became a way of kind of forcing the audience to understand the kind of experience of refugees, who often are living in a country where the language is completely foreign to them.
Halfway through the story as she moves towards Cape Town and as she starts to pick up English, the language starts to shift from French into English. But still, there's nothing said in French that's not also said in English somewhere along the line. There's also isiXhosa, isiZulu and Afrikaans at some points.
But then, the physical language itself and the visuals are enough to understand the story. When you play in places like Japan, for example ... all that happens is someone stands up at the beginning and gives a summary of the storyline in Japanese, and then they watch the piece. Nobody complains that they don't understand what's going on.
YO: What's the significance of the award on both the impact of the play and on your career?
MF:
It's always nice to be acknowledged, to be recognised in some kind of way. We often say that you get more recognised far away from home than you do at home. This piece, for example, has had a lot of acclaim outside of South Africa, a lot of very positive acknowledgements. Less so in South Africa, for one reason or another. Likewise, often we feel in the creative and performing arts parts of the university that what we do is not noted or not seen enough or not given enough prominence, so the fact that there is a Creative Works Award alongside the Book Award means that there is more of a recognition of this kind of work. To that extent it's positive for the arts in general, and obviously it's nice on an individual level for somebody to say 'well done' and to recognise your achievements!
Theatre as an art form is not a form that you make on your own. It's by definition a collective enterprise. The way that I work with my company, Magnet Theatre, is to always work in a collaborative kind of way. I'm getting the award because I'm the UCT person involved in this and I was the director of the piece, but the piece was created by other people, and both Jennie Reznek and Faniswa Yisa are the first two actors in the piece who were centrally involved in the making of the piece ... and Neo Muyanga was central in terms of the music. So this wasn't something I made on my own.
Mark Fleishman will receive his award at the 15h00 graduation ceremony on 12 June 2015. See who else has won the Creative Works Award over the years.
Story by Yusuf Omar.
---
This work is licensed under a Creative Commons Attribution-NoDerivatives 4.0 International License.
Please view the republishing articles page for more information.
---