The Chacma baboon (Papio ursinus) is one of the best-known characters of the southern African landscape. Families of these baboons are regularly spotted hanging out next to highways in rural areas, their distinctive bark is familiar to hikers, and those living in mountainous regions know all too well to lock up their garbage (and sometimes houses) to keep baboon raiders at bay. What we have not known until recently, however, is that South Africa may be home to two distinct baboon species, separated around 1.5 million years ago during a time of immense environmental change. This has important implications for the conservation of biodiversity in the future.
As part of her PhD research, Dr Riashna Sithaldeen of the (Department of Archaeology investigated the evolutionary history of the Chacma baboon during times of large-scale environmental change that occurred during past glacial periods. Her findings were published last month in Plos One in a paper co-authored with her joint supervisors, Professor Rebecca Ackermann Department of Archaeology), who has a particular interest in primate evolution, and Dr Jacqueline Bishop (Department of Biological Sciences), whose expertise is in evolutionary genetics.
"The Plio-Pleistocene period witnessed a great deal of evolutionary change in many animal lineages in Africa, including baboons," explains Sithaldeen. "This period refers to both the Pliocene Epoch, which runs from around 5.3 million to 2.6 million years ago, and the Pleistocene Epoch, from 2.6 million to ~11 700 years ago."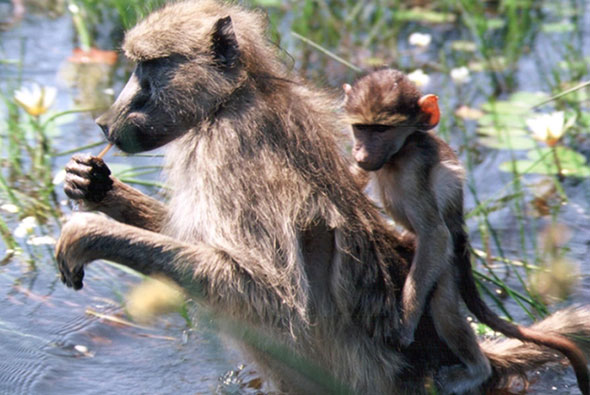 Adult griseipes female and infant in the Okavango Delta. (Photo by R Ackermann.)
During this period the earth experienced a number of glaciation events. While Africa did not experience ice cover like that seen in the northern hemisphere, it did get colder and drier, with large tracts of land – including the Kalahari – becoming increasingly arid and uninhabitable for baboons and many other animals.
In response, baboon populations fragmented, seeking out ecological 'safe zones' referred to as refugia where they could still access food and water. During these periods, genetically similar groups of baboons became isolated from each other, and the genetic composition of these groups changed over time. Today, these two main groups differ markedly in their mitochondrial genetic make-up and where they now meet we see clear genetic signals of secondary contact.
The wide varietion within Chacma baboons when it comes to properties such as size and coat colour prompted speculation about the amount of genetic diversity among the baboons and was important in developing the main hypothesis for this research, says Sithaldeen.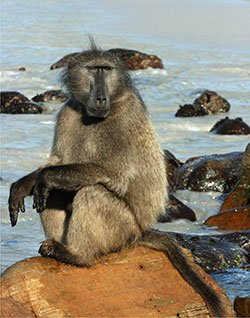 Adult ursinus male at Cape Point, South Africa. (Photo by M Lewis.)
To test this hypothesis, she collected fresh faecal material from free-living baboons in 29 localities across southern Africa. Faecal material contains epithelial (skin) cells from the intestines of baboons. These epithelial cells are then used to extract DNA and create a mitochondrial genetic dataset.
"The mitochondrial genome is housed within the energy-producing part of the cell known as the mitochondria. This genome is inherited directly from the mother, so it tells the evolutionary story of the maternal line," explains Sithaldeen. "The information contained in this genome – extracted from the skin cells – allows us to reconstruct the evolutionary history of the baboon's maternal lineage, in both time and space."
The baboons' cells revealed two distinct mitochondrial clades, which refers to groups of individuals that share a common ancestor: the Papio ursinus ursinus (PU) and Papio ursinus griseipes (PG) clades. Within these, the PU clade has three distinct sub-groups, and the PG two.
"These results suggest that the PU lineage was isolated into three refugia, while the griseipes lineage was isolated into two," says Bishop.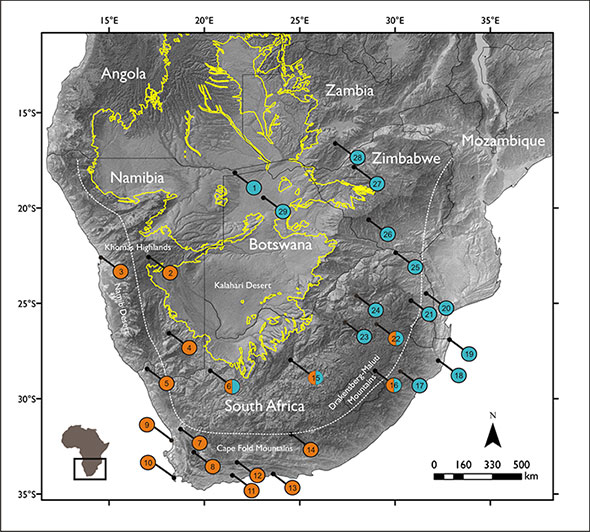 Map of sampling localities across southern Africa. Circles indicate the sampling localities used in this study. Orange circles indicate the ursinus mitochondrial lineage (or clade), while blue circles indicate the griseipes mitochondrial lineage. Areas where both lineages were sampled are indicated with both colours. The extent of the Kalahari sand geologic formation is denoted by the yellow line. The Great Escarpment of southern Africa is denoted by the white dashed line. The escarpment edges the central southern African plateau and is a major geological formation in Africa. Digital elevation model (DEM) created with data from the NASA Shuttle Radar Topography Mission; all data are available from public domain sources.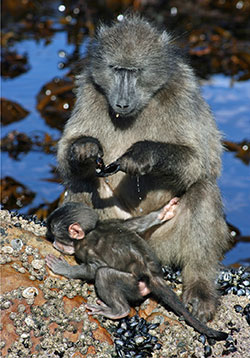 Adult ursinus female and infant at Cape Point, South Africa. (Photo by M Lewis.)
The findings have important implications for our understanding of the evolution of our rich biodiversity heritage in southern Africa, she notes. In particular, the shared patterns of genetic variation we see across a range of animal species reflect cycles of environmental change. This study in particular highlights the impact of desertification on shaping mammal biodiversity in southern Africa, adds Sithaldeen.
A greater understanding of environmental changes and adaptation to phenomena such as desertification is increasingly important as we face a future of substantial climate change. Understanding how one population could split into two genetically separate, highly successful groups can go a long way towards helping us ensure biodiversity in the future.
"Through revealing the areas that acted as ecological refugia for species in the past, this research informs our understanding of how to conserve areas of high genetic variation into the future," says Bishop. "For me, these types of studies are very important to inform thinking on how we will conserve 'evolutionary potential'."
Story by Natalie Simon. All images are of Chacma baboons photographed across the sampling range of the study.
This article is featured in the latest Research at UCT newsletter. Be the first to get the latest research news by subscribing.
---
This work is licensed under a Creative Commons Attribution-NoDerivatives 4.0 International License.
Please view the republishing articles page for more information.
---