The debate around legalised trade in rhino horn as one of the proposed solutions to rampant poaching is perhaps the most divisive issues in conservation today. Would a stable, regulated supply of rhino horn bring down current black market prices?
The debate around legalised trade in rhino horn as one of the proposed solutions to rampant poaching is perhaps the most divisive issues in conservation today. Would a stable, regulated supply of rhino horn bring down current black market prices? Would it satiate the demand and put criminal networks out of business? And could the money from rhino horn sales be used to aid poverty-stricken communities and underfunded, under-resourced national parks and private reserves?
These were among the key questions raised in a sometimes-heated debate during the second of three Wildlife in Crisis seminars hosted by the Global Initiative Against Transnational Organised Crime, in conjunction with Conservation in Action, at UCT.
The dramatic spike in rhino poaching since 2008 has been driven by demand from new Asian markets, notably Vietnam, Dr Jo Shaw, the rhino project manager at WWF South Africa, said in a presentation sketching the roots of the current crisis. "It is not just one demand from one market for one product. It exists in Vietnam, it exists in China, and trade seems to be flourishing on the Laos and Myanmar border."
Rhino horn has a "mythical status", in traditional Vietnamese and Chinese medicine, Shaw said. Traditionally it is believed to reduce heat and impurities in the body. In the last five-to-ten years it has also gained traction as a status symbol for the very rich and powerful.
Three animals a day are being lost. Nearly 400 rhino were poached in South Africa in the first four months of this year, a nearly 20% increase on the same period last year.
"We should not underestimate the effectiveness of the illicit supply chains," Shaw said, " ... or the impact of very rapid globalisation ... in terms of people's ability to move information, to move money and the product. These [criminal] chains are highly adaptive, they can move rapidly across national borders. Law enforcement agencies are simply not able to react at the same level and agility."
In order to prevent rhino from going extinct, it is as important to ensure that more rhinos are born, as it is to stop the killing. Shaw believes it is vital that conservation benefits communities adjacent to national parks and private reserves. There should be enhanced law enforcement efforts to target transnational organised crime syndicates and co-operation between governments should extend beyond "conference and talkshops".
Alejandro Nadal, a professor of economics at El Colegio de Mexico, argued that trade is not the answer. There are too many unknowns and there is a very "real danger" that experiments with legal trade may create a "runaway expanding market".
There is a "veil of ignorance" over the illicit market, Nadal said. "We know very little about the market. We know little about the ownership structures [of rhino horn trafficking syndicates], we know virtually nothing about the cost structures. How do [syndicates] look at their costs and make pricing decisions? How are they financed? Do we know how much of the market is concentrated? How will poachers compete with legal traders? Is the market contracting or expanding? From the killing fields to the retailers and final markets, what do we know about the value chain? How many stages or segments are there in this long chain of events? How many middle men? How many transactions?
"If you don't know anything about these things, it is very adventurous to say that legal, stable supply will bring prices down. We don't even have an approximation of an idea of what the structure of this market is. No information whatsoever."
In that void, Nadal said, it was "really alarming to make policy decisions". "Outcompeting the cartels is not guaranteed".
"Everyone stands to lose. Many economists propose a conservation policy based on the easy slogan of 'what pays, stays'. I think the world they think they understand does not exist."
In contrast, John Hanks – an independent environmental consultant – argued that legal trade deserves "a resolute and more dispassionate consideration as a sustainable solution if rhinos are to survive".
"A horn on the illegal market is worth about R2-million (around $160,000). A fundamental rethink is needed on the way forward, otherwise rhino and many other species will continue to dwindle.
"About 1 500 horn sets were poached and smuggled out of South Africa in 2014. That is a total retail value of around R4-billion (about $330-million) going to criminals."
Hanks believes that a strictly regulated legal trade in horn would ensure that:
Rhino horn can be supplied without killing a single animal
Live rhinos will be more valuable than dead rhinos (rhino horn regrows after it has been harvested; in males at a rate of about 1kg a year and in females at about 600 grams a year)
Rhino horn stockpiles in government and private hands can be fed into the market, removing the high costs and security risks of keeping them
State reserves and private owners can generate substantial income from animals which, at present, are a massive burden
Controlled legal trade would encourage other private rhino owners and local communities to buy more rhinos and breed with them.
He cited a recent study which found that a 16km squared community rhino farm could hold at least 60 rhino, create 100 full-time jobs and generate income of at least R12-million a year.
Local communities surrounding parks and in areas where poachers are recruited are key to finding a solution to the poaching crisis, Hanks said.
"Imagine you live there [in one of the 'poaching villages']. Real poverty, no job, malnutrition, no hope for the future and somebody comes into the village and says, 'Here is R20 000 in crisp new notes. Go and kill me a rhino.' Of course you are going to be tempted."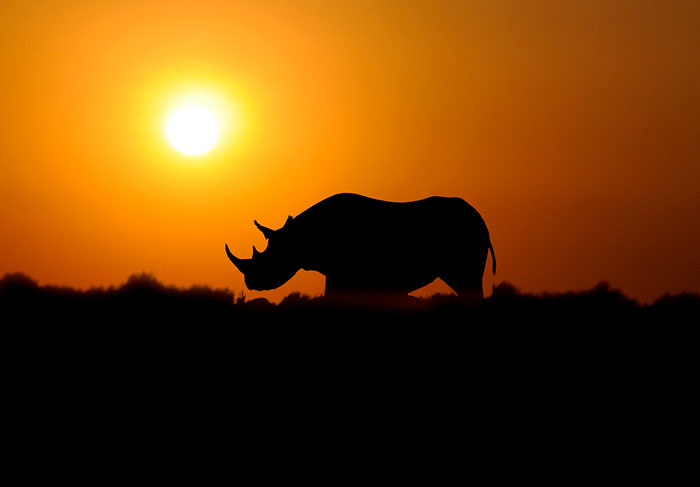 Black rhino numbers have fallen from about 100 000 in 1960 to 3500 today. Their main source of danger is from humans. Photo by RayMorris1, accessed via flickr.
Political will is lacking because there are so many other priorities for governments in Africa.
"In South Africa, can we honestly expect government to put millions more into the conservation of one species when government is faced with so many pressing economic problems? Look at what is happening to our water reserves, there is the need for better education, for employment opportunities. Conservation of a single species is not seen as a priority. There is inadequate law enforcement linked to widespread corruption. There is the continued alienation of rural communities by punitive measures to protect wildlife. In too many cases there is little or no attempt to help these people develop alternative, sustainable livelihoods."
Conservation areas across Africa are severely underfunded. "There isn't a single protected area that has adequate funding."
Hanks believes South Africa should "present a very strong case for legal trade that will benefit agencies responsible for protected areas, private land-owners with rhinos and adjacent communities" to CITES, the Convention on International Trade in Endangered Species, when its 181 members states meet in Cape Town next year.
Will Travers – president of the Born Free Foundation, an ardent opponent to legal trade – disagreed, saying that "legalised trade will not stop poaching [and], in my view, will actually increase poaching as criminals launder money into the now legal rhino horn market and undercut whatever price is set by whatever mechanism you can come up with".
"No one as far as I know has done any really serious analysis of the market, the drivers of the market, the size of the market [or] the desire of the market – People talk about demand reduction. I prefer a clear focus on demand elimination."
Referring to the lack of funds available from governments for conservation, Travers said this could be resolved, in part, in South Africa, with the introduction of a "conservation contribution of R50 for every one of the 9.5-million visitors who come to the country every year".
"The burden of development challenges and eco-system protection cannot be placed at the door of a handful of high value species.
"South Africa stands at a crossroads: that its current approach to rhino horn trade may unnecessarily isolate it from other countries in Africa, that it risks losing public goodwill and that it may be seen to be increasingly out of step with public opinion."
South Africa, as host nation of the CITES conference of parties in 2016, "does not want to suffer a humiliating defeat at the hands of its guests".
"CITES can and will, I believe, reject proposals for the legalisation of rhino horn trade that I contend increases the threat to the species," Travers said.
Story by Julian Rademeyer from the Global Initiative against Transnational Organised Crime.
---
This work is licensed under a Creative Commons Attribution-NoDerivatives 4.0 International License.
Please view the republishing articles page for more information.
---