Freedom without equality is no freedom at all, and South Africa's 1994 moment should be seen as emancipation – which is only the first step towards freedom, says Dr Buhle Zuma.
Zuma was speaking at a public seminar titled 'Struggling with the Past, Making Sense of the Present and Imagining the Future' on 20 May 2015, which UCT's Safety and Violence Initiative organised against the backdrop of the recent furore around the Cecil John Rhodes statue and its removal from UCT.
Panellists, including Zuma, Thato Pule (the SRC's chair of transformation and social responsiveness) and Thuto Thipe (from the Centre for Law and Society) interrogated the issues and dynamics that informed transformation debates in post-apartheid South Africa, and the way violence often permeated those discussions.
Imagination in crisis
There was a crisis and an "illiteracy" of the imagination, both in the country and at the university, said Zuma. Specifically, the core challenge in post-apartheid South Africa was imagining how to produce a "radically different" way of being human, he argued.
Part of what could spark that imagination was rethinking how we describe post-apartheid society, Zuma suggested.
"We've tried, for example, to describe it as a Rainbow Nation." But this is fraught with limitations. It leaves no space for counter-narratives expressed during events like the Marikana massacre, the Rhodes Must Fall movement at UCT, and the spates of political protest by people agitating for their basic human rights – what the state called "service delivery protests", he said.
"We got the transition moment wrong, retrospectively," he said.
Before 1994, the colonial and apartheid projects had worked to cast black people as mere "things", said Zuma. The question now was how to reclaim that ontological status of being human after centuries of "black bodies" being reduced to 'things' and "tools of labour".
By reducing the transition to a single event that marked a break from past oppression, South Africa had failed to seize the opportunity for real freedom by settling for emancipation.
Pule emphasised that engaging with the past was critical for a successful present and future. "Right now what's happening is we're trying to encourage the youth to forget about the past, to move beyond it, because they [ostensibly] have access; they can make something of themselves," she said. "But we're not even recognising the challenges that the youth face, even in a democratic world, [that exist] because of the past."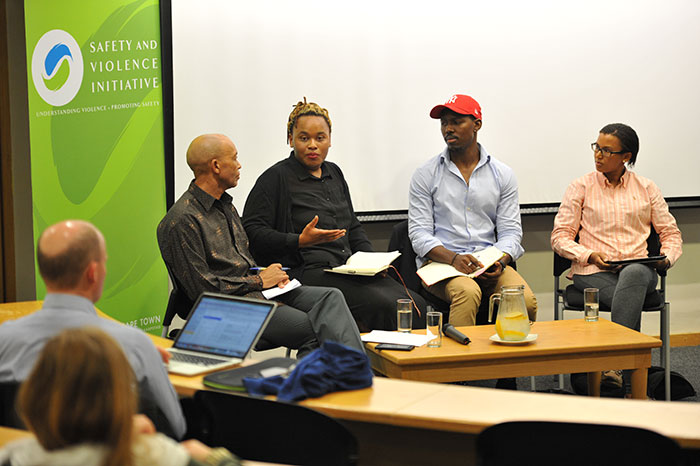 Seminar MC Eldred de Klerk of Africa Analysis, together with panellists Thato Pule, Dr Buhle Zuma and Thuto Thipe.
The past feeds into how we make sense of the present, she said.
To make her point, she posed a question: "How does a heterosexual African man start to consider what a homosexual African man is saying without knowing that the separation [between homosexuality and Africanness] was deliberate, it was intentional, and it might not be innate to African culture?"
Bodies are political
Pule noted the structural violence against people whose bodies differed from the 'norm' – noting transgendered people a prime example.
She and Zuma agreed that bodies were political and historical entities.
"As a black transgender woman, I can't just forget about the past, because I can feel it in my veins. My body is political in every aspect," said Pule.
Imagining the unthinkable
Thipe began her talk with reference to Michel-Rolph Trouillot's 1995 essay, An Unthinkable History: The Haitian Revolution as a Non-Event, to explain recent events on campus.
"Rhodes Must Fall was in many ways unthinkable until it happened," she explained: The university had been talking about removing the statue for a long time, yet for many, including herself, this was unthinkable.
"It was an incredible moment to be in, where students were the ones that made the unthinkable happen. They showed the materialities of the theories they were learning through forcing Rhodes to fall."
Rhodes Must Fall sparked renewed thoughts about the role of the university in society, and tied to this, the university's duty to its students, who rely on it acquire the tools to understand the world and make it better.
"For me, this is what the university is about," said Thipe. "It's about playing; it's about playing with the way you think about things and the way you relate to the world, and through this playfulness, really coming to new ways of being, because I think we can all agree that the status quo is not working.
"If we expect students to just come to class and regurgitate what they are being taught, it's bound to perpetuate the status quo."
Story by Yusuf Omar. Photos by Je'nine May.
---
This work is licensed under a Creative Commons Attribution-NoDerivatives 4.0 International License.
Please view the republishing articles page for more information.
---