No ears allowed? Profiles of undergrad research
As part of her undergraduate research, Robyn Swannack in the Department of Social Anthropology explored attitudes towards the international symbol of deafness: an image of an ear with a line through it. She found high levels of resentment amongst the deaf community.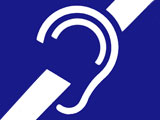 "A symbol is there to represent something and make people aware in everyday life," says Swannack. "This symbol is used to let others know there are deaf people present. It is used in the medical community to indicate a patient is deaf, and it is used to define deafness."
But for many in the deaf community this symbol is ambiguous. The forward slash in signs indicates something is prohibited: think of the no smoking sign. So what does the ear with the forward slash through it mean? No ears allowed? No listening? No hearing people allowed?
Swannack undertook a survey of members of both the deaf and the hearing community, and discovered that, while some were neutral about the symbol, many supported it and yet others were offended. For some, the symbol represents a lack of something: one interviewee noted the symbol for blindness is not a set of eyes with a slash through it, nor is the symbol for disability a pair of legs with a line slashed through it. Why then, she asked, is this symbol acceptable for deafness?
Recycling textile wastewater
"Clothes are not only a basic need but are used to express our personality and personal sense of style," says chemical engineering student Buhle Manana as she opens her presentation on recycling textile wastewater. "The textile industry is one of the largest worldwide, providing employment to 35 million people in India alone."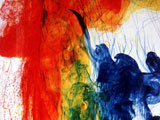 However, the textile industry also generates a great deal of wastewater. To produce just one kilogram of textiles, around 200 litres of water are required. This wastewater contains dyes as well as salts such as sodium sulphide and sodium chloride that drive the dye into the fabric.
"Fortunately," says Manana, "because of technologies and growing pollution awareness globally, wastewater does not have to be disposed of, but can be treated and recycled for re-use."
Manana focused on this treatment and recycling process in her undergraduate research.
Conventional wastewater treatment techniques use a process of evaporative crystallisation to treat the water. But this treatment technique is not only energy intensive; it is also unable to recover separate salts. The salts formed through this process are then contaminated and cannot be recycled for re-use, but need to be disposed as solid waste.
To get around this, Manana's research seeks to use a process called eutectic freeze crystallisation to recover not only the pure water, but also the pure separate salts, at lower energy costs, which can then both be recycled for reuse within the textile industry.
When a solution is cooled below freezing point, ice crystals begin to form and rise to the surface, while the salt becomes concentrated in the remaining solution and eventually crystallises. Manana's paper found that it is technically feasible to use the eutectic freeze crystallisation process to recycle textile wastewater more efficiently – a significant finding in a water-scarce country like South Africa.