A desire to preserve languages and pay tribute to the rich San culture is at the heart of the Xamobile project, which will allow users to text and perhaps even play games in the extinct |Xam language on mobile devices.
Sunkanmi Olaleye – a master's student in computer science – is investigating how novel mobile technology can interface with African digital heritage documents as a way of preserving the extinct |Xam language.
"So many languages in Africa are becoming extinct. There's this craving for English, at the expense of our own cultural heritage. We're hoping that Xamobile will help to preserve and revive languages such as |Xam, which used to be spoken in the Western Cape," says Olaleye.
The project, which has involved multi-faceted research, has taken much patience and incredible attention to detail.
Olaleye's research compares different custom mobile text-entry techniques for the |Xam language, which may be encoded as about 35 000 unique and complete characters. These consist of single characters or combinations of two to three, with diacritics (marks added to a letter to distinguish it in some way) appearing above characters, below characters and sometimes in both places.
Olaleye had to construct a Unicode mapping for each of the unique characters in the language. Special symbols were included for clicks.
He composed the codes with the help of the highly respected Bleek and Lloyd Collection – rich, hand-written records of |Xam language, culture and heritage from the late 1800s. Records of the language currently exist in these handwritten notebooks, as well as in a digitised dictionary.
Sunkanmi pays much credit to his supervisor, Associate Professor Hussein Suleman of the Department of Computer Science, who he said had been "a wonderful guide".
"The Bleek and Lloyd Collection, with more than 20 000 pages of text, is arguably the most significant record of the history, language and culture of the original inhabitants of the Western Cape and Southern Africa in general," comments Suleman. "It was scanned by the Centre for Curating the Archive almost 10 years ago, but the scanned images cannot be processed by computer. Without a machine-readable transcription, we cannot use software to generate a dictionary, study linguistic styles, automatically translate the text, synthesize a voice for the stories, and so on. A complete and accurate transcription of the text is therefore a short-term goal."
Olaleye chose to use mobile technology for the |Xam project. He's programmed his solution so that users are able to access the technology on a basic and affordable cellphone.
"In recent years, we had volunteers transcribing the text using Web browsers, but most volunteers preferred to use a mobile device," Suleman says. "This has led us to Sunkanmi's work to find the best possible way for people to enter text in |Xam on a mobile device."
Olaleye agrees. "Many descendants of the San people may not have computers at home. But most people have a mobile phone. It's a great way for San descendants to become familiar with the language, and to learn it," he said.
Olaleye says he has been very encouraged by the way students have taken to his idea, particularly San descendants studying at UCT: "So many of them were keen, and interested in finding out more. Others wanted to help."
The project is part of a larger crowdsourcing initiative for the transcription of the text of the Bleek and Lloyd Collection.
To make the project fun and accessible, Olaleye is working on a mobile game related to the |Xam language that could in time be downloaded from an app store and used anywhere in the world.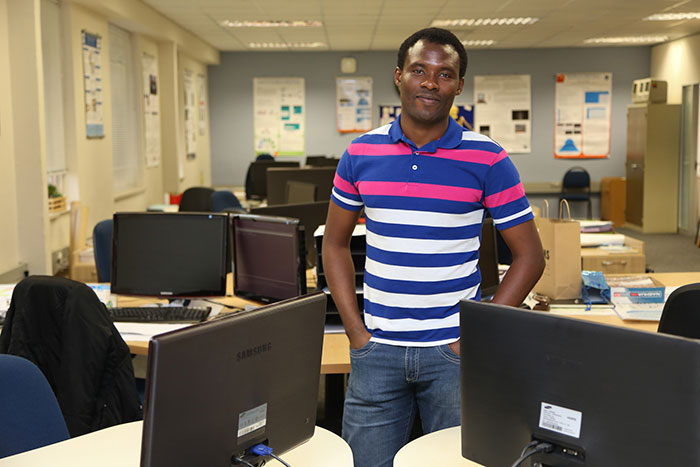 Sunkanmi Olaleye.
Olaleye, who grew up in Lagos, Nigeria, said he was acutely aware of the languages in his own home country that were dying out, including the Urhobo language spoken in the south of Nigeria.
He's hoping that the |Xam model could be used in other countries, including his own.
"There are so many extinct languages in the world, even in Europe. Africa is taking the lead on this, which is great. If we can start from here, we can make a difference."
His interest in the San was sparked at an early age; however, it wasn't any serious academic leaning that directed his curiosity towards the rich and deeply layered culture of the San people: "I watched the South African move The Gods Must Be Crazy as a kid, and I loved it. I became interested in the San people. I wanted to find out more.
"I'm interested in doing something for the San people to make sure the culture doesn't go away. Preserving languages – emblems of identity – is vital in saving cultural wealth and important ancestral knowledge."
Olaleye has not only relied on the old written notebooks, his computer and his mobile phone to do his research; he also spent time near Clanwilliam (as well as in Kwattu, closer to Cape Town) exploring San culture and traditions.
He says that, while many students want to delve into social media and more current issues through research, it's also important to preserve the past: "I'm excited about the potential this kind of research could hold for people around the world."
The Xamobile project, and its related projects on cultural heritage preservation, are located in the Digital Libraries Laboratory (DLL), a research grouping affiliated with the Centre for ICT for Development (ICT4D). ICT4D focuses on human development problems in general, while the DLL concentrates on issues relating to human dignity and identity in particular.
Story by Kim Cloete. Image of Sunkami Olaleye by Je'nine May.
---
This work is licensed under a Creative Commons Attribution-NoDerivatives 4.0 International License.
Please view the republishing articles page for more information.
---