"We think it is possible to effect change in a generation [in Africa]. China has done it. If we want to do it, we can do it," Dr Nkosazana Dlamini-Zuma, chair of the African Union Commission, said at the opening of UCT's China-Africa Colloquium today.
However, emulating China's "remarkable progress", would take an investment in the continent's most valuable resource: its people, said Dlamini-Zuma.
She was delivering the opening address at the two-day colloquium, titled Evolving Sino-African Relations, Prospects and Opportunities.
The colloquium is a partnership between UCT's Confucius Institute, the Centre for African Studies and the Institute for African Alternatives and is supported by the Hanban, the Confucius Institute headquarters in China.
Guest speakers at the opening included Vice-Chancellor Dr Max Price; Deputy Vice-Chancellor Professor Francis Petersen; China's ambassador to South Africa, Tian Xuejun; Professor Ben Turok, director of the Institute for African Alternatives. (Kgalema Motlanthe, chair of the Institute for African Alternatives Board, was part of the platform party and chaired the first session.)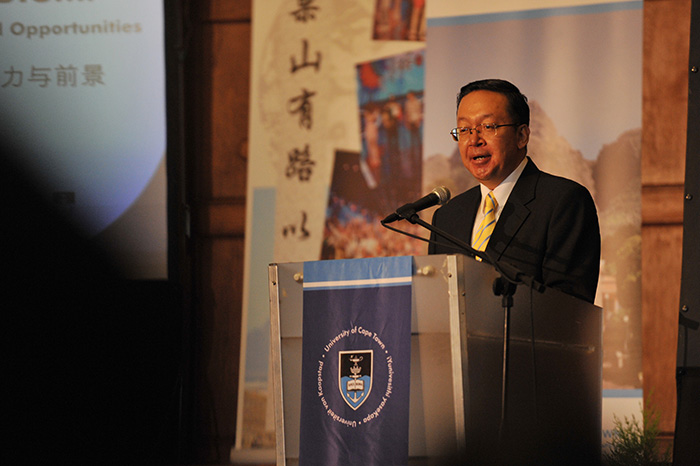 China's ambassador to South Africa, Tian Xuejun
Dlamini-Zuma said that in the face of population growth ("We are the youngest continent and will remain so for the next decade"), the continent needed investment in water, sanitation, education, science and technology and in agriculture, which is still in the hands of women – still using hand-held hoes.
There are plans to rid Africa of these implements in the next 10 years and replace these with more technologically advance tools.
"We need to free women to develop," she added. "Women and youth are key to the continent's development."
Long history
Africa and China have ties that date back to the 13th century when merchants travelled the Silk Road to trade with Africa. In more recent times, China has been part of Africa's emancipation, helping to build post-independence infrastructure.
But the continent is changing, Dlamini-Zuma said. As such, the AU had developed a 15-year plan to address its under-development, insecurity and poverty.
A priority is the beneficiation of natural resources and minerals.
"We are currently exporting the raw materials and when you export raw materials you are exporting the jobs with those raw materials... this is a contradiction that must be corrected."
Two under-utilised resources
Africa's other great resources, its land mass – a united states of more than 30 million square kilometres – and exposure to two oceans had also not been exploited. With China's help, the AU plans to develop the continent's shipping capacity, vital to increased export and import.
This would be translated into greater physical connectedness on the continent, including road, rail and air links.
"We want the continent to be integrated. This is essential to development."
In the pipeline are plans to develop a centre of excellence on the continent to develop this infrastructure and the physical resources needed, through research and development.
In addition, a memorandum of understanding had been signed with China to develop its networks and increase industrialisation.
As this would require greater energy, the AU would work with China to ensure clean and renewable energy resources.
World peace player
As regards security, Dlamini-Zuma said that Africa welcomed China's support in its drive to secure a permanent seat on the United Nations Security Council.
"We're not asking for a favour; we're asking for the correction of an historical injustice."
A fully developed Africa could contribute to world peace and security and take its rightful place in the world, she added.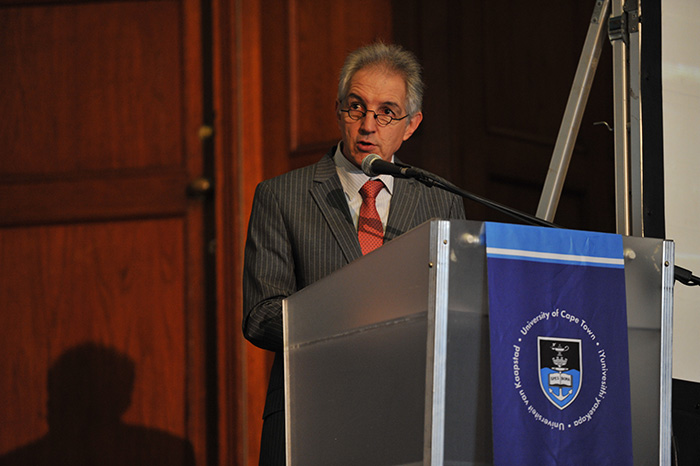 Vice-Chancellor Dr Max Price
Beneficiary or benefactor?
In his address VC Dr Max Price quoted a report from the March edition of 'US News and World Report', which said that sub-Saharan Africa had been at the centre of a struggle for influence between China and the US.
"It makes the point that trade between China and Africa totaled US$200 billion, more than double the level of trade between the US and Africa."
Price said that given Africa's rapid growth (it is currently the second-fastest growing region after southeast Asia) and the fact that China is the world's biggest economy it would be important to understand the implications of a growing range of bilateral relationships between the regions.
"Critics and experts raise questions about these deals and whether they are simply selfish or expedient and for not for long-term interest, or whether they offer deeper and longer-term beneficial relationships, particularly for African states."
He added that one of the goals of the colloquium would be to explore these Sino-African relationships in the face of Africa's growing urbanisation, industrialisation, climate change and shifting political and economic alliances.
For a higher education perspective, Price said that China's investment in research, knowledge and universities had paid dividends.
Twenty years ago there were no Chinese universities in the top 200 in the world but a period of investment in the later 1990s had seen the rise of its higher education institutions. As a result, China had 10 universities in the 2014/2015 world rankings.
"This show the effectiveness of a clear policy on research universities [which] suggests there are lessons to be learnt from the strategy China adopted in higher education."
Price said that the launch in March of the African Research Universities Alliance (ARUA) would help the continent achieve the success China's universities had in southeast Asia.
ARUA was launched at the African Higher Education Summit in Dakar, Senegal. Its 15 member institutions are based in eight African countries. The group will focus on building African research excellence as a foundation of its development. Price is the organisation's first chair.
Story by Helen Swingler. Images by Je'nine May.
The colloquium heralds Africa Day on 25 May, which commemorates the founding of the Organisation of African Unity, now the African Union. To celebrate this event UCT hosts Africa Month, showcasing research, teaching and learning and other areas that have a specific Africa focus.
---
This work is licensed under a Creative Commons Attribution-NoDerivatives 4.0 International License.
Please view the republishing articles page for more information.
---