A panel of distinguished academics as well as students from the Rhodes Must Fall movement shared their ideas on how they see the process of decolonising UCT moving forward, during a lively, often heated debate.
Disciplines are 'forms of colonial knowledge'
(Professor Zine Magubane, Van Zyl Slabbert Visiting Chair from Boston College, US)
"We must acknowledge that universities emerged in and through the colonial project. The disciplines were constituted as forms of colonial knowledge. This means that the conditions of their emergence were often predicated upon a search for knowledge that was part and parcel of the colonial project."
"(Decolonisation) must be a project of recognition – of allowing the conversation to happen. We are at least in a preliminary moment of decolonisation, where it can be spoken (about) because one of the main ways colonialism operates is to continually deny its own presence."
"What my fellow panellists and I will be doing, and we invite you into the conversation, is to begin to be part of this process of recognition, deconstruction and reconstruction."
Decolonisation seeks to free the imagination, not discipline it
(Associate Professor Pumla Gqola, University of Witwatersrand)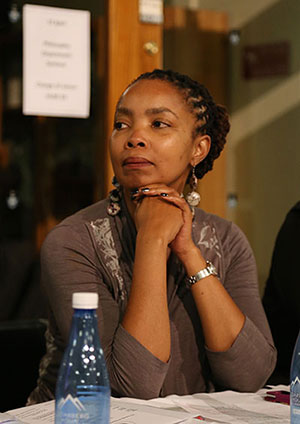 "Decolonising universities requires that we confront directly what it means to be a university in Africa today beyond saying things like 'a world-class African university'. It requires that we interrogate the anxiety in qualifying 'African university' with 'world-class'."
"Decolonising universities requires that we rethink where we are, how we teach and how we continue in the main in post-apartheid South African and Namibian academies to teach in ways that re-inscribe the tyranny of the colonial archive, in ways that pretend that the colonial archive is the only library."
"Decolonising the university requires that we answer the question of how we free the imagination instead of disciplining it."
A decolonised university responds to the needs of society
(Thato Pule, member of the SRC and Rhodes Must Fall movement)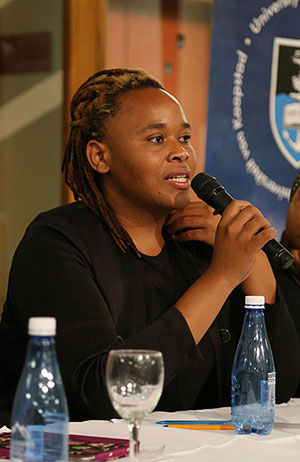 "This is not the first time that people have engaged on the issue (of decolonisation). As the youth, our first step is to engage with our history – our critical history. Not just what Europe says about us, but what we say about ourselves."
"Curriculum is at the centre of knowledge and with knowledge comes power. If you're going to centre knowledge on curriculum, it has to be the place where the process of decolonisation starts. An integral part of changing this narrative of Eurocentrism in academia is to create universities that respond directly to societal needs. Does UCT respond to the needs of Khayelitsha?"
'Decolonisation is not impossible'
(Mbali Matandela, UCT student)
"The time has come to enlighten Africa to itself through languages that come from Africa by people from Africa."
"UCT markets itself as an 'African university' without understanding the complexities that come with calling yourself African. The institution separates knowledge that could be in conversation with one another in the same way that it separates and isolates identities that do not fit the hetero-patriarchal, white supremacist institutional culture."
"Decolonising the university is a lengthy task. A lot of people have told me, 'this is going to take years', but it's not an impossible task. It is a lengthy task that can be fast-tracked. Let me tell you how it can be fast-tracked: we need to unlearn certain behaviours and thoughts. We need to shift our consciousness beyond this immediate reality. We need to shift our consciousness to catch up with our imaginations, because if we are still imagining ourselves in the same space, thinking the same things, nothing is going to change."
Black pain demands a decolonised university
(Ntebaleng Morake, UCT student)
"We are tired. We are angered and we cannot continue to live and learn in a space that denies us of our existence. We cannot continue to be treated as merely anonymous black faces without a history, because we have a history. And that history did not begin when white colonialist men robbed us of our dignity. It did not begin when they cornered us with their guns and stole our land. It did not begin with slavery and colonialism, nor did it begin with apartheid."
"We are enraged because this single story of history that positions whiteness as triumph that UCT so chooses to articulate is gigantically undermining to black pain. It bluntly states that here, on this campus, built with the sweat of our people, our pain and lives do not matter; for UCT treats us and the pain carelessly printed on our folded black foreheads as a negation of whiteness."
"We are enraged and we demand that our campus be decolonised, because this too is our space."
Decolonising psychology
(Dr Shose Kessi, UCT's Department of Psychology)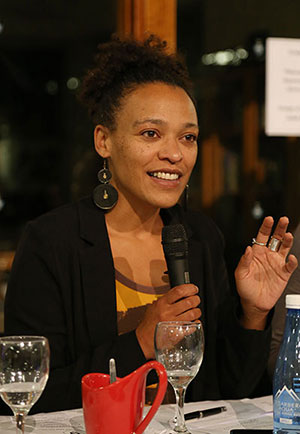 "Psychology as a discipline has a very dubious past in South Africa and elsewhere. Through various research projects it became complicit in legitimising the apartheid system. In fact the first prime minister of the apartheid regime [Hendrik Verwoerd] was a psychologist."
"Psychology enabled those privileged by the apartheid system to justify it in their minds through a reliance on scientific data that supported the view that Africans had to be dominated and oppressed by white settlers."
"A decolonisation process of psychology means we have to school ourselves and other psychologists in how broader relations of domination and subjugation play themselves out in a macro, social, political, economic and historical context."
Watch the video:
Collated by Abigail Calata. Photos by Je'nine May
---
This work is licensed under a Creative Commons Attribution-NoDerivatives 4.0 International License.
Please view the republishing articles page for more information.
---