Broadly speaking, what was happening at UCT during the struggle against apartheid?
1950s
During the 1950s the ruling National Party embarked on the destruction of academic freedom and the imposition of university apartheid. In June 1957, UCT students and staff marched through the streets of Cape Town in protest against the Separate University Education Bill. The bill was repealed, only to be replaced by the Extension of University Education Act of 1959, which made it a criminal offence for a black student to register at a formerly open university (open to all races) without special permission from the government.
1960s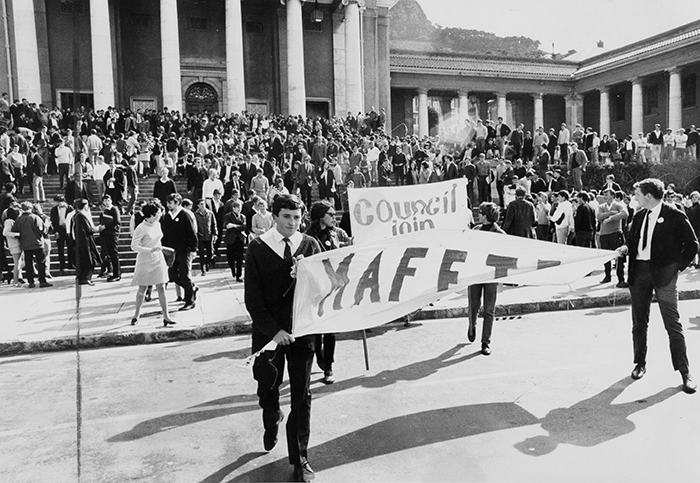 Students protest against the rescinding of Professor Archie Mafeje's appointment as a senior lecturer at UCT in August 1968.
Academic freedom remained severely under threat during the 60s. UCT objected to banning orders and the detention of students and staff who protested against apartheid, but at the same time was involved the Mafeje Affair. In May 1968, UCT Council unanimously approved the appointment of Archie Mafeje, a significant African scholar, as a senior lecturer in social anthropology. A month later, after pressure from the apartheid government, Council withdrew the appointment, and made known "its future inability to appoint non-white persons to academic posts, unless allowed to do so in special circumstances". In August 1968, between 200 and 600 UCT students began an occupation of Bremner Building, lasting for nine days, demanding that the UCT Council reconsider its decision to withdraw Mafeje's appointment. Protests were also held on Jameson Plaza. (Read up on the Mafeje affair, as well as the lessons UCT can learn from it).
1970s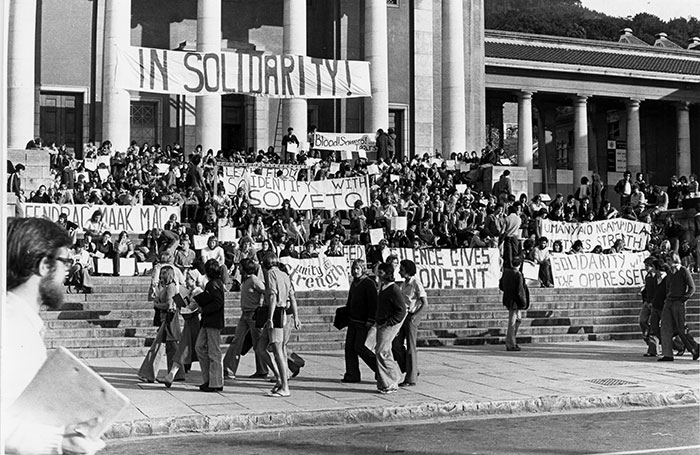 The 1976 Soweto uprising was a pivotal time in the country's history. Here students gather on Jammie Steps to show their solidarity, calling for an end to police brutality and Afrikaans as a medium of instruction in schools.
The 1970s was a watershed era for youth politics, as student organisations garnered huge support. Many students adopted a more militant approach, challenging symbols of authority. The 1976 Soweto uprising propelled many students into becoming far more aware and inspired to change. Protests were punctuated by students speaking out against detention without trial, banning orders, and the erosion of freedom of speech.
1980s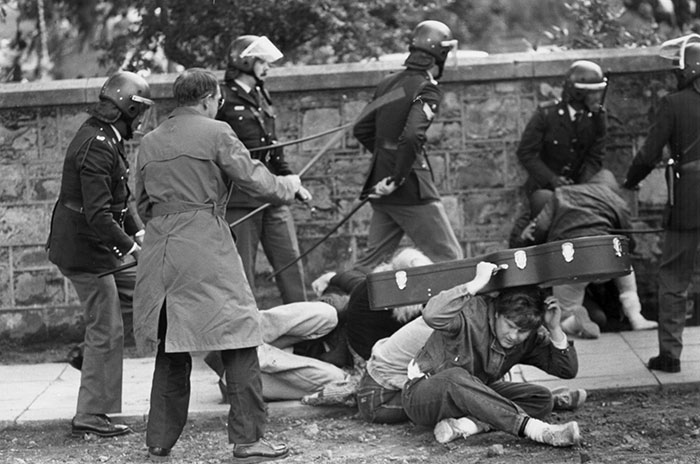 A UCT student tries to protect himself as police move in with sjamboks to break up a protest march to the State President's residence in Rondebosch in August 1985.
The 1980s saw a rise in student protests and unrest, with many students opposing the reign of former prime minister PW Botha and the states of emergency in the country at the time. Many students also rallied around the End Conscription Campaign, which opposed the conscription of all white South African men into military service in the South African Defence Force. In opposition to the government, UCT embarked on a successful programme of recruiting black students, who were housed in student dormitories in defiance of the Group Areas Act. UCT also successfully opposed the 'Quota' Bill which tried to enforce racial quotas at higher education institutions.
1990s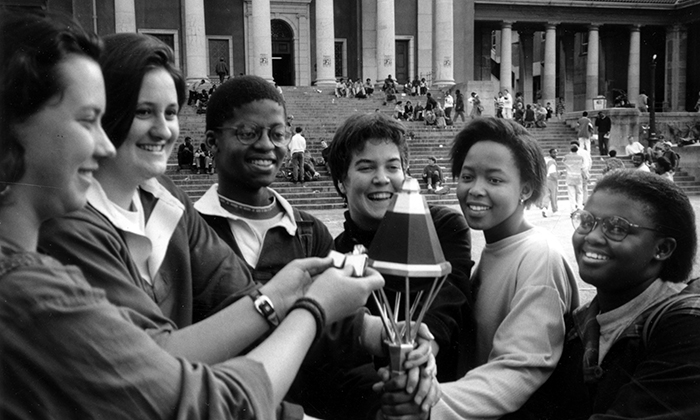 Joan Tyler relights the Torch of Academic Freedom at the 34th TB Davie Memorial Lecture in 1994, as fellow students look on.
While UCT earned itself the nickname 'Moscow on the Hill' for its sustained opposition to apartheid, the tide turned with the release of Nelson Mandela in 1990. A spirit of optimism on campus dovetailed with the political changes, and transformation gathered momentum. From the 1980s to the early 1990s, the number of black students admitted to UCT rose by 35%. Here Joan Tyler relights the torch of academic freedom at the 34th TB Davie Memorial Lecture in 1994, as fellow students look on.
With thanks to UCT Libraries Special Collections and Archives for the images.
Did you know that UCT's Special Collections and Archives holds an extensive collection of transcripts of interviews with a wide range of role players in South Africa's constitutional negotiations, conducted by Patti Waldmeir for her book Anatomy of a miracle: The end of apartheid and the birth of the new South Africa (1998). These include interviews with De Klerk, Mandela, Thabo Mbeki, Roelf Meyer, Cyril Ramaphosa, Jacob Zuma and many others. Find out more. They also recently curated a photo exhibition commemorating 20 years of democracy in South Africa. View it online.
Return to A people's history of struggle main story
---
This work is licensed under a Creative Commons Attribution-NoDerivatives 4.0 International License.
Please view the republishing articles page for more information.
---