A few hands went up when the question was asked: "Do you think the economy in South Africa will be better in five years' time?" David Lipton, the first deputy managing director of the Washington-based International Monetary Fund, was speaking to a packed School of Economics' seminar room on a whirlwind visit to UCT earlier this month.
During his address, Lipton reviewed the country's challenges and offered a message of hope. He also confided later that the show of optimistic hands in the crowd was an important indicator – if people believed the future would be better, they would be prepared to work harder at it. If they were pessimistic, they would be less likely to try to make a difference.
He also admitted that South Africa's low growth was a challenge.
"Last year your economy grew only 1.5%. That meant that individual income did not rise at all. It also meant that the unemployment rate – among the highest in the G20 countries – is still about one-quarter," he said.
Together these indicators suggest that South Africa faces an uphill path to building a stronger economy, according to Lipton. South Africa's sluggish growth and the absence of crucial reforms leave the country vulnerable.
"This may sound a bit bleak, so I would actually like to offer you an optimistic message. There are many things your country can do to continue transforming your economy and society."
Reviewing South Africa's challenges
To understand local economic challenges, it was necessary to look at the global economy, as it has an important impact on South Africa's fortunes, Lipton said. Global growth had been weaker than expected and the forecast for 2015 was down to 3.5%. The downturn was due to a number of factors, including shockwaves from Ukraine and the Middle East.
There have been home-grown shocks as well, such as the growing disruptions to the electricity supply and protracted strikes. This explained why the IMF is now estimating that potential growth in South Africa was forecast "in the two's" – despite projected growth in sub-Saharan Africa being pinned at around 4.75%.
Noting the country's low growth trajectory, high inequality (where the average white household still earns about six times the average black household), and high unemployment rate (about one in four South Africans is out of work, and among young people this ratio rises to one in two), Lipton also asked the audience to imagine what was possible if this workforce were employed.
He suggested that lower oil prices – which was giving a lift to oil consumers in South Africa – together with falling inflation provides an opportunity for South Africa to address some of these challenges, said Lipton.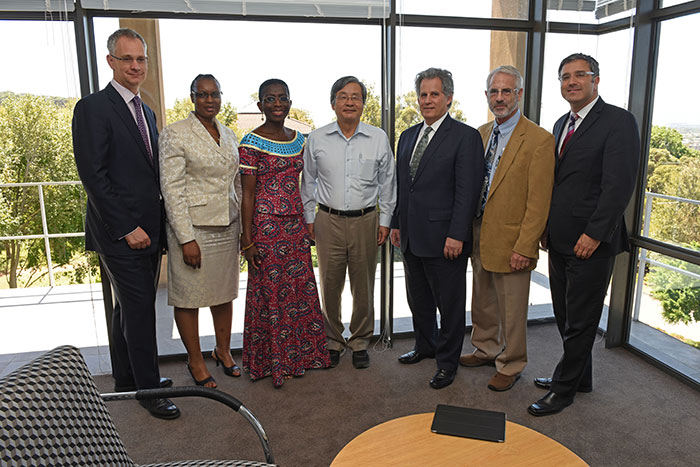 Front row seats: IMF's first deputy managing director David Lipton (middle) is flanked by Prof Hiroyuki Hino (30 years in IMF and now a visiting professor at Southern African Labour and Development unit at UCT) and Prof Mark Ellyne (25 years in IMF and now lecturing macroeconomic policy at UCT). The full IMF delegation included (from left) Axel Schimmelpfennig (senior resident representative), Felicia Dlamini-Kunene (advisor to executive director), Antoinette Sayeh (director of African Department), and advisor Ben Kelmanson (far right).
Reforms for a brighter future?
"In essence, what is needed is a fundamental shift in a core dynamic of the South African economy that brings together insiders and outsiders across product and labour markets. This can lift investment, growth, and employment.
"Improving electricity availability is of paramount importance. The growing problem of power outages is debilitating for people and companies alike."
Describing South Africa's current energy crisis as a "wake-up call for South Africans", he said: "Urgent action is needed to improve energy availability in the short term, while also working to address them medium- and longer-term issues. Bold leadership is needed by all stakeholders to address these challenges. Business, labour and government each have a role to play," he said.
If these three stakeholder groups could envision a shared future, the country could find itself on an upward path, he concluded.
Southern African Labour and Development Research Unit; and Adjunct Prof Mark Ellyne (25 years in the IMF) is currently lecturing macroeconomic policy at UCT.
Story by Carolyn McGibbon. Photos by Michael Hammond.
---
This work is licensed under a Creative Commons Attribution-NoDerivatives 4.0 International License.
Please view the republishing articles page for more information.
---