Norway's largest public institution of research and higher learning, the University of Oslo (UiO), has identified South Africa as a key strategic partner for increased future collaboration. To further this goal of building a closer relationship with South African partners, a delegation from the university, including the rector and 10 deans and directors, visited South Africa in early February.
It is the first time a trip of this kind has included such a large number of senior members: a measure of the seriousness of their intent.
In an informal presentation to the delegation, UCT Vice-Chancellor Max Price noted that UCT is becoming a 'go-to' place for partners outside the continent: "UCT provides an excellent gateway to Africa, not only because of our location on the continent, but also because of the high level of expertise we offer on the issues facing Africa," he said.
Collaboration between the UiO and South African universities has already proved productive. UiO Rector Ole Petter Otterson noted that when UiO researchers apply for European Union research grants, their average success rate is 20%; when they apply for these grants in collaboration with researchers from South Africa, however, that success rate rises to 30%.
"There must be something special going on here," said Ottersen. "So let's concentrate on greater exchange and benefit from collaboration."
Otterson emphasised that both universities shared similar values, particularly the importance of capacity building and social justice.
The two countries have also enjoyed a high level of educational co-operation. Since 2002, 481 students from UiO have spent time at South African institutions, while 84 South African students have gone to Oslo.
During the visit, UCT and UiO recommitted to a general memorandum of understanding between the universities, and renewed their student mobility agreement.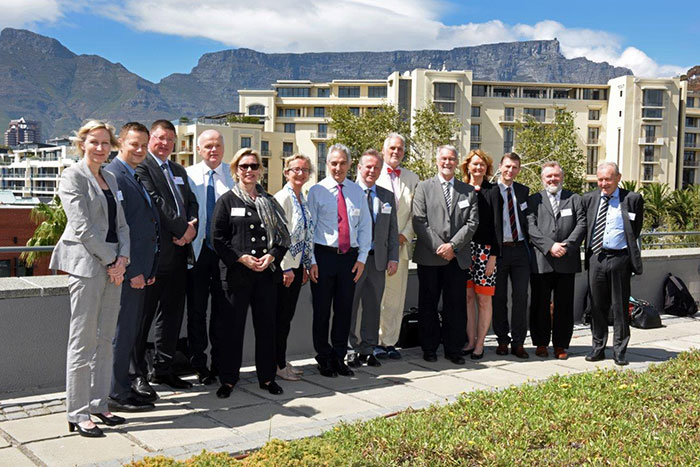 The delegation's first stop was the Graduate School of Business (GSB). From left: Berit Karseth (dean of the Faculty of Educational Sciences), Einar Meier (senior adviser for internal relations), Ståle Petter Lyngstadaas (vice dean in the Faculty of Dentistry), Frode Vartdal (dean of the Faculty of Medicine), Fanny Duckert (dean of the Faculty of Social Sciences), Gunn-Elin Aasprong Bjørneboe (director of UiO), Max Price (vice-chancellor of UCT), Ole Petter Ottersen (rector of UiO), Walter Baets (director of the UCT's GSB), Danie Visser (UCT's deputy vice-chancellor for research), Berit Karseth (dean of the Faculty of Educational Sciences), Håkon Glørstad (director of the Museum of Cultural History), Arne Bugge Amundsen (dean of the Faculty of Humanities) and Arne Bjørlykke (director of the Museum of Natural History).
Story by Natalie Simon. Image by Michael Hammond.
---
This work is licensed under a Creative Commons Attribution-NoDerivatives 4.0 International License.
Please view the republishing articles page for more information.
---