The sound of an ambulance siren reminds Cornelius Witbooi of the work he used to do – before a road accident cost him his right arm, just above the elbow.
Witbooi was a heavy–duty–ambulance driver based in Clanwilliam in the Western Cape until the accident nearly 10 years ago, when his vehicle crashed and trapped his right arm.
He had to have the limb amputated. The loss of his arm made it difficult for him to balance. "I fell over easily, and when I came back to work, I got an admin job," he says. "The biggest challenge was learning how to write with my left hand."
About eight years ago he had a basic prosthesis fitted, but it has limited functionality.
Now, a design breakthrough by mechanical engineer George Vicatos at the University of Cape Town has brought new hope for people such as Witbooi.
Vicatos, in collaboration with student Severin Tenim, has developed a relatively cheap prosthesis that scooped a Cutting Edge award from Popular Mechanics magazine in November last year.
It is the first low–cost mechanical hand that closely resembles how the human hand actually works.
"I wanted to address amputees in the low–income bracket; to create a hand that doesn't cost a fortune, but that works similarly to a real hand," says Vicatos. "Because the alternative for this income group is a hook, or a non–functional hand."
Vicatos says his design has cables that function like tendons, "and for the joints, we put in bearings".
The prosthesis is attached to a harness that is worn across the back, allowing the artificial hand to be activated by the movement of the shoulder.
"There is no other mechanically operated device that is as close to the anatomical function of the hand as this," he says. The wearer is able to move his or her fingers individually by pulling a cable operated by the shoulder harness. Other mechanical hands close all the fingers at the same time.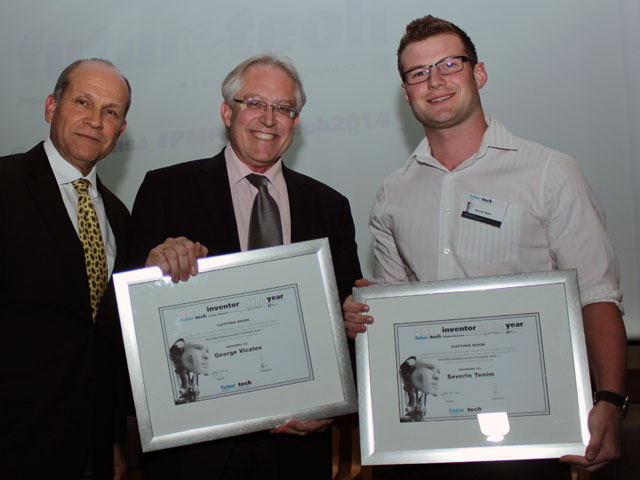 Dr George Vicatos and MSc student Severin Tenim were honoured with the Cutting Edge Award for Design and Development of an affordable anthropomorphic (human–like) prosthetic hand.
Vicatos says the device is in the final stages of design, and will be manufactured locally. It will be possible to order custom models.
His mechanical hands, with fully articulated fingers, will cost between R25 000 and R30 000. In comparison, a simple non–functional hand prosthetic costs about R5 000; and sophisticated electronic hands cost between R500 000 and R1–million each.
"The younger generation doesn't want the 'glove' look, or a hand that's trying to look real when it's fake," says Vicatos. "They want to enhance the fact that they have something artificial – and the mechanics inside this are quite beautiful, so there will be an option to have a transparent window that shows them off."
Eugene Rossouw, a prosthetist who has tested Vicatos's design on amputees, remarks: "It still needs to be refined a little further to make it fully useable, but it is incredibly promising and innovative."
Witbooi is now having a more sophisticated prosthesis designed by Jayson Chin, an expert associated with the Cape Amputee Clinic. Chin says people who lose an arm usually have to make more effort to master a prosthesis than people who have lost a leg.
"You can't walk on one leg, so you only start walking again when you get the prosthesis," he points out.
"But with arms, you can type and fasten buttons and do all sorts of things [with your remaining arm], so it takes a lot of diligence to use the prosthesis."
This article was written by Tanya Farber, and first appeared in the Sunday Times. Image of mechanical hands supplied. Photograph of Dr George Vicatos and MSc student Severin Tenim by Popular Mechanics.
---
This work is licensed under a Creative Commons Attribution-NoDerivatives 4.0 International License.
Please view the republishing articles page for more information.
---