On show at the recent World Economic Forum in Davos was the carbon footprint component of the Department of Information System's curriculum, as part of a top-level report of campus sustainability studies from 25 leading universities.
An annual meeting of global leaders from government, business, international organisations, academia and civil society to discuss the ideas and strategies that are transforming the world, the World Economic Forum (WEF) is a space where business is always high on the agenda. And sustainability skills are important to the development of future business leaders, said Peter Bakker, president and CEO of the World Business Council for Sustainability Development.
Getting corporations and universities to talk – and showcase their best practices – are key to this process.
At this year's gathering the International Sustainable Campus Network and the Global University Leaders Forum teamed up to compile a report profiling exceptional campus sustainability studies from 25 of the world's top universities.
Third-year case study
UCT's case study described the Department of Information Systems' third-year course on green information systems (IS). The team project component of the course has a strong sustainability focus and challenges students to measure the institution's own carbon footprint and recommend mitigation measures.
"Seeing a carbon footprint as a proxy for sustainability, this network integrated carbon footprinting into the curriculum, with third-year students engaged in a challenge of collating annual greenhouse gas emission for the university," explained IS PhD associate Carolyn McGibbon, one of the department's top 'green information systems' researchers.
Teams were given various scopes and asked to calculate emissions and present reduction recommendations in their assessments.
Head of the IS department, Professor Kevin Johnston, added: "The project is transformative, bridging the pillars of theory and practice and using reflective learning to help the students negotiate the experiences and experiential learning that are core to project-based learning. It also cultivates spaces for double-loop learning, which goes beyond basic problem solving towards a critical reflection on existing behaviour and creative, innovative and lateral thinking."
The course is a unique collaboration with McGibbon and course convenors Professor Elsje Scott and Gwamaka Mwalemba, and a confluence of two faculties: science (represented by students majoring in IS and computer science) and commerce (where research and lecturing elements are fostered).
The semester-long course allows students to learn more about climate change mitigation while enhancing their graduate attributes – such as intellectual autonomy and ethical and professional habits of mind, which contribute to good global citizenship.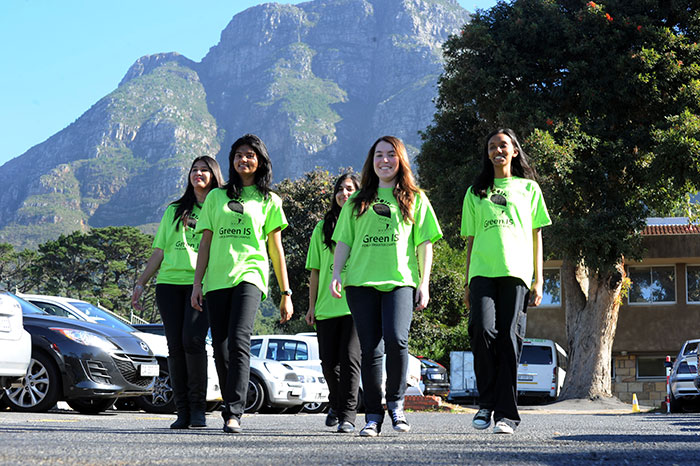 Sustainable journey: Green information systems students Aashikah Abdulla, Numrata Manilall, Zahraa Mathews, Tayla Geben and Nicole Chetty were part of the department's third-year carbon footprinting team.
Green at the core
To provide the broader context for sustainability, third-year students begin with a series of lectures, followed by a carbon footprint seminar by a greenhouse gas protocol specialist and UCT sustainability co-ordinator Sandra Rippon.
"With this guidance at the outset, students are quickly able to become familiar with the greenhouse gas protocol and then move to the research phase," said Johnston.
And the project is enhancing institutional awareness: students get to interview university data holders in the administration – people who have now also begun to pay attention to the issue. More staff and students are paying attention.
Food for thought
The university's commitment to a sustainable campus is reflected on many fronts.
One example is the 2013 survey of UCT's food system by the university's Climate Change and Development Programme, run under the African Climate and Development Initiative (ACDI) banner. This showed that UCT's residence food system emits some 3 600 tonnes of CO2 annually, calculated using data from residence menus, dining hall statistics (the system caters for more than 4 000 students) and carbon footprint measures for ingredients used in the kitchens.
Contributing to the food system are 3 000 day students, as well as campus staff.
Food contributes to about 7% of UCT's carbon footprint, says the ACDI's Muriel Argent. This does not include energy emissions or those generated by food waste and its disposal, which would substantially elevate the contribution to greenhouse gases.
As a result, recommendations have been made to improve UCT's food system – and its nutritional value – such as food types offered (meat and dairy have a heavy footprint) and the way food is served to reduce packaging and wastage.
Rippon, who compiled the 2013 UCT Carbon Footprint Report, said UCT intended including composting in its waste contract. This would include compostable packaging and food waste.
She said this could be introduced only once suitable compost waste bins were in place and a disposal method and service provider in place.
Did you know? UCT's commitment to sustainability is embedded in its strategic vision, which commits the university to being a socially responsive campus. Vice-Chancellor Dr Max Price is also a signatory to the ISCN-GULF Sustainable Campus Charter, and attended the WEF as one of 20 members of the Global University Leaders Forum – the only African university head represented.
Read more:
Developing Skills for Future Leaders: ISCN and GULF Share Report at World Economic Forum
Food Sustainability at UCT
Infographic: UCT's 2013 carbon footprint at a glance
Story by Helen Swingler. Photo of WEF by Urs Jaudas, photo of students supplied by Faculty of Commerce.
---
This work is licensed under a Creative Commons Attribution-NoDerivatives 4.0 International License.
Please view the republishing articles page for more information.
---