Before 1994 and not only after 1948, the university was complicit in practices that denied many staff and students full and dignified participation in the life of the university. In protest, increasing numbers of students declined to participate in graduation celebrations, especially in the period from 1950 to 1993. As a restorative measure, and to ensure that the university continues to listen to those who may still feel marginalised today, UCT has invited those students to attend a suitable ceremony in the years leading up to 2018.
Among those who participated in restorative graduations in December 2014 were Margot Emanuel and Dr John Patrick Giddy.
Emanuel – who completed her last degree at UCT in 1992 – regraduated with a BSc (Hons) and MSc (Med) on 16 December 2014.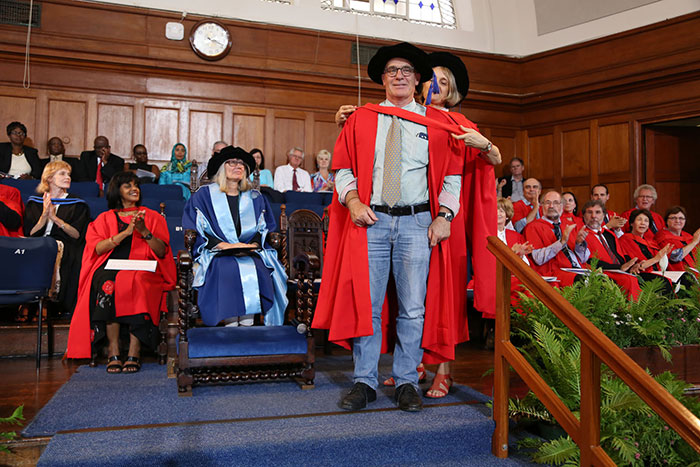 Giddy, senior research associate in the School of Religion, Philosophy and Classics at the University of KwaZulu-Natal, participated in the science graduation ceremony on Saturday 20 December with his daughter Isabelle, who graduated with her master's in oceanography.
Attend the grad you missed
For the next five years the university is giving alumni the opportunity to be acknowledged and capped in person. If you chose not to participate in your pre-1994 UCT graduation ceremony and would like to re-graduate, contact the alumni office at alumni@uct.ac.za with the following details:
Degree that you obtained from UCT
Year of your degree qualification
Faculty within which you obtained your degree
Your preferred capping ceremony:

June (year)
December (year)
---
This work is licensed under a Creative Commons Attribution-NoDerivatives 4.0 International License.
Please view the republishing articles page for more information.
---