Drawing parallels between the process of creating and making sense of the current situation in South Africa, artist William Kentridge held his audience – which included higher education minister Dr Blade Nzimande – in rapt attention at the fourth graduation ceremony for the humanities on 18 December.
Kentridge, who received an honorary doctorate in literature at the ceremony, spoke about how his life revolved around his studio and that many of his life lessons (which he generously shared with the audience) had come from this space.
"One can think of the studio as place where the world is invited in, in the form of images pinned on the walls, newspaper headlines, photostats, photographs. One then takes these fragments of the world, shatters them, rearranges them and then they are sent back out into the world," he explained.
"There is a peripheral vision of all these different fragments – and in addition to this peripheral vision there is also a peripheral thinking. Taking fragments of ideas from the things you're looking at and hoping, through the activity of making, drawing, filming or walking, that these fragmentary ideas will connect and that from these peripheries, a clarity will emerge."
Expanding this idea to South Africa, Kentridge argued that in this country, the edges are important: "South Africa today is a place where that which does not fit in has to be acknowledged and where contradiction is central ... [where] instability and provisionality are the order of the day.
"The democracy party of 20 years ago is long finished, but everybody is left with a hangover and foul temper: the feeling of 'I am nothing and should be everything'. Race and class divisions are with us as strongly as ever. A happy ending is by no means assured. There is a daily, low-grade civil war at every stop street. The incidences of racial, verbal and physical abuse alert us to the rages that still burn inside. They are shameful to all of us."
However, there is cause for optimism since neither the optimistic future nor disaster is assured, instead both these futures unfold simultaneously. "The only way to work in South Africa is to understand that the shifting surface is as stable as it is ever going to be."
Owing a debt to the country
He drew the graduands' attention to debt they owe the country. "This is not sentimental nationalism. A portion of your education has been paid for by you or your parents or your grandparents or scholarship, but one must understand that it is largely also paid for by people who will never be here in this hall, whose labour has been the basis of the wealth of the country and the state support of your education."
He maintained that by forgetting their debt to society, graduands risk developing a "sense of entitlement that is sadly very prevalent in the country. No one is satisfied with their positions. I suspect this dissatisfaction is normal, but the advantages you have coming through the humanities is to understand that these contradictions are not aberrations, but the only way of understanding the world".
"The easy lesson of SA is that our strength comes from vulnerability rather than power. Relish the state of fragmentation we are in. Find the pleasure and beauty of unexpected connections. Keep a sharp eye for the day's event, but a keener feeling for the longer unfolding. Be kind: understand that everyone is involved in their own titanic struggle. Seize the contradictions, listen to the periphery," he concluded.
Three generations of Kentridges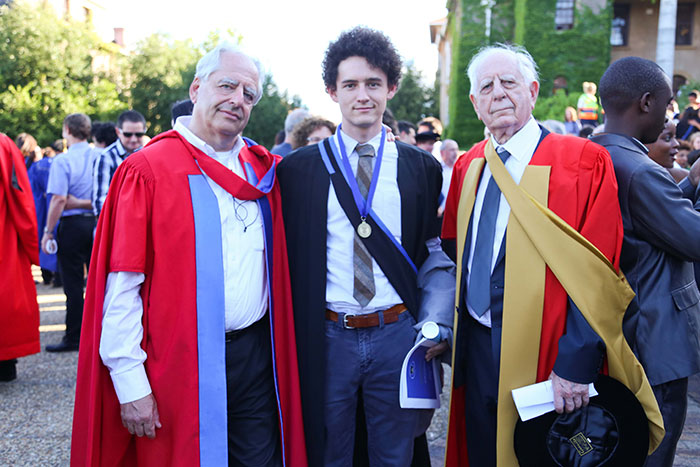 From left William Kentridge, Samuel Kentridge and Sir Sydney Kentridge. Photo by Je'nine May.
Kentridge's son, Samuel Woolf Kentridge, was awarded his degree in film and media production with distinction at the same ceremony. Sir Sydney Kentridge was also present at the ceremony.
In his speech, Kentridge referred to his long-standing connection with UCT – even though he graduated from Wits – through his mother (who completed her undergraduate studies at the university), his father) who has an honorary doctorate from UCT) and his two children studying here. He joked that although his honorary degree "claims to be for literature", he suspects it is for "family commitment".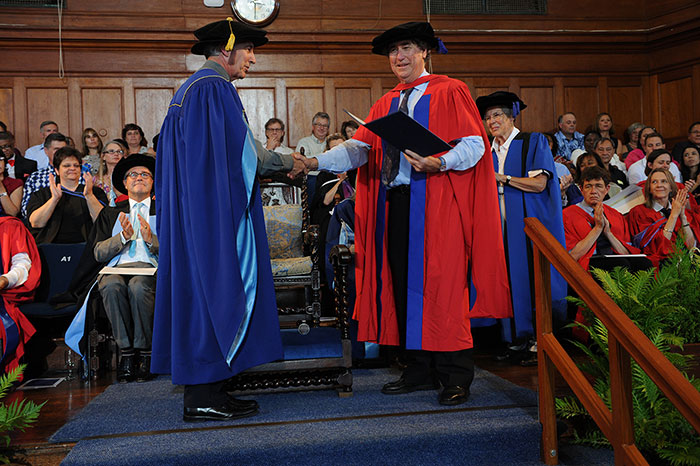 David Fanning, a prolific documentary filmmaker receives his DLitt (honoris causa) from Vice-Chancellor Dr Max Price. Photo by Michael Hammond.
Like Kentridge, David Fanning, founder and executive producer of Frontline, the longest-running public television investigative documentary series in the US, was awarded an honorary doctorate in literature.
Describing Fanning as an "accidental journalist", orator Alison Lewis spoke of how Fanning was actually studying towards a degree in fine art when he started editing Varsity, UCT's student newspaper. "The artist part of him liked 'the physical making': the printing, the linotype, the ink and the smells. But it was the natural raconteur in him that became drawn into the storytelling possibilities of journalism."
She concluded by saying, "The secret of his success is that it's not just about finding the story, it's about shaping the acts of the narrative, the arc of inquiry, the moment of revelation. It's more than just telling a good story, it's about knowing how it needs to be told."
Operatic flash mob
At the start of the ceremony Vice-Chancellor Dr Max Price toasted the audience (sparkling grape juice in his glass) following a flash mob, where opera singers approached the platform from various locations in Jameson hall. They were singing a drinking song, also known as a brindisi from Giuseppe Verdi's opera, La Traviata.
Download the citation for William Kentridge
Download the citation for David Fanning
Share the excitement of #UCTGrad2014 with us on Twitter, Facebook and YouTube.
Story by Abigail Calata.
---
This work is licensed under a Creative Commons Attribution-NoDerivatives 4.0 International License.
Please view the republishing articles page for more information.
---