The Mother City wore her finest for the start of UCT's December graduation ceremonies this morning, heralding a week of celebrations when some 5 807 undergraduate and postgraduate students will be capped in historic Jameson Hall.
This will bring the total number of UCT graduates for 2014 to 7 316 (UCT also graduates students in June), slightly up on last year's total of 6 964. (The totals for 2012 and 2013 were 5 531 and 5 590 respectively.)
The graduation week will run until 20 December and will include numerous special awards:
Honorary doctorates to neuroscientist Professor Rodney Douglas; literary critic, writer and editor Professor Henry Louis Gates Jr; artist William Kentridge; founder and executive producer of Frontline (an investigative series released by the Public Broadcasting Service in the US) David Fanning; and energy storage pioneer Dr Michael Thackeray.
Distinguished Teacher Awards to Professors Delawir Kahn and James Gain, and Drs Linda Ronnie and Spencer Wheaton.
Social Responsiveness Awards to Stuart Hendry and Associate Professor Sophie Oldfield.
UCT Fellowships to Professors Naomi Levitt, Sue Harrison, Eric van Steen, Don Ross, Murray Leibbrandt, Stephen Richardson and Nigel Worden (in absentia), as well as Emeritus Professors Clifford Shearing and Gregory Hussey.
Golden graduates, alumni who have kept in touch with UCT since they graduated in 1964, have been invited to participate in the graduation ceremony on Friday morning, 19 December 2014.
Several alumni who chose not to attend their graduations during the apartheid years will be 're-graduating' some with their graduating children.
New UCT Fellow, Prof Greg Hussey (Division of Medical Microbiology), was honoured at the ceremony. Photo by Je'nine May.
During the week, 110 doctorates will be conferred, 1 239 diplomas and certificates, 2 918 bachelor degrees, 1 051 honours degrees, 484 master's degrees, and three MBAs.
The statistics for December's cohort of postgraduates reflects the university's drive to expand this group, especially those in PhD programmes.
The PhD numbers graduating are: ten each in the Faculties of Commerce and Engineering & the Built Environment; 25 in the Faculty of Health Sciences; 26 in the Faculty of Humanities; four in the Faculty of Law; and 37 in the Faculty of Science.
Health sciences faculty graduation
First up at 10h00 on Monday 15 December was the Faculty of Health Sciences graduation and the tone was set early with a rousing performance by marimba band amaAmbush.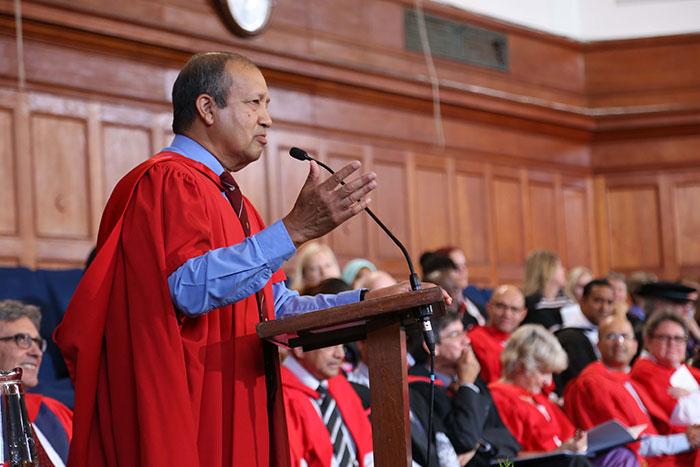 Prof Delawir Kahn of the Department of Surgery, who received a 2014 Distinguished Teacher Award, delivered the address to health sciences students. Photo by Je'nine May.
Addressing the graduands, head of the Department of Surgery Professor Delawir Kahn said he hoped the students would see their profession as a career and not as a job.
"On 1 January you all will be embarking on a journey of being a healthcare professional – It's a wonderful journey. I hope you will be as blessed as I have been to have a career."
Kahn said being a healthcare profession was all about the patient. Second, he said it was about teaching, and third about research.
"This is one of the most exciting things as a healthcare professional. It gives you an opportunity to question dogma, to be innovative, and to present research at international meetings."
Price(less) family moment
Among the special family moments at the ceremony was the "double" for MBChB graduate Jessica Posel Price, who was capped by her father, Vice-Chancellor Dr Max Price, and hooded by her mother, Professor Deborah Posel (founding director of the Institute for the Humanities in Africa).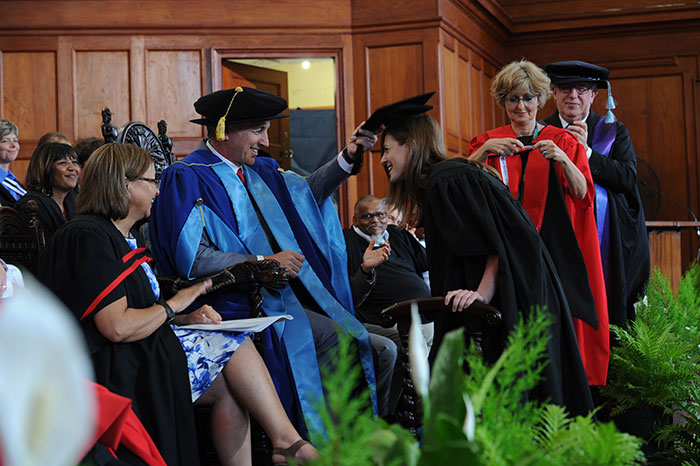 Double act: MBChB graduate Jessica Posel Price is capped by her father, Vice-Chancellor Dr Max Price, before being hooded by her mother, Prof Deborah Posel. Photo by Michael Hammond.
Posel Price obtained her MBChB degree with first-class honours, with distinction in the pre-clinical and final clinical examinations.
Graduation fact: Did you know that Emeritus Professor Peter Klatzow of the South African College of Music composed the music for the graduation recessional march?
Share the excitement of #UCTGrad2014 with us on Facebook, Twitter and YouTube.
Story by Helen Swingler
---
This work is licensed under a Creative Commons Attribution-NoDerivatives 4.0 International License.
Please view the republishing articles page for more information.
---