It was with a lump in his throat that Ben Turok addressed a crowd of graduands, their loved ones and established scholars in Jameson Hall, a space that Turok had not set foot in for close to seventy years.
The anti-apartheid struggle stalwart and former member of South Africa's Parliament, who graduated with a BSc in engineering from UCT in 1950, was speaking at the graduation ceremony for the Faculty of Engineering and the Built Environment, held on 15 December 2014.
Before Turok took to the lectern, Professor Francis Petersen, UCT's deputy vice-chancellor, welcomed the graduands and congratulated them on their achievement.
This was not just a degree, said Petersen, but one embedded in a set of values that will hopefully set UCT graduates apart – key among these being service, social responsiveness and integrity. Petersen also welcomed two academics to the university's College of Fellows, reserved for the institution's top scholars. The two were both professors in the Department of Chemical Engineering: Susan Harrison and Eric van Steen.
This was the first of two graduation ceremonies for the faculty this week, in which 823 students will graduate, marginally down from 856 in 2013. In total, 5 772 students will be capped and hooded at UCT during this December graduation season.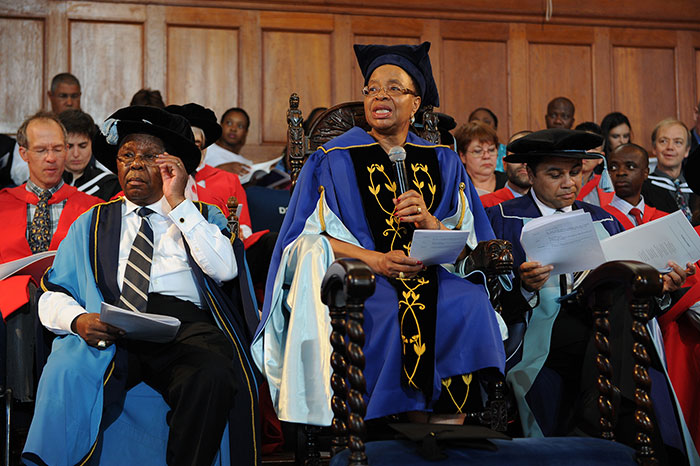 UCT Chancellor Graça Machel opens the graduation ceremony for the Faculty of Engineering and the Built Environment on 15 December.
Why must the bridge not fall?
Turok recalled his first lecture as an engineering student, when his professor told the room, "Whatever you do as an engineer, the bridge must not fall down." He's never forgotten that advice, and indeed passes it on when the opportunity arises.
"But what my professor did not explain was why the bridge must not fall down. He might have explained that the destruction can be immense, as well as the cost," said Turok.
What the professor had failed to explain was that the bridge was more than a technical structure, continued Turok. There are bridges in the former Transkei that have totally changed communities by allowing interaction and communication that was not possible before.
"[So the bridge is] not only a symbol of technical excellence, but also a symbol of how we can unite communities and what we can do," he said.
But many engineers failed to take the social implications of their work into account: "They seem to think that their role is purely technical, forgetting that the consequences may be detrimental for society," Turok added.
Take the mining and manufacturing industries, for example. South Africa is very well endowed with mineral resources – "the very best in the world" – giving the country a comparative advantage.
But it makes little sense that a couple wishing to buy a diamond-encrusted engagement ring had to source it overseas, when the diamonds and gold were from South Africa's soil.
Surely if you have grapes, you export the grapes, but also make wine, Turok argued, and if you have polymers, you make plastic goods.
"And by the way, South Africa is excellent at turning coal into polymers, as some staff will know.
"The point is that a country who strives to develop must turn its natural assets into national assets, not individual assets. Especially where there are technological gains to be made, and of course employment, which is our national priority number one," continued Turok. "Unfortunately decisions about our industrial development are taken not by engineers or technologically trained people, but driven by financial interests, whether it be in government or in the private sector."
Interestingly, in South Korea, Taiwan and China, countries that have experienced massive economic growth in the last few decades, the people in charge were engineers, not economists.
So Turok urged that engineers should have views on socioeconomic matters. "You cannot confine yourselves to technical issues alone.
"Good engineers build societies, not just machines. Good engineers build good societies, not just machines," Turok urged. "I trust that UCT has produced well-rounded graduates who are going to make us all proud."
Share the excitement of #UCTGrad2014 with us on Facebook, Twitter and YouTube.
Story by Yusuf Omar. Photos by Michael Hammond.
---
This work is licensed under a Creative Commons Attribution-NoDerivatives 4.0 International License.
Please view the republishing articles page for more information.
---