Explore the City of Cape Town, and urbanisation, through the lens of 10 of its inhabitants at a new exhibition
City Desired in the Cape
Cape Town, like most cities in the world, is a repository of people's dreams and desires. Every day, close to four million people get on with their lives and hopes, and through their minute actions animated by love, support, mobility, consumption, exchange of words and gestures, the city is reborn and remade a little differently. Sometimes this is an ominous development; at others it is filled with light and possibility.
Yet when we reflect on 20 years of democracy, or 14 years of democratic metropolitan governance, we tend to fixate on all that is wrong and seemingly insurmountable. Many of us bemoan the so-called traffic jams, reckless taxi drivers, unsightly shacks, inconvenient pedestrians or cyclists, the supposedly endless stream of migrants, crime, and so on. One might be forgiven for thinking that we live in some dystopian 'Mad Max 10' world.
However, as any Capetonian who has been fortunate enough to experience city life in Europe or elsewhere in Africa will tell you, we have a pretty sweet deal here. This is especially true if you are lucky enough to have a decent job, and can access a well-run school for your kids and afford the wonderful leisure opportunities this city holds in abundance. Moreover, it is much better to be poor in Cape Town (or any other South African city) compared to most sub-Saharan or South Asian cities. Basic services are more or less guaranteed (even if at very modest levels), and there is a wealth of legal and constitutional mechanisms you can use to fight for your rights and to express active citizenship.
We should be able to transform Cape Town into one of the leading international hubs of innovation and transformation with our astonishing natural endowments, expansive cultural resources, large and diversified economy, constitutional democracy, numerous educational institutions and multiplicity of social formations, capable local government and argumentative gees.
A precondition for this effort is to forge a more informed, coherent and shared public dialogue about the unique qualities of our city and its possible futures. This belief drove us at UCT's African Centre for Cities to embark upon a two-and-a-half-year research and design expedition that has manifested in the first large-scale exhibition on contemporary Cape Town, entitled City Desired. It opened its doors to the public on 30 October 2014 and will run until 10 December, hosted at the City Hall.
City Desired provides a unique and unprecedented glimpse into contemporary Cape Town. Since cities are too complex and multi-dimensional to capture in one take, the exhibition is moulded around the life stories of 10 ordinary Capetonians (see below). These 10 people help show the way into a specific theme, which then allows the visitor to appreciate the larger trends and dynamics that constitute each topic. These are: education; work; mobility; land; shelter; well-being; the food system; vulnerability; climate change; and diversity.
City Desired is curated around the fundamental humanity that we all share as we make our diverse ways through the world, forced to rub up against difference, challenges and many opportunities for transformative engagement. However, the 10 human stories are also contextualised spatially through dynamic maps and various information graphics that offer up clues of proportion, scale, and significance regarding various urban dynamics.
Ultimately, the exhibition is curated to allow every viewer to weave their own path through the various stories and situations so that they can essentially find their own stories - in effect, their desires - in the trains of thought that will be triggered.
Edgar Pieterse is the Director of the African Centre for Cities at UCT, and co-curator with Tau Tavengwa of the exhibition 'City Desired'.
The exhibition is hosted by the African Centre for Cities (ACC), a research unit at the University of Cape Town.
City Desired runs from 30 October to 10 December 2014 at the iconic City Hall in Cape Town.
City Desired, curated by Tau Tavengwa and Edgar Pieterse, with Caroline Sohie, emerges against the backdrop of the World Design Capital programme with its focus 'Live Design, Transform Life'.
City Desired uses a range of media platforms, including photography, film and interactive tools.
A number of activities form part of the exhibition including:

The Kapuscinski Development Lecture by Aromar Revi, director of the Indian Institute of Human Settlements in Bangalore, India.
The Grootboom Series, which will be presented in conjunction with Social Justice Coalition;
A round-table discussion with noted urbanists AbdouMaliq Simone, Teresa Caldeira, Ash Amin and Filip de Boeck; o And a special edition of the public
And a special edition of the public discussion forum Talking Heads focusing on the ten themes explored in the exhibition.

For more details visit www.citydesired.com
City Desired Profiles
Colin Barends - Safety & Security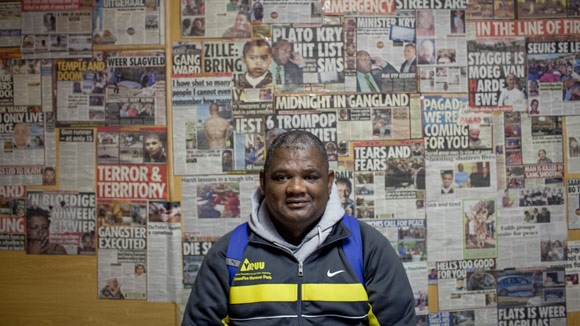 Colin Barends (45) is not your typical gangster. Barends, who served his first sentence for robbery at the age of 16 and spent the next 18 years in and out of half a dozen Western Cape prisons, has been hailed as "one of the best conflict mediators" on the Cape Flats, an apartheid dumping ground for non-whites exiled from District Six and other desirable city areas designated whites-only enclaves.
He works for CeaseFire. A concept imported from the gang-ridden streets of Chicago, CeaseFire came to the streets of Hanover Park in 2012. Officially supported by the City of Cape Town, CeaseFire's operations are delivered through Pastor Craven Engels' First Community Resource Centre, a Pentecostal Protestant non-profit organisation that has run social crime-prevention projects in Hanover Park since 2009. CeaseFire's primary aim is to prevent deadly retaliations between gangs through conflict mediation. It is all about knowing what is happening on the ground and acting fast.
Generally the first on the scene of shootings, 'interrupters' such as Barends focus on staunching the flow of blood (the age-old code that blood must be 'picked up', as it is termed here). Then, with the help of outreach workers, the interrupters try to divert less senior members out of the gang life and into something else that is not yet entirely clear. They work according to an explicitly articulated public health model: 'quarantining' violence 'carriers' to halt 'infection', clinically operating from triage to prevention. However, in neighbourhoods where it is not unusual for 40 shots to be fired in a week, nobody is talking 'cure' just yet.
A recovering drug addict, Barends is sanguine about the difficulties facing the young men he counsels. "With the young people who are starting on this road, I can give tips and I can lead, but you have to walk it on your own."
Mina Plaatjies, domestic worker & unionist - Jobs/Employment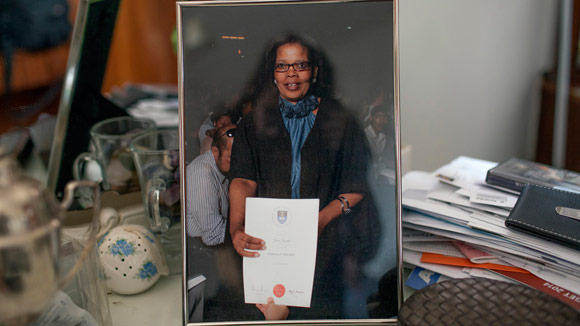 "I don't think any little girls dream of becoming a domestic worker," says Mina Plaatjies (40). "You don't choose that, it just happens." Mina is from Prieska, a small community on the banks of the Orange River in the Northern Cape. In Prieska today, 92.5% of people speak Afrikaans and 30.2% of youth in the local SiyaThemba municipality are unemployed. In mostly English-speaking Constantia, where Mina has lived and worked for the past 18 years, 96% of people have jobs. Mina studied up until standard six, harbouring dreams of being a teacher. Arriving in Cape Town as an unskilled worker with no handle on English, a different reality presented itself.
According to Professor Owen Crankshaw, a sociologist at UCT, and HSRC researcher Jacqueline Borel-Saladin, unskilled manual jobs haven't grown much in comparison to clerical, sales, managerial and professional jobs, which means those with poor education remain at a disadvantage in the job market. The South African Institute for Race Relations estimates that the number of domestic workers dropped 5% from over 1.2 million in 2003 to 1.1 million in 2012. A number of reasons have been posited, from smaller homes to changing culture and labour laws. However, a study by UCT economist Haroon Bhorat has found that the introduction of a minimum wage for domestic workers had not had a negative effect on employment, and real hourly wages have increased.
As a domestic worker, Mina lives in the back room of an upmarket Constantia home, but in her parallel identity as a trade unionist, she travels not only to some of Cape Town's poorest neighbourhoods, but even to other cities. Mina is vice-chair of the Cape Town region of the South African Domestic Service and Allied Workers Union (Sadsawu), and an executive member of the union's National Executive Council. Right now, a key issue for Sadsawu is the current review of the minimum sector wage of around R1800 a month. Sadsawu is pushing for R2500, or R150 a day. "I won't be a domestic worker forever," says Mina. "I need a change. I always see a vision for us domestic workers: you don't have to [get] stuck there in your employer's house."
Gita Goven - Housing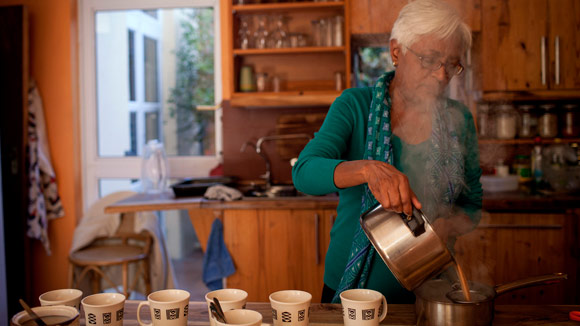 "As a young woman, especially being black in a more white environment, it was very difficult," says architect and urban planner Gita Goven (55). "People often assumed I was either the secretary or the junior, even though I was the principal in the practice."
Goven, who grew up in Springs and studied architecture at Wits and UCT, cofounded ARG Design in 1999. The Cape Town-based company specialises in urban design, architecture, environmental management and landscape architecture. ARG has worked on a number of key projects in housing, education and transportation. It is currently providing concept planning on WesCape, a R140 billion urban development project that envisages the creation of a mini-city with 200 000 homes near Melkbosstrand, 15km northwest of central Cape Town. Roughly half of the planned 800 000 population will comprise lower-income earners. WesCape has been earmarked for completion within 20 years and will offer hospitals and clinics, libraries and community halls, schools and sports complexes, industrial, commercial and retail opportunities, on 3 100 hectares of land.
Housing is key national issue. Since 1994, government has been battling to eradicate the staggering housing backlog, which has swollen to 2.3 million units in 2014, up from about 1.5 million in 1994.
Design, thinks Goven, can play a "huge role" in uplifting communities. "But the power of design goes nowhere unless you have people who are interested and committed to transformation," says the architect, who in the early 1980s worked for the Ahmedabad Study Action Group building housing for the landless poor.
"It interfaces between economics, settlements, environment and community development. Over time, what became clearer to me was that most of the townships were structured as dormitories with very little other input or attractors of investment that could make a difference." Goven emphasises that settlements have to be designed in such a way that they inspire people and bring the best out of a community.
Kieyaam Ryklief, emerging farmer, Philippi - Food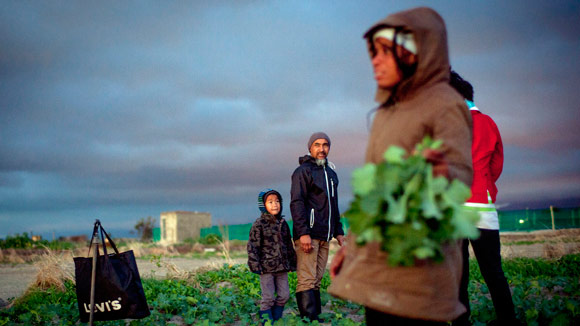 The story of food and our city is a complex one. One could begin to explore it on the Cape Flats, where emerging farmers like Kieyaam Ryklief (46) try to coax and cajole growth out of the reluctant soil, so the city can put broccoli and cauliflower and salad leaves on its table. For most of us, it is the obvious place to start, at the very headwaters of what often looks like a linear flow of food from farmer to fork. Or, one could start an exploration of urban food security in the aisles of the hypermarket where Kieyaam and his wife, Shereen, push their trolley like many other Capetonians.
Supermarkets, after all, are the biggest and most publicly visible part of the otherwise almost amorphous system that allows calories and nutrients to flow from the farm, along transportation routes, through packing houses and processing plants and warehouses, to retailers, and eventually onto our plates. Nearly 70% of all the food sold in South Africa in 2010 moved through the checkout tills of our supermarkets, according to the Financial Mail. The big four - Pick n Pay, Woolworths, Spar and Shoprite Checkers - own the lion's share of that trade, some 97% of retail food sales. And they're expanding yearly. For anyone wanting to think about the complexity of feeding our growing urban population, these retailers are the kingpins in the system.
Maybe a story of food in Cape Town should focus on Kieyaam and Shereen's dining room, where the family seat themselves around a coffee table on deep cushions. After all, it is here that they eat their halaal mutton and chicken curries on rice, with side servings of frikkadel (meatballs) and a grated carrot and tomato salad, lifting the food from their plates expertly between fingertips. Surely this communing over food is as ancient as we are as a species.
But perhaps the best place to start such a story is from the point of view of Malawi-born James Chembe and his fellow informal traders, who bring food to the passing rush-hour foot traffic on roadside pavements, close to railway stations and taxi ranks around the city. Their operations are small, the individual turnover not even a speck in the city's fiscal eye. But together with all the other informal food traders whose stalls pop open like daisy flowers each morning, and fold shut at dusk, they are an overlooked source of food for the poor. Without them, many city dwellers would be at greater risk of going hungry.
James, and others like him, have struck up innovative relationships with farmers like Kieyaam - not only did they voice a demand; sometimes they even supplied seed to famers. The formal market has overlooked this need, allowing Kieyaam a business opportunity that, importantly, also feeds others.
John Parker - Health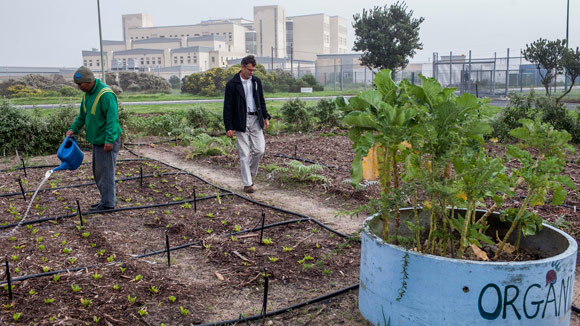 "I can engage with someone who's completely psychotic," says John Parker (48), a psychiatrist at Lentegeur Hospital in Mitchell's Plain. "I can go in there, and I've done it a lot of times, where no-one else will go near the person, and I can walk in there and make peace. It's about learning to speak to the human deep inside there."
Despite dealing with the darker aspects of human experience on a daily basis, Parker, a Wits graduate, is clear that his role as a psychiatrist in a government hospital serving poor communities on Cape Town's periphery is not one of self-sacrifice.
"If you do things only for other people, self-sacrifice, it's the surest road to bitterness and burnout. You need to do it for yourself, but it's a conception of the self that is well beyond Western individualism."
About 30% of adult South Africans will experience at least one mental disorder in their lifetimes, in part due to the high incidence of alcohol and drug abuse and dependency. In the Western Cape, the province with the highest prevalence of common mental disorders according to a national study, particularly in poorer areas on the city's periphery, drug use underpins a rise in the prevalence of mental illness. The relationship between drug use and mental illness among children and adolescents in the Cape Flats is so volatile that a few years ago Lentegeur had to close an inpatient child and adolescent therapeutic unit and convert it to a psychosis recovery unit.
Parker's response to the crisis has included the introduction of a vegetable garden staffed by long-term patients, and the greening of some parts of the hospital. The Spring Project, as it is known, is not about beautification. There is a deep theoretical concept attached to Parker's ideas, informed by the recovery movement.
"The whole way our society sees mental illness is that it's profoundly hopeless and is something that's shameful," says Parker. This is something he wants to change.
Hasan and Husain Essop - Culture
Twin brothers Hasan and Husain Essop (29) grew up in Rylands. Their father, Yunus Essop, was forcibly relocated there in the 1970s by apartheid legislation from District Six, a racially mixed suburb in the city's heart. District Six was declared a whites-only area in 1966. House demolitions followed shortly after. About 60 000 people were eventually displaced. Yunus Essop's family roots were Indian, as were those of his wife, Rashidah Essop. Through the instrumentality of the Group Areas Act of 1950, Rylands was designated for 'Indians' while the central urban nodes were designated for whites.
Later the Essop family moved to Penlyn Estate. "This was our life," says Hasan of the two neighbourhoods - a circumscribed horizon line for the brothers until they enrolled at the Michaelis School of Fine Art at UCT. Their decision to study art effectively reset those boundaries.
The Essops make photographs of themselves replicated in different poses in carefully selected landscapes. Rylands and Penlyn Estate feature strongly in 'Unrest', their current Standard Bank Young Artist Award travelling exhibition. "I come from a neighbourhood where crime is a big problem," says Hasan. "You are bred to be tough. At high school, you had to fight to stand your ground. I think that because we live in this environment, I have naturally grown this militant side, even though I have a gentle side, a fashionable side, an art side."
This duality is captured in their travelling exhibition too. "It is feeling the tension of South Africa that is shaking, that is about to explode, that is not going to explode," offers Hasan.
Christina Mtandana - Extreme weather events/Climate Change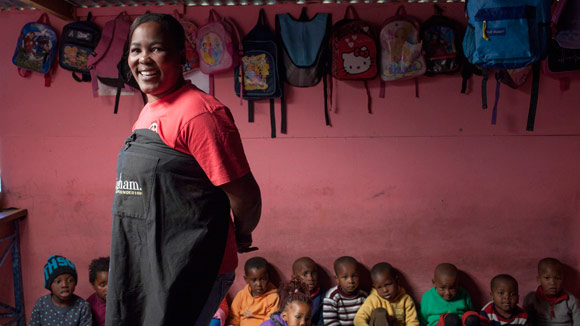 Christina Mtandana (40) owns a takeaway and restaurant in Sweet Home Farm, an informal settlement in Philippi on the Cape Flats. Known as Siqalo, from isiqalo meaning "new start" in Xhosa, and situated in her five-room home, the business has two fridge-freezers, a microwave, a deep fryer and plumbing that she paid a contractor to install.
Mtandana's business deals with frequent electricity outages. Electricity, along with the other primary municipal services—running water, proper sanitation, efficient refuse removal, installing and maintaining storm water drains—is critical to the well-being of neighbourhoods such as Sweet Home. This is particularly true as the region ploughs forward into a climate-altered future, where heat waves, windstorms, droughts and wintertime floods are likely to happen more often, and more aggressively.
Mtandana ran Siqalo from her father's house for a year, because it was closer to one of the main routes through Sweet Home and always bustling with foot traffic as people headed to the taxi rank or school. But his house is lower down than hers, and flooded often. Informal settlements such as Sweet Home are plagued by 'ponding' every year. If the water rises high enough, it floods into residents' homes.
So why do people like Mtandana settle in areas where it invariably floods, year after year?
The motivations, researchers at the University of Cape Town's Flooding in Cape Town under Climate Risk (FLiCCR) Project found, are complex; and more rational than one might think: new settlers often arrive in summertime, when an area looks dry and habitable; they might buy a shack, but the former owner won't tell them how bad the flooding actually gets; they will probably need to live as close to a taxi rank or train station as possible, so they can get to town easily and find work; and, as is also often the case, they have nowhere else to go.
According to the UNICEF Generation 2030 - Africa report, cities around the world (but especially in Africa and Asia) will grow by a further two billion people over the next three decades.
One predicted result of this urbanisation, particularly in Africa with its predominantly youthful population, is an increase in unemployment, with many of the continent's youth stuck in underpaid, undervalued and vulnerable occupations.
Climate change is set to impact cities across the globe. In September the Global Commission on the New Climate Economy released their findings on the challenges of climate change within a new economic era of resource-efficient and inclusive growth. Cities are central to their raft of insights and recommendations.
In South Africa, the National Cabinet approved the draft Integrated Urban Development Framework for South Africa for public comment on 3 September 2014. These trends all point to the growing cultural, political and economic importance of cities.
As in most South African cities, a special kind of neo-apartheid dominates the form and dynamics of Cape Town's built environment. Poor residents remain confined to mono-class residential areas labelled 'townships' and 'informal settlements'. While lower-middle-class suburbs have de-racialised to a considerable extent, this is less evident in upper-middle-class areas.
These residential divisions are further mirrored in education, health and security systems, in which the middle class can afford to buy excellent services while the poor rely on over-stretched, under-resourced public systems.
Photos by Sydelle Willow Smith for City Desired. Courtesy of African Centre for Cities.
---
This work is licensed under a Creative Commons Attribution-NoDerivatives 4.0 International License.
Please view the republishing articles page for more information.
---