Each year, a handful of student leaders are recognised for their incredible commitment and contribution to the university's vision, mission and values. Read up on who UCT is celebrating this year, and why.
Executive Director's Award: Jessica Breakey
When she was elected onto the Students' Representative Council at the end of 2013, Jessica Breakey's goal was to redefine transformation.
"I wanted to try start conversations that I thought students needed to have, conversations on identity, and how we all fit into to this very big, overwhelming campus. I did this through multiple avenues: the #itooamUCT campaign, which I started with fellow student Paballo Chauke, focused on what it meant to be a black student at UCT.
"The SRC's recent Race Dialogue showed a lot of people how race is still such a huge issue on our campus," said Breakey. 'However, I think it becomes problematic when we only look at race and when issues of gender, sexuality and disability almost seem untouched in the conversations on transformation."
Breakey – a final-year BSocSci student (film, sociology and international relations) says introducing a gender-neutral toilet on campus was "surprisingly big".
"I didn't think it would be such a big deal ... It showed me how issues of sexuality and gender are not even close to being sufficiently addressed on this campus.
"I am not necessarily passionate about 'student leadership', rather I am passionate about transformation. Pushing a strong transformation agenda is something that I want to spend my life doing and I think my anger at unfairness, inequality and ignorance drive me − or perhaps my drive for a society free from that."
Deputy Vice-Chancellor's Award: Keenan Hendrickse
Secretary-general of the 2014 Students' Representative Council (SRC) Keenan Hendrickse, won the Deputy Vice-Chancellor's Award for his leadership and sound student governance skills, reflected in diverse sectors of the student community.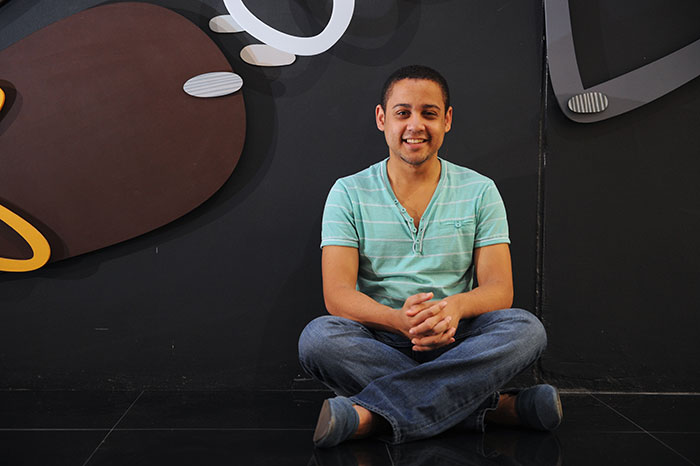 Working "tirelessly" to serve his constituency, Hendrickse was instrumental in implementing new policies, projects and initiatives to better student governance structures. He was the students' voice on numerous university committees, preparing and participating in high-level discussions to advocate for student interests.
A member of the Woolsack House Committee, Hendrickse's leadership was evident in the SRC when he served as vice-president (external) in 2012/13. He chaired the Humanities Students' Council in 2011/12 and in 2013/14 he was convenor of Student Assembly.
Vice-Chancellor's Award: Nommangaliso Gondwe
For displaying "exceptional leadership that had an institutional and national impact", the Vice-Chancellor's Award went to Nommangaliso Gondwe for skippering of the 2014 Students' Representative Council.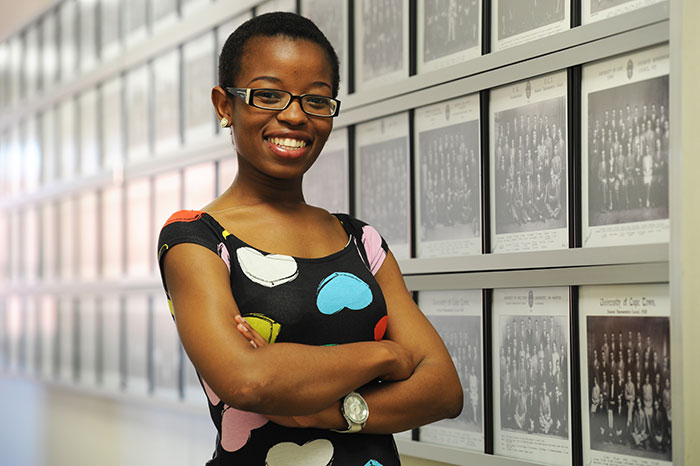 Gondwe was described as a guiding force for students on issues of national importance, from the admissions policy debate, the implementation of the NSFAS sBux system and the completion of the final draft of the Student Rights and Responsibilities Charter. Work on the charter brought together student leaders from universities and universities of technology across South Africa.
The experienced leader (she's been involved in student governance for the past three years) was "extremely honoured" by the award, and admitted that her journey had brought many challenges and lessons, notably the often-heated debates around the admissions policy.
"One thing that always made me happy was knowing that the changes we can effect will not only affect current students but students to come, such as [with] the Student Rights Charter," says Gondwe.
Most Outstanding Team in Social Responsiveness: Green Campus Initiative
Acknowledgement by the university that social responsiveness goes beyond addressing social ills and that it encompasses sustainability and environmental issues. This is the message the Green Campus Initiative (GCI) team is taking home with them after winning the student leadership award for social responsiveness.
Though it is not the first time that GCI has won at these awards – in 2009 they won team of the year – it is the first time the environmental group has won in this specific category.
Ioana Brangh-Peicu, GCI treasurer, finds the recognition "especially gratifying because it is for a cause that is so dear to our hearts".
Chair of GCI Ashleigh Arton believes that greater visibility will increase their impact, not only on campus, but also in surrounding communities: "The more visibility we have, the more opportunity there is to make a difference, the more people know what we do and respect us for it."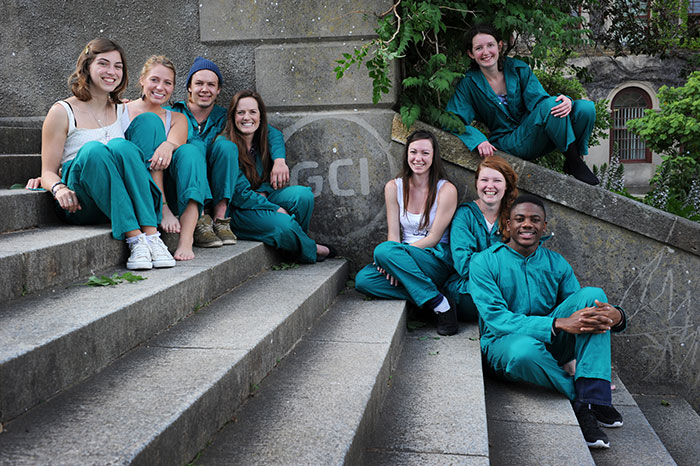 GCI's Ashleigh Arton, Victoria Parker, Kai Coetzee, Mikhayla Bader, Ioana Branga-Peicu, Paige Jenje and Emmanuel Nxumalo with Nicola Rule sitting on the wall.
Most Outstanding Team in Residence Life: Obz Square
They came into office in March this year, but in just over six months this house committee managed to raise the quality of their living and learning environment.
The Obz Square Third Tier Executive Committee not only changed the way the committee gets elected through amendments to its constitution, they're also the driving force behind the process for an Obz Square logo and website (both of which are expected to be launched soon). An Obz Square identity wasn't all they help create: the committee helped foster a sense of community among residents with a number charity and social events, including visits to an old age home, a food drive for those less well-off, a well-attended Heritage Day braai, leadership dinners, aerobic classes and an academic symposium series.
"This team is outstanding because we've achieved so much within a short time. This required hard work, incredible efficiency, dedication and good time management," says committee chair Avishek Dusoye, who praises his colleagues' commitment to the res ethos of academic excellence, leadership and a spirit of ubuntu.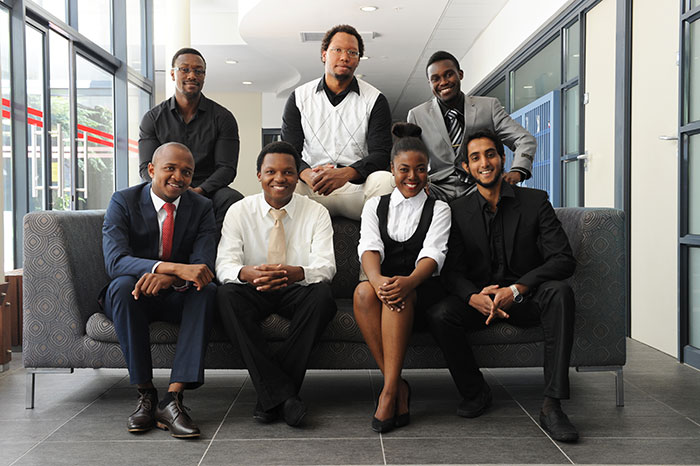 Front row from the left is Lwazi Ncoliwe, Mark Jabangwe, Lizzie Chalira and Avishek Dusoye. Back row from the left is Tafadzwa Mukaro, Reey Springer and Sam Legodi.
Most Outstanding Team in Student Media: Varsity Collective
They aim to win again next year and hope that winning this year's award would encourage UCT students to trust Varsity newspaper as a credible source of information.
"Winning the award was a great moment for our team," says Laurie Scarborough, outgoing editor-in-chief of Varsity. "We have worked really hard this year, but not only that, we have tried very hard to rebuild Varsity following a difficult editorial year in 2013.
"Being validated and acknowledged by the university confirms that we are back on the right track towards a high-quality publication. The award was a great way to end to the year on a high."
Some of that hard work includes introducing a staff handbook outlining team members' roles and responsibilities. The collective also hosted a conference in July with delegates from other South African student media outlets. Speakers at the conference included former Cape Times editor Tony Weaver, GroundUp editor Nathan Geffen, and UCT's own Jacques Rousseau.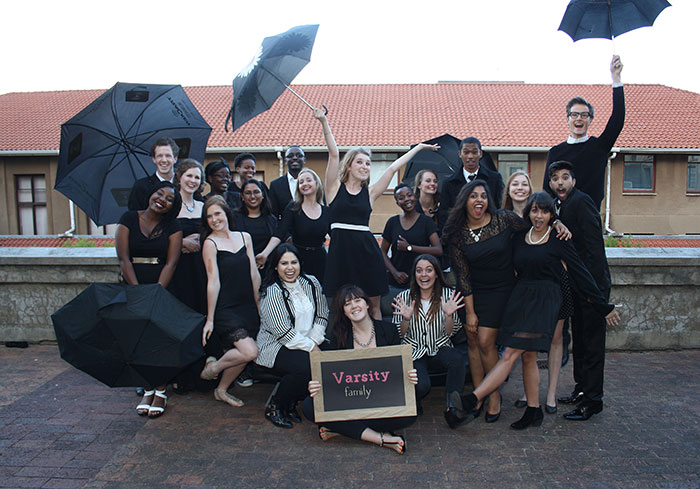 Members of the 2014 Varsity Collective.
Most Outstanding Society Executive: UCT Surgical Society
The UCT Surgical Society came out ahead of 106 other student societies to take the award for the most outstanding society executive.
It's not surprising that their mission is to be the best society of its kind in the world – and the affirmation lent by the award supports this, says 2013/14 chairperson and final-year medical student Tinashe Chandauka.
"This is recognition that the health sciences faculty's students are helping the university become a world-class African institution that adds meaningfully to our continent and the globe."
The society hosts over 25 events annually for its 550 members, a tough ask on a limited budget. Among these are monthly lectures by pioneers in specialised fields, which top up students' skills development.
But the pinnacle of 2014 was a red-letter event: an international symposium for over a 100 international and local students, on behalf of the International Association of Student Surgical Societies (IASSS).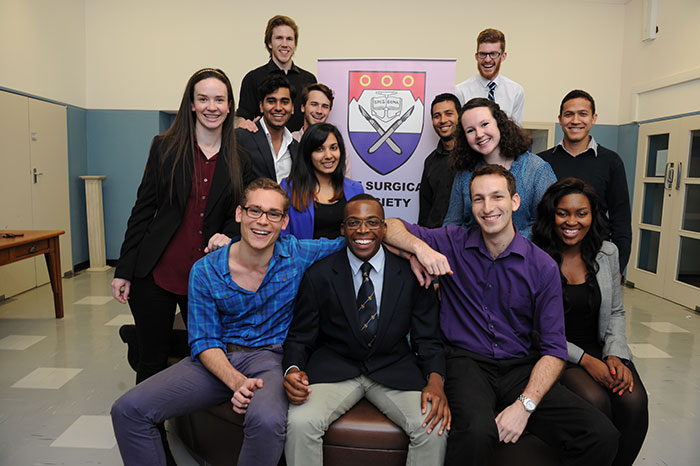 Members of the UCT Surgical Society: Front row (from left to right): Richard Burman, Tinashe Chandauka, Luke Kuttschreuter, Nontobeko Mathenjwa. Middle row: Danielle Ferrar, Ali Tariq, Luke Fletcher, Azele Naicker, Alex Scott, Bronwyn Gavine, Nicholas Rich. Back row: Lumart Weichers, Kevin van Der Merwe.
Most Outstanding Postgraduate Student Council: Engineering & the Built Environment
The Postgraduate Student Council for the Faculty of Engineering & the Built Environment works hard to reflect the faculty's goals of transformation, integration and involvement, and transparency and responsiveness.
"It's people who change communities. Leadership and consequent change is centred on people; it's consultative, considerate and participative," says chairperson Lisalokuhle Mbobo, a master's student in the Department of Construction Economics and Management. "It's about understanding the needs and expectations of people and maintaining good relationships, being supportive and oriented towards facilitating interaction."
The council's focus for 2014 was reflected in events such as a Heritage Day talk examining the idea of unity in cultural diversity, and a Mandel Day outreach to the Turfhall Cheshire Home. A research expo held in May showcased the faculty's postgraduate research to potential employers and industry partners, and the committee also produced a booklet to promote postgraduate programmes.
The Postgraduate Student Council for the Faculty of Engineering & the Built Environment was named the Most Outstanding Postgraduate Student Council.
Most Outstanding Undergraduate Faculty Council: Health Sciences Students' Council
The 2014 Health Sciences Students' Council, led by Tumiso Lenong, were recognised for providing the student body with numerous opportunities for growth and creating a visible presence in the faculty.
Praised for going beyond the call of duty in many instances, not least for securing a 24-hour study venue for students, the council also successfully negotiated with vendors, arranging that students would be able to use meal vouchers throughout the day to buy food (saving the students from having to interrupt their studies by returning to residences for meals).
The council also raised R20 000 for the transport distress fund that students can apply to if the curriculum requires them to visit areas around Cape Town. This is almost double the amount provided by the university.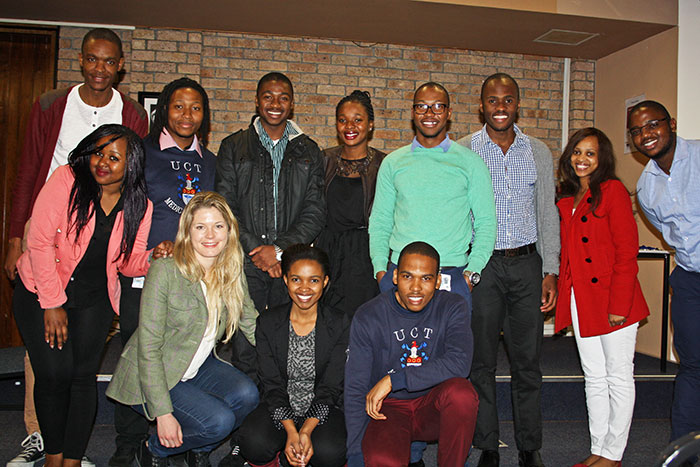 The 2014 Health Sciences Students' Council was named the Most Outstanding Undergraduate Faculty Council.
Student Team of the Year: Student Assembly Management Committee
The Student Assembly Management Committee (SAMC) were praised for having "worked tirelessly, despite many challenges, to ensure that the body's vision of facilitating open, inclusive and co-operative governance is upheld".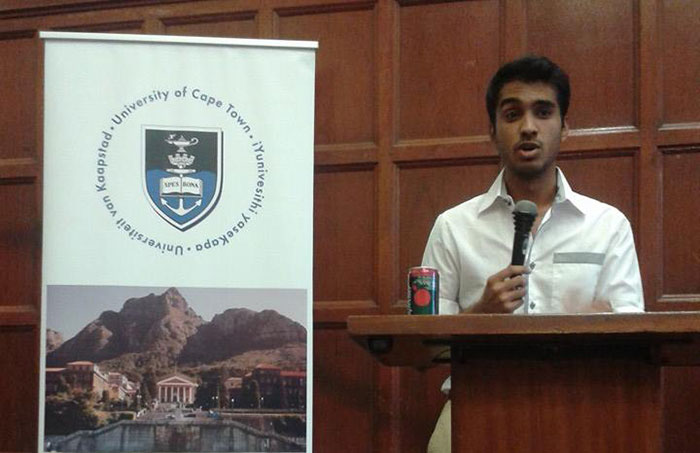 Led by chair Sarvesh Balkaran, the committee showed "exemplary leadership" and led the Student Assembly in a way that fulfilled its mandate as an institution of "information, transparency and accountability, without becoming caught up in petty grievances".
By improving the quality of communication between the various structures of student governance that comprise the Student Assembly, the committee helped ensure that pertinent policy matters were discussed properly, and that genuine and effective student participation in university decision-making was fostered. Under the 2014 leadership, Student Assembly also provided a safe space for students to air concerns and grievances, and nurtured a culture of democracy and constructive debate.
The 2014 Student Leadership Awards were handed out at an award ceremony on 13 October organised by the Department of Student Affairs.
Story by Abigail Calata, Yusuf Omar and Helen Swingler. Photos by Michael Hammond and supplied.
---
This work is licensed under a Creative Commons Attribution-NoDerivatives 4.0 International License.
Please view the republishing articles page for more information.
---