Nine fellows were inducted into the prestigious College of Fellows this year, "a great sign of the strength of research" at UCT, said Vice-Chancellor Dr Max Price at the College of Fellows' annual dinner on 9 October 2014.
"You are role models," he said. "You are the reason why people come here to do postgraduate degrees. You are the reason why we have a high numbers of citations and get praised for the creative work that gets done at the university."
The new fellows for 2014 are:
This year's recipients of the Young Researcher Awards were Dr Leigh Johnson of the IDM, Professor Helen Scott from the Department of Private Law, and Associate Professor Meg Samuelson from the Department of English Language and Literature.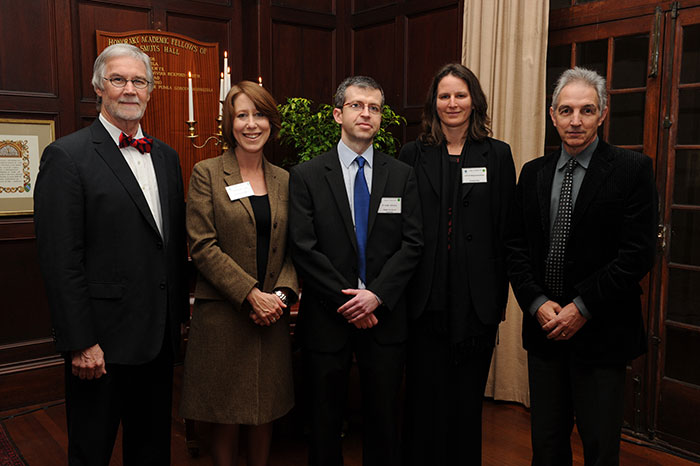 Outstanding young researchers: From the left are Prof Danie Visser, Prof Helen Scott, Dr Leigh Johnson, Assoc Prof Meg Samuelson and Dr Max Price. Scott, Johnson and Samuelson received this years' Young Researcher Awards from the College of Fellows.
Research insights
The two fellows invited to speak at the dinner were new inductee Professor Nigel Worden and Professor Vanessa Watson from the School of Architecture, Planning and Geomatics. Both reflected on the work they're doing in their respective disciplines.
Next year Watson and the African Centre for Cities (ACC) will embark on a £2-million study into urban food security in three smaller African cities. 'In sub-Saharan Africa the number of people who were food insecure grew from 102 million in 1990 to 265 million in 2009. Africa was by far the most food insecure continent,' said Watson.
The problem is not necessarily one of supply, but the ability to access food and pay for it, said Watson. 'In Cape Town, more than enough food comes into the city, yet 58% of households are either moderately or severely food insecure,' she explained.
Supermarkets have been making inroads into poorer areas in recent times, giving residents access to more affordable food. But according to Watson, supermarkets in poorer areas are more likely to stock calorie-dense, processed and nutritionally deficient foods instead of fresh produce. This is in stark contrast to more affluent areas, where the emphasis is on nutritionally rich, fresh produce.
Worden, whose research revolves around slavery in the Cape colony, noted that for the early colonial Cape, we lack the kind of personal and family records of the sort that exist in many other colonial societies. However this is compensated by official documents which are 'vastly superior to records from any other colonial society'. He observed that North American scholars would give their eye teeth for the archival gems available here, such as household inventories '" records of what people owned. Since slaves were considered property, "these inventories listed every single slave in the household, their families and sometimes also where they came from".
Worden believes that the archive very often traces "the footprints of people" at single moments in their lives, adding that the challenge for historians is to see the steps between the footprints: "Thanks to connections with sources and scholars, particularly across the Indian Ocean, it has become possible to do that. We're beginning to learn about the nature of the complete experience of the lives that slaves lived."
Story by Abigail Calata. Photos by Michael Hammond.
---
This work is licensed under a Creative Commons Attribution-NoDerivatives 4.0 International License.
Please view the republishing articles page for more information.
---