Three years ago, when Dr Stephen Muir, senior lecturer at the School of Music at Leeds University and co-ordinator of the Music, Memory and Migration project, applied for a visiting scholar post at UCT (the institutions are linked through the Worldwide Universities Network) he hoped he might find "something interesting" in the context of music and South Africa's Jewish community.
Muir's research interests include ethnomusicology, particularly Jewish liturgical musical phenomena in the UK and South Africa. His interest in Jewish music stemmed from his PhD on Russian music. Through this he'd got to know his Jewish colleagues and was introduced to their culture.
What he uncovered in Cape Town surpassed all expectations.
Initially, Muir's "cold call" had surprised Professor Milton Shain, director of UCT's Isaac and Jessie Kaplan Centre for Jewish Studies and Research.
Shain recalls: "When Stephen emailed me with plans to connect, I had a sense he wasn't just coming to see Table Mountain." (Shain himself is an alumnus of Leeds University.)
When Muir arrived in the Mother City, Shain opened doors to the city's Jewish community, including Rabbi Stuart Serwator.
Towards the end of Muir's visit, the rabbi mentioned that a member of this community, Leore Braude, had "some old papers" that had belonged to her Russian grandfather, Cantor Froim Spektor, who'd immigrated to Cape Town from Rostov-on-Don in 1928.
A meeting was arranged in the garden of Muir's Rondebosch guesthouse.
"She [Braude] came with a carrier bag; we had no idea whether it was anything important or just a load of rubbish," Muir remembers. "In it was a folder of music; manuscripts dating from before World War II, not just by Spektor, but also other composers he'd known."
Among the yellowed papers lay a gem.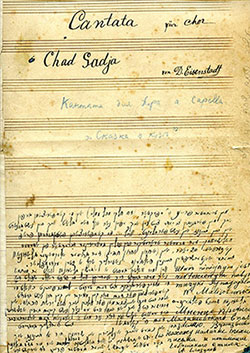 Lost and found: The first page of Chad Gadya, a Passover cantata by major Polish composer David Eisenstadt (Dovid Ajzensztadt, 1890-1942), thought to have been lost in the Holocaust, but rediscovered in Cape Town in March this year.
Here was the music for Chad Gadya (One Little Goat), a Passover cantata for choir by David Eisenstadt (Dovid Ajzensztadt, 1890-1942), a major Polish composer and conductor who was associated with the Great Synagogue on Tłomackie Street in Warsaw.
Eisenstadt was music director of liturgy and conductor of the synagogue choir, and he performed often at the Warsaw Philharmonic and recorded for Polish radio. During the war he led the choir in the Warsaw ghetto.
The cantata is an allegorical composition sung towards the end of the ritual Passover meal.
"It's a very clever piece, and the concise musical material shows Eisenstadt was a highly accomplished and trained musician," said Muir.
But the story is embedded in tragedy.
Despite the strictures of the ghetto, Eisenstadt continued to compose, perform and teach, along with fellow artists such as Władysław Szpilman, who inspired Roman Polanski's 2002 film The Pianist.
But in 1942, Eisenstadt and his wife were put on a cattle truck bound for Treblinka extermination camp. A Nazi officer shot their 21-year old daughter, Marysia, known as the Ghetto Nightingale, as she tried to join her parents.
Only a handful of Eisenstadt's music is thought to have survived. And this cantata escaped.
Eisenstadt had sent the manuscript to Froim Spektor in Rostov-on-Don with a handwritten message asking for comment.
And when Spektor made his way to South Africa as cantor of the New Hebrew Congregation in Cape Town in 1928, Eisenstadt's cantata travelled with him.
"This piece of music effectively circumvented the Holocaust by finding its way to South Africa with Spektor," said Muir. "We've opened up a window onto a culture that was destroyed, where so many talented lives were cut short and entire artistic legacies were very often destroyed too."
In March this year, One Little Goat premiered at a concert, Songs from a Forgotten World: Jewish Choral Music, Old and New, in Leeds University's historic Clothworkers Concert Hall.
Items included Spektor's works and in the audience was his 80-year-old son, Issadore, hearing his father's music knowingly for the first time.
But it all sits within a bigger music project, which UCT's Isaac and Jessie Kaplan Centre for Jewish Studies and Research and the South African College of Music are part of.
Muir's research project that lead to the discovery of the cantata is looking at how music was affected by migration '" specifically the movement of Jews fleeing anti-Semitism in Europe.
"A new project, Performing the Jewish Archive, is now set to make a significant contribution to the understanding of the way interconnections between Jewish musicians contributed to the impact of migration."
Earlier this year, the British Arts and Humanities Research Council gave the project almost £2-million, one of the largest ever given to a multi-national arts-based research group, a direct result of the Worldwide Universities Network funding previously received.
Besides UCT, Leeds University's partners in this are York, Sydney, and Wisconsin-Madison.
"The purpose is to bring back out of the archives around the world more music like the pieces I've been looking at in South Africa," added Muir.
"They could be institutional archives '" but they could be in a carrier bag in someone's back room, which is obviously an archive under threat, so time is of the essence; people are getting older and they clear out their houses ... "
It's not just music but theatre and literature, too, like scripts and plays, which emerged from the Terezin ghetto outside Prague.
The project is mounting a series of performances of this music in five main locations: Cape Town, Leeds, York, Prague (including in the Terezin ghetto itself) and Sydney, in 2016/17.
Muir describes the venture as "crazily ambitious".
"We're hoping this will change how people look at performance and what archives mean. Not only are we going to perform music and theatre that is in the archive, we hope to create new music and new theatre from archival collections."
"We had an interest in the archive and though we don't have music expertise in the Kaplan Centre, it's within our interests to link up with the South African College of Music," said Shain.
In the 1980s, researchers from the Kaplan Centre collected material from the local Jewish community − venturing into garages and attics '" as part of an initiative driven by the former Dean of Arts Professor Colin Webb.
For Muir, discovering these archives is about a larger history.
"It's that sense of injustice and wanting to do something to address that."
Story by Helen Swingler. Photo by Michael Hammond.
---
This work is licensed under a Creative Commons Attribution-NoDerivatives 4.0 International License.
Please view the republishing articles page for more information.
---