Genevieve Langdon blows things up for a living '" to make society a safer place. For this work, she recently received a silver medal from the Southern African Association for the Advancement of Science (S2A3) '" one of the highest awards in South Africa for original scientific research.
Professor Genevieve Langdon of the Department of Mechanical Engineering was recently presented with one of the highest awards in South Africa for original scientific research '" a silver medal from the Southern African Association for the Advancement of Science (S2A3). Langdon studies how structures '" such as aircraft, train stations and landmine-protected vehicles '" respond to the high temperatures and high pressure of explosions, which could occur due to terrorism, landmine detonations or industrial accidents, for example. Her research is unique in that she literally blows things up to do so.
"Most of the research into explosively loaded structures is limited to a small number of expensive field tests on overly complicated structures, or relies on substitute types of loading which do not represent a 'real' explosion very well," explains Langdon. "I actually blow things up '" performing explosive detonations under carefully controlled conditions. No other university research group in the world has similar capabilities '" so my team and I do a lot of collaborative research with partners across the globe. It's a very challenging and exciting field to work in, and one that I really enjoy. After all, blowing things up for a living is a pretty cool way to spend the day, especially when I'm doing it to try and make the world a safer place."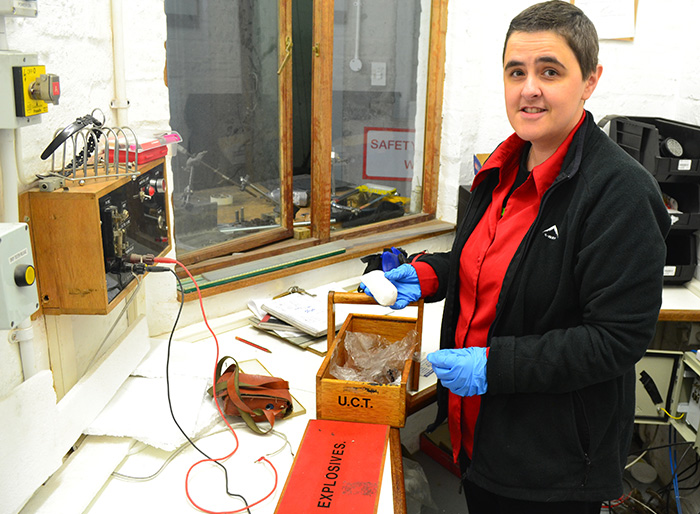 Professor Genevieve Langdon conducts rare controlled explosions for complicated structures.
Langdon originally comes from North Liverpool in the United Kingdom, a disadvantaged region with high unemployment and historically low participation in higher education. The oldest of nine siblings, she set her sights high and was the first person in her family to graduate with a university degree. She went on to complete her PhD in Mechanical Engineering in 2003. In 2004, she emigrated to South Africa, after developing strong collaborative links with researchers at the University of Cape Town. She worked for two years as an 1851 Royal Commission Research Fellow at the Blast Impact and Survivability Research Unit before being appointed to the academic staff in 2006. She is currently a professor and deputy head of the Department of Mechanical Engineering at UCT.
At 36 years old, Professor Langdon has co-authored more than 50 journal articles, five book chapters and numerous conference papers. She is well recognised internationally and is also involved nationally in South African science, as a founder member of the South African Young Academy of Science (SAYAS).
Being awarded the S2A3 silver medal came as a big surprise to Langdon: "This is a great honour, and one that I genuinely did not expect to receive. It came as a huge surprise ... The list of past awardees is impressive, and I am in awe that my name will be added to that list."
Past recipients include UCT's Professor Dan Stein, chair of the Department of Psychiatry and Mental Health (who's won both the silver and gold medals, in 2001 and 2012 respectively), Professor Graeme Cumming from the Percy FitzPatrick Institute of African Ornithology, and Associate Professor Landon Myer of the Centre of Infectious Disease Epidemiology and Research in the School of Public Health and Family Medicine.
"Along with the medal, I have been invited to give the Marloth Commemorative Lecture [named after Rudolph Marloth, a botanist, pharmacist, analytical chemist and former winner of the S2A3 gold medal] at the awards ceremony in November, which will be a wonderful opportunity to communicate something of my work to a general science audience. I'm really looking forward to that."
Photo of explosion by US Navy Photographer's Mate 2nd Class Aaron Peterson. Photo of Professor Genevieve Langdon by Mary Hilton.
---
This work is licensed under a Creative Commons Attribution-NoDerivatives 4.0 International License.
Please view the republishing articles page for more information.
---