This year we remember two remarkable milestones in history, which shared a serendipitous confluence at UCT.
The first is The International Year of Crystallography (2014) and the other is the centenary of the 1914 start of Ernest Shackleton's ill-fated Antarctic expedition. Shackleton had been pursuing one of the last distinctions in polar exploration: traversing Antarctica on foot.
The two may have been unrelated, but for the common denominator of RW James, who became the professor of physics at UCT (the physics building is named after him) and its acting principal after principal TB Davie died suddenly.
RW James was an early pioneer of X-ray crystallography and also a member of Shackleton's doomed Antarctic expedition. After his ship Endurance was crushed by pack ice in the Weddell Sea, expedition members spent months marooned on the ice before setting off in 1916 in three lifeboats bound for Elephant Island.
It is said that without Reginald "Jimmy" James' role as 'position finder', Shackleton's party may never have set foot on land again.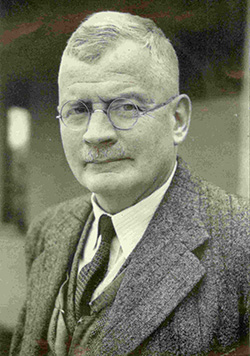 Scientist and explorer: RW James, former professor of physics and acting principal at UCT, an early pioneer of X-ray crystallography. He was a member of Ernest Shackleton's ill-fated expedition to Antarctica aboard the Endurance.
RW James came to South Africa from the University of Manchester in 1937 to fill the position of Chair of Physics and head of department, gaining a reputation as "one of the best lecturers" and his worldwide reputation in X-ray crystallography.
Head of department Professor Andy Buffler says: "He was instrumental in building the research activities in the Department of Physics, which grew in size and reputation under his leadership. James was also dean of the Faculty of Science and acting principal at a difficult time in UCT's history."
His physics classes yielded many great minds, including Nobel Laureates Professor Allan Cormack and Sir Aaron Klug.
James was also a friend and colleague of William Lawrence Bragg, who won the Nobel Prize for Physics in 1915 with his father William Henry Bragg. They discovered the Bragg law of X-ray diffraction, the basis for the determination of crystal structure.
In a physics department colloquium on 20 August, Buffler will present a personal summary of RW James' "extraordinary life" (Duncan Elliott Seminar Room at 12h00).
And on 2 September they will show the IMAX film that re-enacts Shackleton's 1914-1916 journey aboard Endurance (18h00 in Lecture Room A).
Story by Helen Swingler. Image: Royal Geographic Society. Inset: 1914-1916 Shackleton expedition physicist RW James, later professor of physics at UCT and acting principal.
---
This work is licensed under a Creative Commons Attribution-NoDerivatives 4.0 International License.
Please view the republishing articles page for more information.
---